Pressed Penny Insanity – East States Finish
It was time to wrap up the Pressed Penny Insanity.  This whole ride was due to Mike Kneebone with the Iron Butt Association pitching an idea that he and Donna Fousek envisioned – collect 100 pressed penny souvenirs from 20 different states within 12 months, with at least five states being west of the Mississippi River.  It is a simple concept that is difficult to pull off.  I started at the end of January smashing pennies all around Texas to bulk up on quantity before picking up other states.  I did a trial run collecting 5 pressed pennies north of Dallas in January, and then did a Texas Hill Country ride in March bagging an additional 23.  In May I ventured into Louisiana, Arkansas, Missouri, Kansas and Oklahoma.  BTW – there's a huge number of penny machines in Branson.  In July, I went back up in Oklahoma to wander along Route 66 tracing some history of that legendary road, and picked up additional smashed pennies.  August brought the HW3 long-distance rally based out of Grand Junction, CO.  I stopped along the way in New Mexico, Colorado, Utah and Wyoming to add states.  I was noticing during a couple of vacations that Deb and I took in the tropics that my left shoulder was starting to bug me during snorkeling and kayaking activities.  Sleep was difficult on my left side.  I knew if I were going to finish this IBA challenge, I needed to wrap up the additional 10 states soon before before the necessary surgery.  Where best to pick up a bunch of states in the least amount of miles?  The East.
October 13, 2016
Work has been typically out of control for years now.  There has been no substantial planning time available to effectively scope out efficient routes for rides.  I located penny machines in around 14 east states and brought their waypoints into the GPS so I could route during the ride.  I plotted a very rough course heading the first day for Pensacola, FL on the Emerald Coast.  I made no plans for lodging not knowing timing of where I might wind up each day.  I mounted my KRS early Thursday morning and made my way through Louisiana towards Florida to start the penny smashing.  It just felt good to be back on the moto again, and each mile ridden cleared my mind incrementally.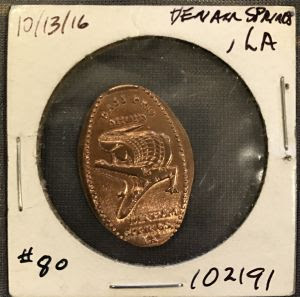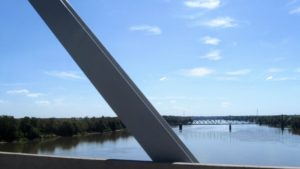 I took a quick rest stop in Denham Springs, LA and began the ritual of smashing pennies for documentation.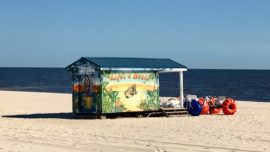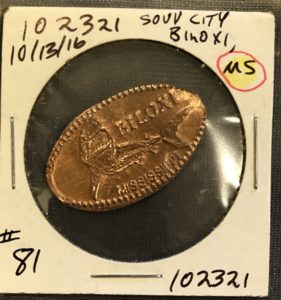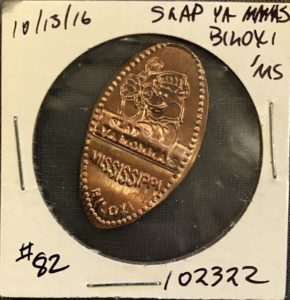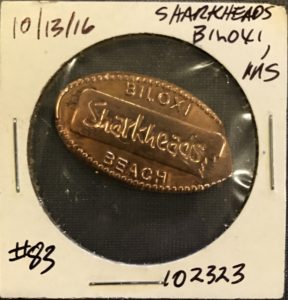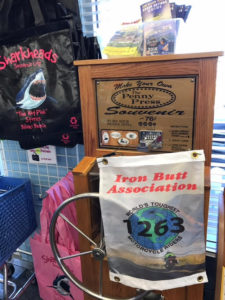 I hit Biloxi, MS on the Gulf Coast.  Here I was again on the salt water for the third time this year.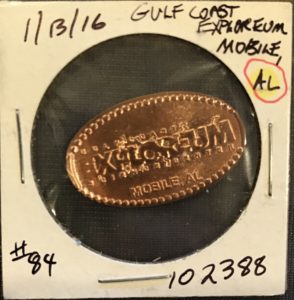 I only had a couple of locations identified in Mobile, AL.  A lot of these penny machines are located in tourist attractions open only during the daytime.  I was rolling into Mobile deep in rush hour traffic.  I arrived at the Gulf Coast Exploreum in Mobile just after 5:00.  The doors were still open but the security guard immediately mentioned they were closed.  I pointed to the penny machine in the lobby and explained what I was there for, and he was very friendly to let me continue.  I found this similar attitude in many other locations during this journey.  I would wind up in places where they were either closed or closing and the staff was always helpful to aid in my eclectic endeavor.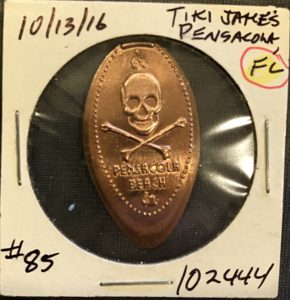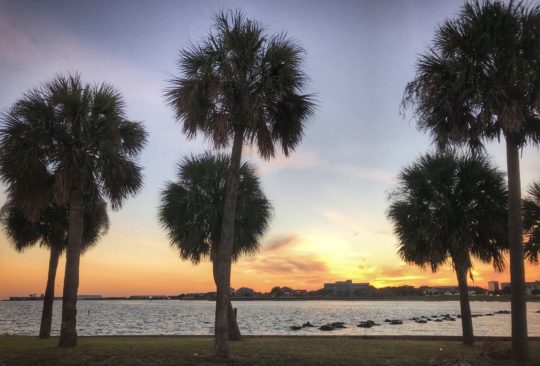 By the time I reached Pensacola, it was late.  I worried a bit about grabbing a penny in Florida due to timing and only having two locations identified in the area.  One was a visitor center I knew would be closed in the evening and opening late in the morning, which would mess with my intended early departure.  Luckily, the machine I found in a store was within a mall, which was nearing closure as I arrived.  I continued on to the beach to check in to my motel and immediately went to the beach to run the fine Emerald Coast sand through my toes.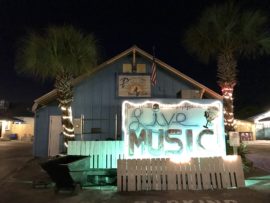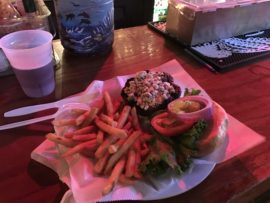 I found a most excellent burger at the Paradise Grill just across the street from my motel.  The Paradise Inn looks like a great place for a return trip.  It's 50's style motor lodging and has been nicely remodeled.
October 14, 2016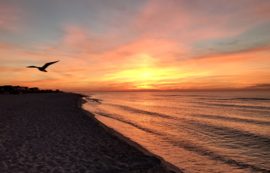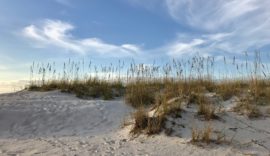 I awoke before sunrise and made my way to the beach to experience one of the most spectacular sunrises I have ever seen.  I had planned to leave very early to head north, but taking in this natural beauty was worth screwing with my ride schedule for the day.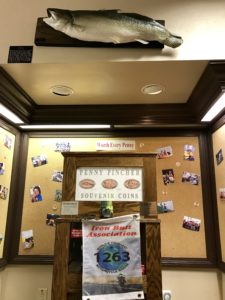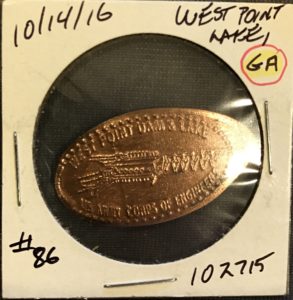 I found a penny machine on the border of Georgia at West Point Lake.  The coordinates listed for this machine were almost 10 miles off.  I found the correct location back in the forest which made for an interesting ride through gravel and narrow roads to the Corp of Engineers headquarters for the lake.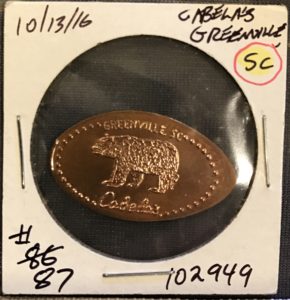 The South Carolina penny machine location was in a Cabela's.  It was late in the evening as I arrived in Greenville.  I nabbed my penny, and snacked outside on trail mix and beef jerky.  My full road ride battle gear attracts attention.  The locals would stop by and strike up conversations asking where I had been and where I was heading.  Everyone enjoys hearing of the moto journey, no matter where it's going.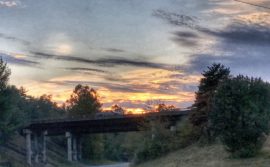 The sun was setting as I neared Johnson City.  The colors in the sky were once again my evening entertainment.  The sky was dark as I ascended over a chilly mountain pass.  I knew there was color in the trees above me on the slopes, but it was all too dark to see.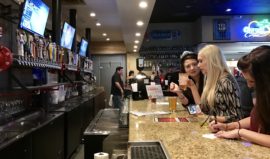 After a good meal and music at a local dive, I checked into my lodging and started to plan the next day's route.  I saw on the map that I was within 100 miles of the legendary Dragon, US 129 in Tennessee and North Carolina.  I always wanted to ride this twisty, challenging and exciting road.  But, it was way off my direct route to complete the ride.  I had a day to spare, and decided to do the back roads of Tennessee all day Saturday to take on The Dragon.
October 15, 2016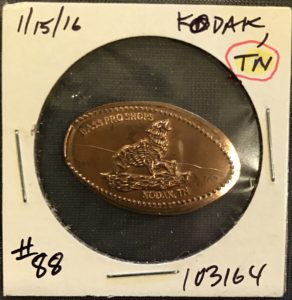 I took the interstates north out of Johnson City and southwest towards Knoxville.  As I was riding the I-40 superslab, I checked locations of penny machines and found one in Kodak that would satisfy a Tennessee state requirement.  It was nice to hit the two-lane roads beyond Maryville.  The fall foliage of the tall pines became more colorful as Hwy 129 became more twisty.  My adrenaline increased with each mile closer to The Dragon.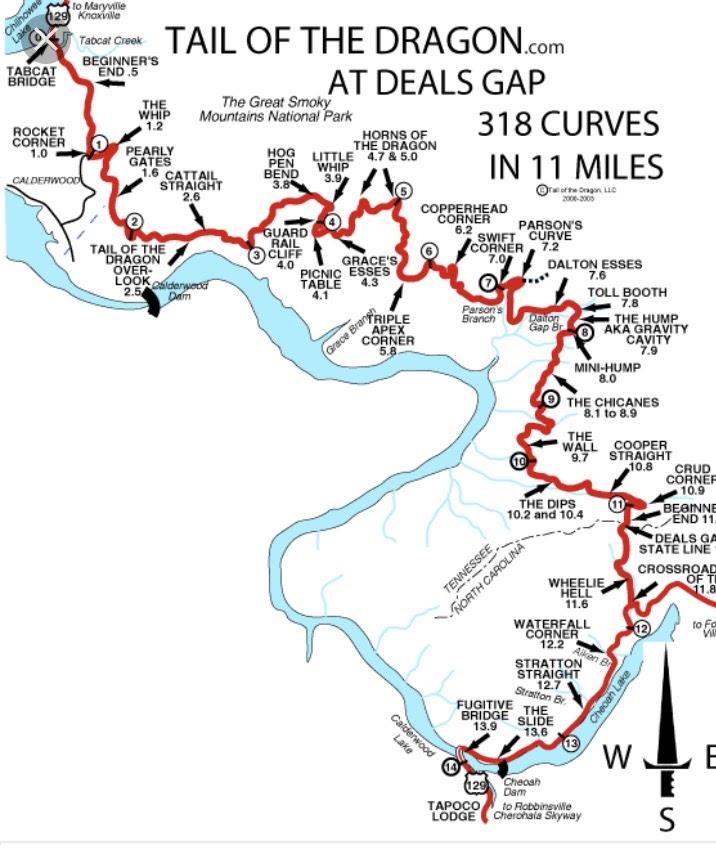 US 129 Dragon Harley-Davidson appeared after a sharp turn alone the Little Tennessee River.  A couple of other Dragon-related businesses followed, and I knew the fun was about to begin.  I pulled off of the road and tried to set up video the best I could, but I had left behind my favorite camcorder in the interest of riding efficiency.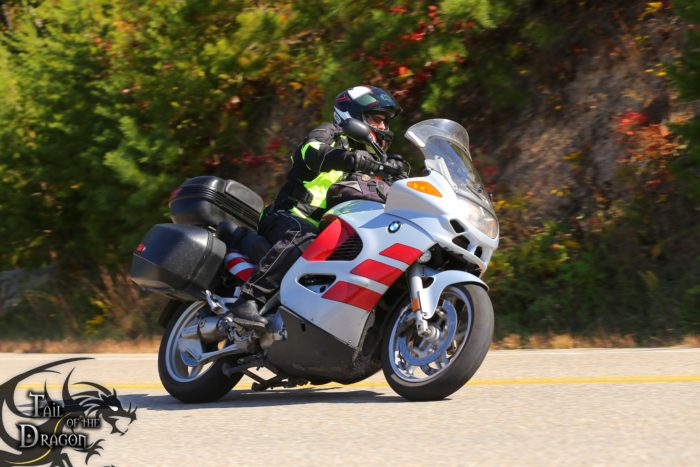 Photo credit Killboy.com
As I passed over Tabcat Creek, The Dragon was officially in front of me.  Each turn got tighter and tighter, to the point of lean angles ready to scrape the pegs.  The forest foliage was surreal and the road even more so.  Care had to be taken on each turn to ensure I did not screw up and approaching drivers and riders as well.  This road was like an amusement ride, but oh so much better and exciting.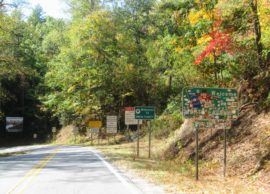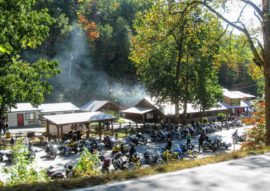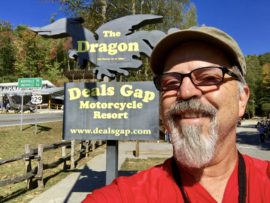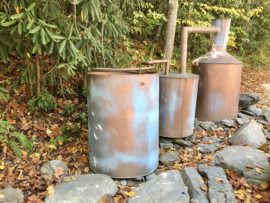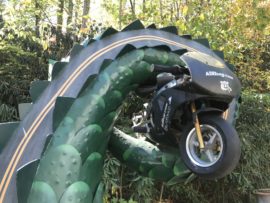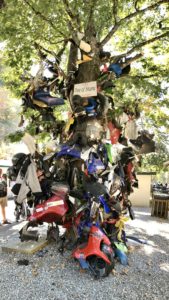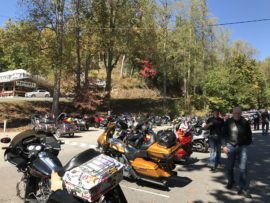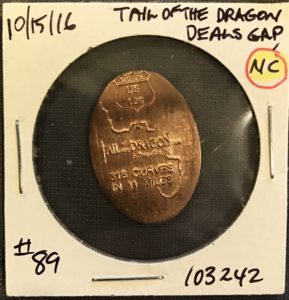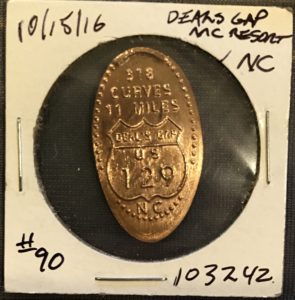 The Welcome to North Carolina sign appeared too soon, signaling the end of The Dragon.  Quickly, Deals Gap Motorcycle Resort unfolded below me to the left, with hundreds of motorcyclists milling about.  I spent some time resting and taking in the scenes and sounds of this icon of a road.  The Tail of the Dragon and Deals Gap MC Resort offered a couple of pressed pennies for the state of North Carolina.  I snacked on trail mix and jerky while examining the infamous Tree of Shame, and eventually came to the realization that I needed to move on.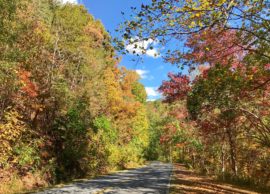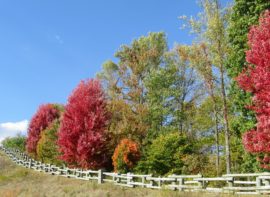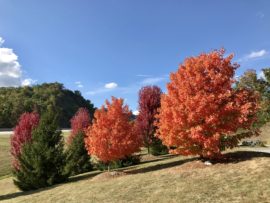 The color of the leaves in the afternoon fall light was pleasing when I could glance away from the road.  Hwy 28 was very twisty by Texas standards and fun to ride.  I worked my way to lower elevations and straighter roads.  Eventually I turned north on I-26 retracing my path the earlier day.  Now I was seeing the hills and colorful trees that I could not in the dark ride the previous day.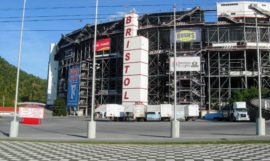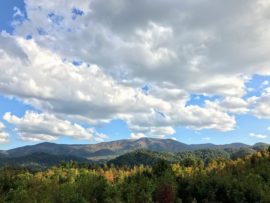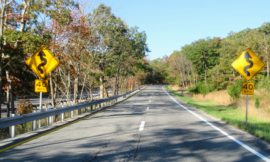 As I rode north, I realized the time of day would not allow a stop on the Blue Ridge Parkway at Mabry Mill Restaurant to collect a Virginia pressed penny.  My earlier playing on The Dragon would now change the course of where I rode next.  That issue just made for an interesting challenge.  I sorted through the other possibilities of locations in Virginia and saw the next closest being near Salem.  It would be a gamble if the machine at the Dixie Caverns was functional.  That's one of the variables in this challenge that's outside of my control.  I pulled into the motor lodge-style motel late and snacked on tank bag food before retiring for the night.
October 16, 2016

After breakfast, I rode to the caverns and was waiting at the door when they opened.  The first person I asked about the penny machine was clueless, and another lady heard me and pointed over to it.  Thank goodness it was working.  Virginia was done.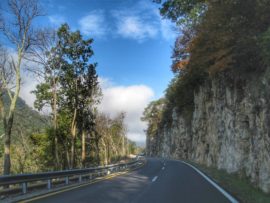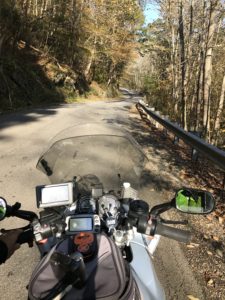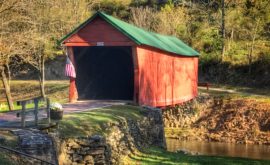 The back roads were a pleasure after spending so many miles on the slab.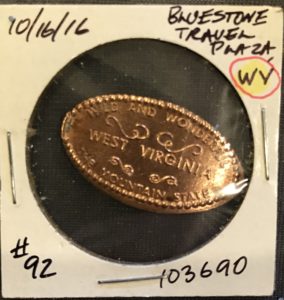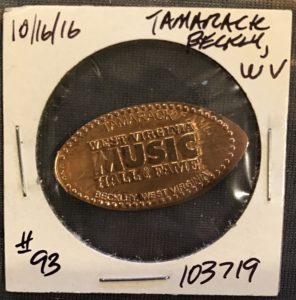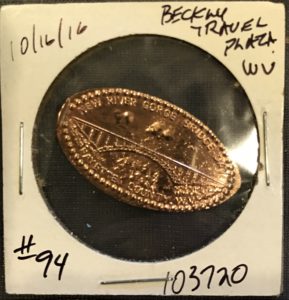 The West Virginia border was not far, and I quickly collected several pennies for this state.  Had I not been able to pick up Virginia, I would have headed to the Cincinnati area in Ohio.  But, that was not the case, so on to Kentucky.  Lexington looked promising as a stop.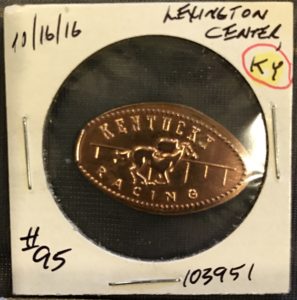 I parked on the sidewalk of the Lexington Center among droves of families that were dressed in formal attire.  My mode of transportation and moto-road battle gear was in sharp contrast.  I located the penny machine in the common area of the center, smashed my proof of visit, and took a moment back at the moto to relish in the fact that this was my 20th visited state in this challenge.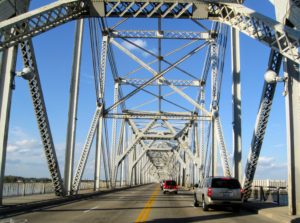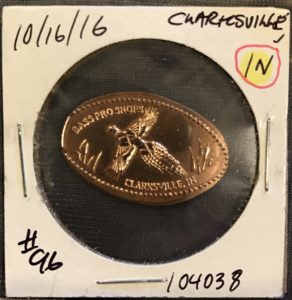 Indiana was not far away and could be a insurance visit in the case I messed something up along the way in another state.  I crossed over the enormous Ohio River bridges from Louisville and worked my way through the back neighborhoods due to construction closures.  Bass Pro once again offered a penny machine to document this state's visit.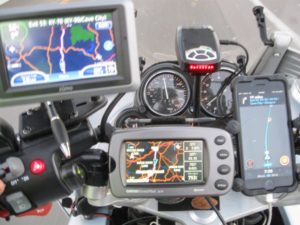 Cave City would be the evening's rest stop.  The local mexican food restaurant offered a tasty dinner.  There was not much planning to do in the evening as tomorrow's ride would just be get the heck back home and collect only a few number of pennies on the way during rest stops.  I slept well.
October 17, 2016
A quick breakfast and a ride down I-65 to Nashville to start the day was the morning's agenda.  As I rode, I studied the GPS for penny stops along the route.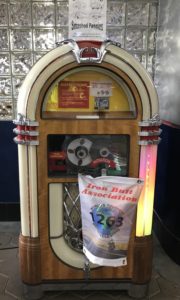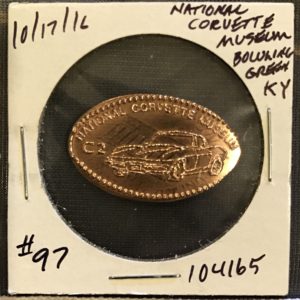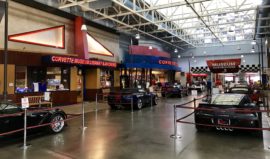 The National Corvette Museum looked prime and my arrival in Bowling Green would be right at opening time.  I found the unique penny machine disguised as a juke box.  Awesome.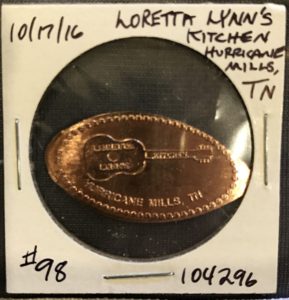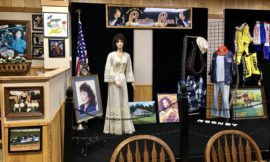 I turned onto I-40 at Nashville and saw on the GPS a penny machine in Hurricane Mills, TN.  This turned out to be Loretta Lynn's Kitchen, where the friendly staff took interest in my quest.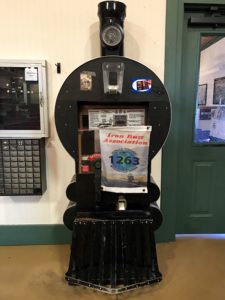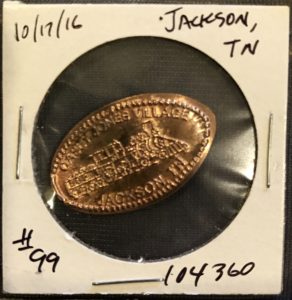 Jackson, TN offered up another unique machine in the shape of a steam engine at the Casey Jones Railroad Museum.  Awesome again.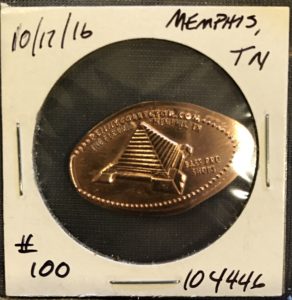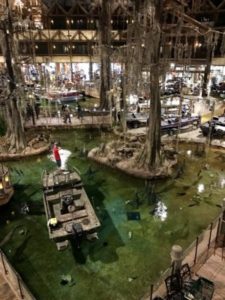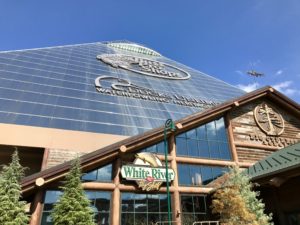 Deb and I drove by the massive Bass Pro Shops pyramid-shaped store in Memphis the previous year while we were returning from Savannah.  I thought then I wanted to veer off and visit the store, but the schedule then would not allow.  This trip would offer that opportunity to collect the 100th penny in this challenge.  Crazy big store and environment.
The rest of the day was knocking off the 450 miles to get back home.  With the superslab route the fastest way through this area, it was not too exciting of a ride.  But, there's always something to think about while running these types of roads.  I listened to satellite radio and enjoyed the warm fall weather clicking away the miles.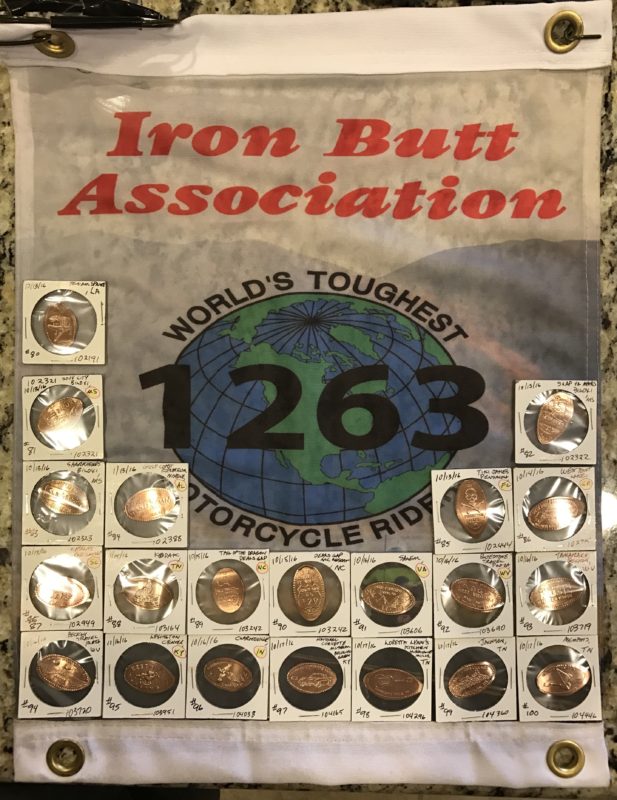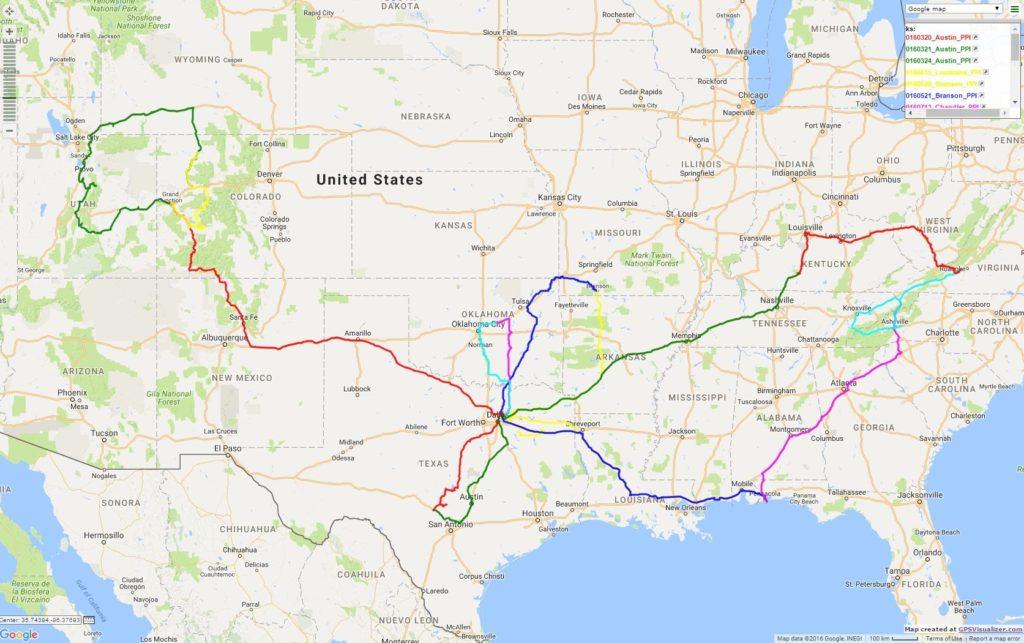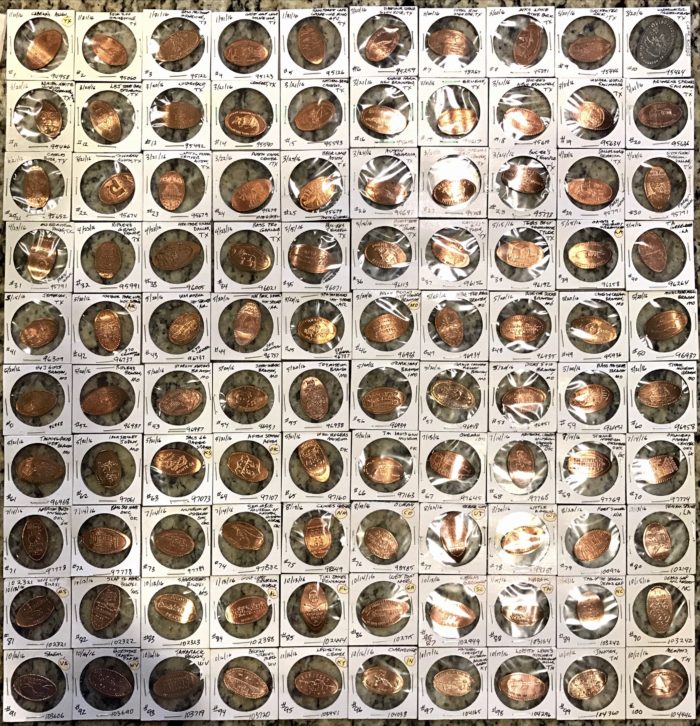 Thanks Mike and Donna for the idea and giving me this strange reason to ride ~8,000 miles to complete the challenge.  The documentation is heading to the Iron Butt Association for this odd ride.