IBA Quest for National Park Stamps
I was still coming down from the Spain/Portugal moto tour high. Justin's 2018 HW3 rally was canceled. I was thinking of ideas to keep me motivated for riding. I had heard of several of my moto buddies doing the Iron Butt Association (IBA) National Parks Tour. I checked on the requirements to refresh my memory – visit 50 national parks service units in a minimum of 25 states over 12 months. Proof of the visit would be an NPS cancellation stamp. Sure, why not?
I looked over the IBA National Parks Tour forum moderated by Wayne Boyter and discovered the ParkStamps.org site along with Dan Cohen's site documenting his 100-day tour of national parks in 48 states.
The National Parks Travelers Club ParkStamps.org site is an excellent resource for getting information and documenting the cancellations stamps. This site attracts a cult of park travelers with their own awards process of annual collections of park stamps in the different regions of the United States.
After scoping out options, I decided to start with a short tour of Texas and New Mexico. This would help start bulking up on stamps in two relatively large states and get me on the moto to fill the gap in light of Justin's HW3 cancellation.
---
August 22, 2018
The tactic of a short ride in Texas August heat helps one get closer to cooler and higher terrain in the mountain states. I left the metromess late afternoon and rode to Snyder in West Texas. It was warm, but that short ride made it bearable.
August 23, 2018
I visited and obtained stamps from Carlsbad Caverns in New Mexico and Guadalupe Mountains National Park in Texas. After working my way through El Paso and collecting more stamps at Chamizal and White Sands, Cloudcroft was the destination for a chilly high-elevation overnight stay.

August 24, 2018
The descent out of Cloudcroft to the desert valley is an enjoyable ride. The tall pines give way to cedars and sagebrush. I took my time riding north to collect stamps and explore the Salina Pueblo Missions, where ruins of earlier times showed history of times past. Visiting Pecos National Monument brought back memories of my infrared black-and-white photography days. My overnight stay was in Las Vegas, NM. The next day was the long ride through Texas to my home.
Digital processing now. Years ago it was infrared film…

Early morning south of Las Vegas, NM
---
September 5, 2018
It was not long after my New Mexico ride that I began planning the next excursion. A ride into Colorado would not gain many additional stamps (or states), but the weather was still pleasant enough to enjoy the higher elevations and scenery. The NPT requires a bit of advanced planning before getting in the saddle. There are obscure locations that have unique hours and seasons. I left late afternoon riding through a typical Texas Panhandle storm and stayed overnight in Childress. My departure the next morning was planned to arrive at the Alibates Flint Quarries shortly after they opened.

September 6, 2018
Knapping flint into tools
I wandered through southern Colorado and watched the mountain afternoon thunderclouds form all around me. The Great Sand Dunes was another NPT stop, which is another place Deb and I visited with the kids long ago. San Luis Valley Brewing Co. was in the old downtown area of Alamosa, and offered a tasty burger and beer for my evening meal.

September 7, 2018
I didn't have far to ride on Friday. From Alamosa to Pagosa Springs is 90 miles, but with all that Colorado offers with twisty roads and scenic elevation, what's wrong with making that trip a 300-mile 6-hour journey over Slumgullion Pass? I had my action cam mounted to my helmet, which recorded a lot of exciting roads.
After a stop at Curecanti National Recreation Area to bag some Old Spanish Trail and other stamps, I worked my way over Slumgullion Pass and through Creede to overnight in Pagosa Springs.
South of Creede along the Rio Grande River

Pagosa Springs evening light magic

September 8, 2018
Saturday was a lazy day of riding down through Taos with a stop at the Bavarian Mountain Weekend in Sipapu. I've lost track of how many of these get-togethers I have made at this locals ski area. It's always nice to see old acquaintances and to wander about the interesting motos. I visited Paul and Voni Glaves briefly while they were getting a prototype mirror vibration isolation system installed on their G310GS motos.

After a stop at Fort Union, I rode south to Tucumcari as the temperature increased. The next day was a long day of riding across the massive state of Texas to return home. This was another enjoyable moto trip to higher ground. And all this fun was had with the underlying excuse of collecting park stamps…
---
October 24, 2018
Paul Tong had asked me to photograph his NIIT WIt rally finish in Olive Branch, MS. I enjoy doing this and being in the action of a multi-day moto rally. And… it's yet another excuse to get on the moto and collect some stamps. I headed east on a Wednesday towards Natchitoches to collect stamps for the El Camino Real de los Tejas historic trail along with the Cane River NHA. Poverty Point in northeastern Louisiana was the next stop before I arrived in Vicksburg for an overnight stay. It was staggering to think of all the lives that were lost in the Civil War battles.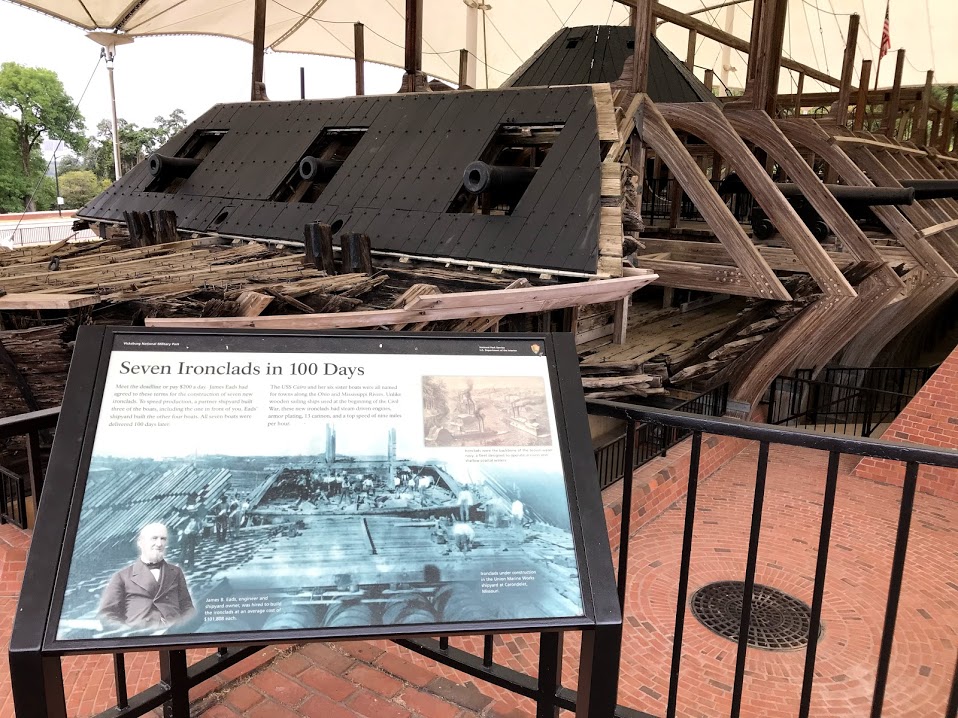 October 25, 2018
I looked out the motel window and saw rain clouds building. Bummer. The ride from Vicksburg to Pensacola was wet and miserable. This happens when one is on the road, and it's best to understand every day will not be sunny and pleasant. But by the time I reached the Emerald Coast, the rain had finally stopped. I obtained my stamps at the Gulf Islands National Seashore to document the Florida state visit. My clothes were damp from the day-long rain, and I spread them out around the motel room to dry. The Paradise Bar and Grill once again cooked up a very tasty burger for dinner.
October 26, 2018
Friday morning's weather looked much better than the previous day. My route would take me north through Alabama and into Tennessee. Stops were made in Lowndes where the Civil Rights Trail was documented and Muscle Shoals where Native American artifacts were on display.
The afternoon clouds thickened and a mist shrouded the heavy woods around Shiloh National Military Park. This is a beautiful place, but again the loss of so many lives in the Civil War keeps one somber. I stayed overnight in Savannah.
October 27, 2018
Photographing the finish of the NIIT WIt rally would occupy most of Saturday. The weather was so nice, I returned to Shiloh to explore the grounds a bit more. I arrived in Olive Branch while Paul and Troy were preparing for the arrival of riders that had been on the road for days. It was nice to see familiar faces. The photo album for finish is here.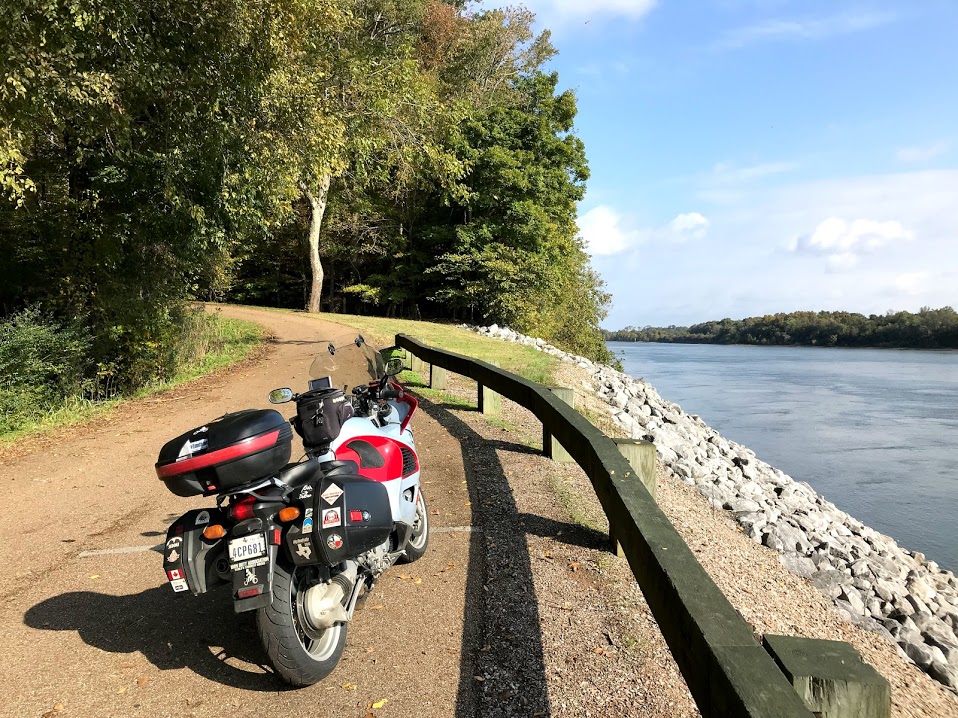 October 28, 2018
The return home from the Memphis area is not too exciting. The interstate is the most efficient route back, but I don't like the traffic and large 18-wheelers. But, I was ready to get back home to Debbie. Along the way, I stopped at Hot Springs and Bill Clinton's birthplace.
---
November 20, 2018
The weather was nice for late fall after some cold weather earlier in the month. I could knock out a few more states with an overnight ride straight north. Riding at this time of the year can be sketchy with unpredictable weather. The George Murrell Home and Cherokee National Museum were not far into Oklahoma. Both offered Trail of Tears stamps. The Cherokee National Museum had some telling displays of how the Native Americans were forced west from their original homelands in the east states.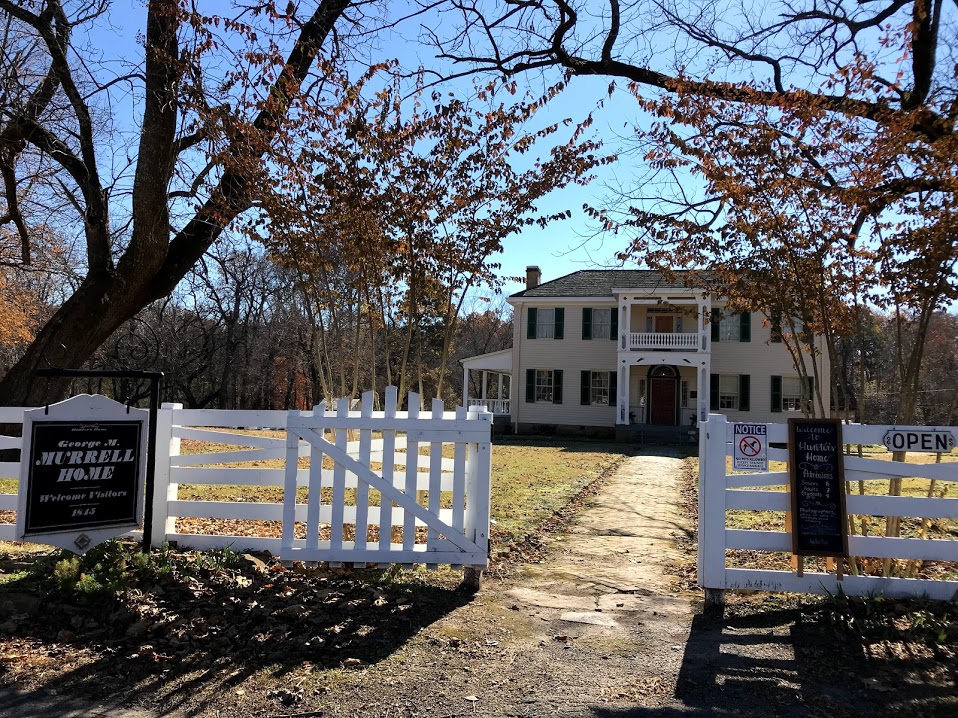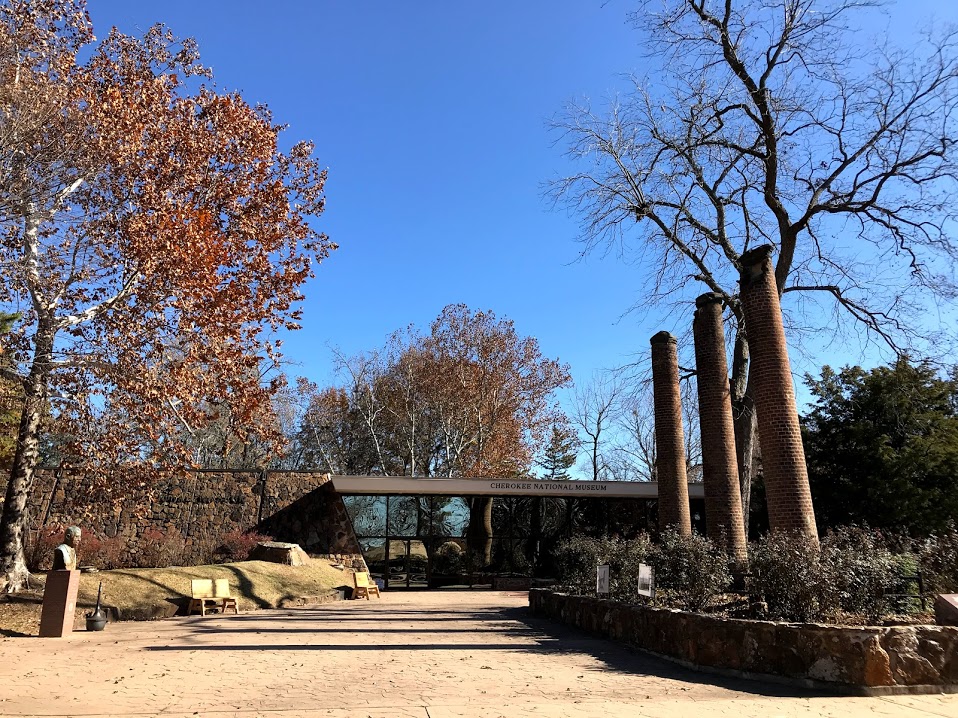 I continued into northwestern Arkansas to Pea Ridge Military Park.

The weather had warmed nicely by the time I arrived at Fort Scott. I wandered about for a bit enjoying the warm sun and called Debbie before I turned south and headed home. Now I had visited 42 national park units in 12 states. There would be more work in 2019 (if you call this work…) to finish my National Parks Tour.
January 7, 2019
Happy New Year!  I was ready to get back on the moto for a quick ride after a holiday break.  The weather looked good for a run down to the Waco Mammoth National Monument.  I wandered about some back roads to make the ride a bit more interesting than a blast down and back up I-35.
---
January 16, 2019
The somewhat nice weather for January enticed me to head back out on the El Camino Real Real de los Tejas.  This trail turned into a major travel route between Mexico and Louisiana in the early 1700's along the missions that Spaniards established in east Texas.  508 miles later on a chilly day, I had acquired 6 stamps from historical places along the national historic trail.
---
February 5, 2019
Chickasaw National Recreation Area is in Oklahoma not far from my home in North Texas.  Platt National Park was established in 1904 as a destination for families to escape the heat of the summer around tree-lined cool creeks and Sulphur springs.  The name transitioned to Chickasaw NRA by 1976, honoring the Chickasaw Nation tribe for its contribution in establishing the park.  This was a nice day-ride with good weather again and some interesting roads.  I explored the Chickasaw Nation Visitor Center and learned quite a bit about life as a Native American.
---
May 3, 2019
The Heart of Texas Rally was ending in Bryan, TX.  I turned the ride to the rally finish into a visit with Keith, my life-long friend in Austin, a few NPS stamp collections along the way, rider photos and visiting with my long-distance friends from all around the country.
---
May 21, 2019
The Big Money Rally threw an additional theme of elevations in May.  This lured me into New Mexico to collect boni of different elevations typically on village signs.  Arizona was still an outstanding state for my National Parks Tour, so I decided to travel west.  I rode to Pecos in West Texas for an overnight stay to get closer to interesting roads.
May 22, 2019
There was a lot of oilfield traffic in Pecos as I was packing up the moto for the morning ride.  I wound up in an one-hour traffic jam in the middle of the desert at a 4-way flashing red light.  Most all of the traffic was oil-related.  Unbelievable.  I continued on into New Mexico, traveling through Artesia and up to Cloudcroft for a tasty pizza for lunch.  The wind in Arizona was unbelievable as well.  Clifton, AZ was my stop for the night.
May 23, 2019
Morning light was already filtering into my room just after 4:30 AM.  Arizona does not recognize daylight saving time.  I decided to get an early start for the day's ride, and by 5:30, I had fueled up and started north on Route 666 (Hwy 191).  The temperature was around 55 degrees.  I remembered from a weather forecast that there might be some snow in the mountains.  I did not think much of that with the mild temperatures in Clifton at 3,500 feet.
I passed by the enormous Morenci Mine and continued north on Route 666.  It started to mist 20 miles or so into the ride.  I was a bit bummed with the imminent rain, as I knew this would eliminate the possibility of a brisk ride on the twisty Hwy 191.  I stopped to put on rain gear and noticed the temperature had dropped into the 40's.
By the time I passed by Strayhorse campground at 7,800 feet, the temperature had dropped into the high 20's.  The rain was starting to turn to light snow, but the roads seemed OK.  I kept riding into higher elevations and snow started to accumulate on the pavement.  I did not know where the crest was, so I kept riding very slowly, but eventually my rear tired started to slip on the snow, and I decided to turn back to Strayhorse campground for shelter.  I waited it out for a couple of hours until I started seeing cars come down the mountain and finally a pair of German moto riders.  I stopped them and asked about the condition of the road.  They said it was clear enough to ride, and I continued on over Hanagan Meadow and ultimately to my National Parks Tour goal of the day, the Petrified Forest National Park stamp. 
My overnight stay was in Albuquerque with a return back into Texas the next day.  It was another adventuresome ride into the western states!
---
June 11, 2019
I was still 12 states short of the required 25 to obtain the National Parks Tour cert.  The Big Money Rally finish banquet was happening in Greenville, SC in conjunction with the start of the Iron Butt Rally.  I mapped out a route to pick up NPT stamps through the eastern US, where states are packed very close together.
The Trail of Tears was the focus of the 635-mile ride for this day with an overnight stay in Harrisburg, IL.
June 12, 2019
Wednesday's ride was through Indiana, Kentucky and Ohio with stops at Lincoln's boyhood home, the Lincoln Memorial and William Taft's memorial in Cincinnati.  I stayed in a historic Lafayette Hotel in Marietta, OH on the Ohio River.  There was a craft brewery and pizza grill within walking distance of the hotel, always a nice find!
June 13, 2019
The morning's ride was leisurely along the quiet waters of the massive Ohio River.  I worked my way through some light rain into West Virginia, where I picked up a stamp in Wheeling National Heritage Area.  Pennsylvania was not much further with a stop at Fort Necessity.  The forest trees were thick through the hills heading into Maryland.  I stopped in Cumberland to collect a stamp at the Chesapeake & Ohio NHP.

Virginia was not much further where I stopped at the Shenandoah Valley Battlefields.  This was located far from any large towns with small roads that were not much more than a paved goat trail.

My overnight stay was in Princeton, where the temperatures were in the high 40's.  I was not very prepared for this cold weather in June.
June 14, 2019
Friday morning was filled with twisty forested roads heading to the Blue Ridge Parkway in North Carolina, where I collected three stamps along the winding high road.  I worked my way to Cowpens National Battlefield in South Carolina, where I discovered my park stamp book was missing from my top case.  Just as I was replaying where it might be, my phone rang with a park ranger telling me that he had found my stamp book in the Museum of NC Minerals.  I backtracked around 60 miles to reclaim my stamp book and headed back to Cowpens and later to Greenville.
At the start location of the Iron Butt Rally, I met up with multitudes of my long-distance friends.  This was a great get-together with the Big Money Rally and Iron Butt Association members gathered together.
June 15, 2019
The IBR tech inspection was going on after breakfast.  I watched a bit and packed up Katrina for the return home.  It was not much more than a 1,000 mile commute from South Carolina on very busy interstate highways.  I stopped in Georgia for a stamp at Chattahoochee River NRA and Kennesaw Mountain National Battlefield with an overnight stay in Vicksburg, MS.  The Georgia stamp brought my count up to 24 states and 61 parks visited so far.  Only one more state needed to complete the NPT cert!
---
August 7, 2019
July was a drought for collecting park stamps, but a British Isles Cruise with Deb filled in the moto-gap nicely.  Justin Phillipson's How the West was Won 32-hour rally was my opportunity to finish the National Parks Tour certification.  I could pick up Utah and Wyoming during the event based out of Grand Junction, CO.
I rode to Conway in the Texas Panhandle heat to get closer to beloved mountain roads.  Near my stay, there was a collection of VW Bugs stuck in the ground similar to the Cadillac Ranch west of Amarillo.
August 8, 2019
Thursday's ride was through the volcanic area of northeastern New Mexico and on to the mountain roads of southern Colorado.  I crossed over Wolf Creek Pass and down into Pagosa Springs for an overnight stay.
I had picked up 5 park stamps along the way, mostly along the Old Spanish and Santa Fe Trails.  My stamp count was now up to 63, way more than the 50 required for the cert, but still short of the 25 states needed.
August 9, 2019
I had to arrive in Grand Junction well ahead of the 3:00 deadline to complete the tech inspection for the HW3 Rally.
The Million Dollar Highway was more than an enjoyable way to get there.  Four stamps on the Old Spanish Trail and one at the Colorado National Monument after the tech inspection padded the park stamp Passbook.  The evening was filled with visiting again with my long-distance moto friends from across the United States.
August 10, 2019
Morning came early for this 32-hour rally.  We had breakfast and prepared our bikes for the line-up prior to a 6:00 AM start.
I headed northwest out of Grand Junction into Utah and saw a lot of the other rally riders at one of the first bonus locations.  After that stop, we splintered off into our own routes and it was a rare occasion to see HW3 riders again.
One of my HW3 stops was at Dinosaur National Monument where I collected both a rally bonus and a NPT stamp.  This stamp officially met the requirements of my National Parks Tour with 25 states now and 50 park stamps.
It was a full day of riding and collecting rally boni in Utah and Wyoming.  I love these quiet roads where I see no other vehicles for 20 minutes at a time.  I picked up one more park stamp in Kemmerer, WY.  Late in the evening, I came across an accident where traffic was stopped for a bit.  This turned into a HW3 meet-up with James Handley, his daughter and Peter Green.  797 miles later at 11:15 PM, I pulled into my rest stop in Cheyenne, WY.
August 11, 2019
I headed out early to finish up my relatively simple day of collecting a few more HW3 boni and to get back to Grand Junction for the finish.
The return route was simple with photo stops at some city signs for letters to make up the HW3 theme Periodic Pandemonium.  I got into the finish well before the 2:00 deadline.  Scoring went well and we celebrated into the evening.  It was another good HW3 rally and my National Parks Tour was finished.
Photos    https://photos.app.goo.gl/pnR72fn21n8mw6KG9
Tracklog    https://www.alltrails.com/explore/recording/2018-19-iba-national-parks-tour