2019 Big Money Rally
February 22, 2019
It was the first spring of my retirement from the job I had held for 39 years.  This was the perfect year to do another BMR.  Reno John Austin and his crackpot team of scouts had come up with another interesting list of boni to keep us on the moto again.  The nice thing about the BMR is that one can ride when they feel like it.  There were some time sensitive boni, but for the most part, riding was on my schedule.  Justin Long helped out with developing an app that made bonus documentation relatively easy and scoring in near real time.  The encrypted date was a part of the photo and validated when the bonus was visited.
This year's event started late in the year relative to the previous BMR rallies that began on New Year's Day.  The last BMR I participated in was 2015 where at first I had the goal of finishing (with 144 points) and wound up riding 8,000 miles to a 6th-place finish.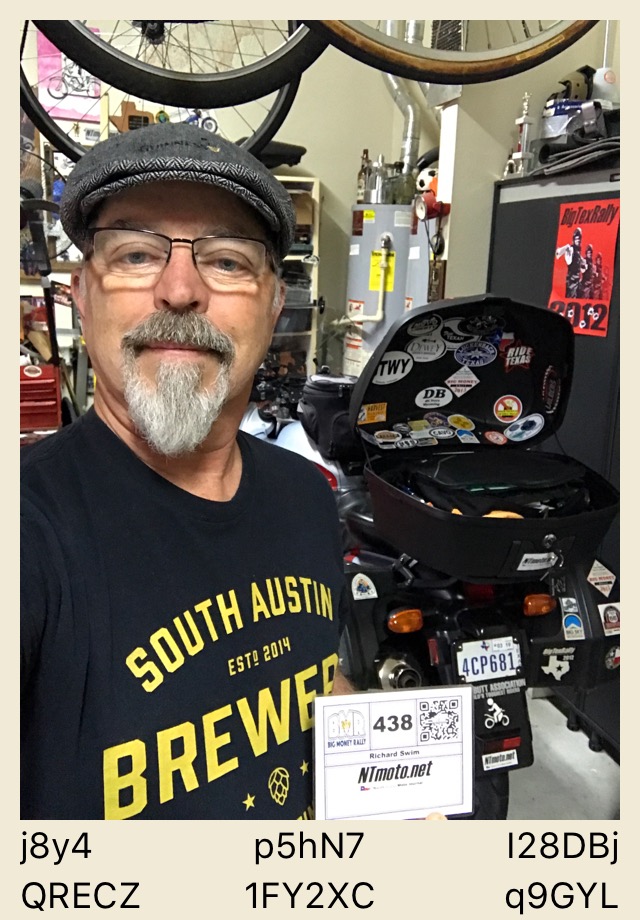 RJ enticed us early with bonus points to post a selfie with a short bio.
This year RJ incorporated a word of the hour, which shifted each day.  There were themes with the word of the hour and day.  Finding a word match for each day once again drove Deb nuts and now a daily word of the hour got me out of bed at strange times in the morning.  But those early mornings got me out to see some nice sunrises.
The rally began on February 22nd, and I started collecting hourly and daily boni along with researching possible other bonus locations.  Weather was nice for the weekend, so a ride was in order north into eastern Oklahoma.  I picked up a lot of points on the ~560 mile Sunday ride.  I noticed as I was posting bonus photos that Steve Snell from Atlanta was on a similar path to mine.  He had a long weekend run and was picking up a lot of points.  We exchanged some chatter on the BMR site and Steve wound up in top position for points over 48 hours.
The following weeks I concentrated on word matches in my local area, which could be on any permanent sign, headstone, etc.   City street signs had been removed from the BMR boni possibilities, so research became a bit more challenging.  I was on the moto most every day with at minimum the word of the day.  Other days I put together a route to incorporate the word matches from the "RJ" theme.
There were some themes where certain locations were only available on Mondays, Thursdays or specific weekends.  I took a ride on March 22 to Sulphur Springs to photograph the glass restroom, which is an odd attraction on the square.  The restroom was designed where one could see from inside out, but others could not see into the mirrored-glass restroom from the square.  The bonus was a picture match, which meant the rally placard and motorcycle had to match the example photo.  The picture matches could be a bit challenging, and this one was one of those.  There were two restrooms, and the correct one had to be chosen and moto parked where the picture match would work.  I ran into Bill and Jeannie Cumbie while there, and we had a great visit!
By March 30, the weather in Texas should have been really nice.  But for the Saturday ride with Tom, the temperatures were in the low 30's with winds to match.  Sometimes I wonder what makes us ride…  We went into southern Oklahoma to nab some RJ boni and a courthouse.  The return route took us by the now-closed Carpenters Bluff railway trestle bridge.  This single-lane bridge across the Red River required drivers to cooperate with each other to cross in opposite directions.
Paul Tong asked me to photograph the finish of the Heart of Texas Rally.  I put together a 3-day route to wander through central Texas grabbing courthouses, counties and word matches in the bonus packet.  An overnight stop in Austin gave me the chance to visit with my life-long friend Keith, who I had ridden with in Spain and Portugal the year before.  The weather was perfect, and visiting with my long-distance friends in Bryan, TX was great!  And, I got a high-point BMR bonus that was good for only 1 hour at the rally finish.  2019 Heart of Texas Photo Album
Rallymaster RJ added in some elevations to the BMR mix in May.  Texas just does not believe in elevations for the the city limit signs, but New Mexico does…  So, another extended ride was in order to my favorite neighboring state.  I headed out on May 21 picking up some counties and courthouses along the way to my overnight stay in Pecos, TX.  During a rest stop at the city square of Eden, TX, I was wandering about and to my amazement, a Texas historical marker had an elevation!  Go figure…
The next morning, I left Pecos and headed straight north towards New Mexico and wound up in a one-hour standstill oilfield traffic jam in the middle of the desert.  That was a bit frustrating…
Once I crossed into New Mexico, the riding and scenery was pleasant.  I started gathering elevation and courthouse boni.  A pizza lunch stop in the cool elevations of Cloudcroft was refreshing.  I continued west through some vicious winds to Clifton, AZ for an overnight stop.
Thursday morning, I awoke to a nice clear blue sky and a mild 55 degrees.  I was excited to ride north on the twisty Hwy 191, formerly known as Route 666, The Devil's Highway.  I left early and once I passed by the Morenci Mine, a light mist started.  This bummed me a little, as I would have to take the road with a bit more caution.
As I rode further north, the temperature dropped slightly and the mist turned to light rain.  I was not too concerned, knowing that I was gaining elevation.  I pulled over to put my foul weather gear on.
As I climbed over the first crest, my temperature gauge was down to 35 degrees.  The clouds had thickened, and it was not too comfortable, but I continued on, knowing I had one more crest before I dropped into lower elevations.  I passed by a campground and started the second climb.  The temperature dropped to 29 degrees and the rain turned to light snow.  I did not know how much further the crest was, and I noticed the snow was starting to accumulate on the road.  Climbing higher, the snow completely covered the road.  There were no car tracks to follow, so I dropped my speed even more.  The snow got deeper and deeper until my rear tire began to slip.  That was enough and I carefully turned around to return below the snowline to the campground I saw earlier.
It was a relief to get off of the snow-covered road down to relatively dry conditions.  I pulled into a camp shelter and put on warmer gear.  I started assessing the current situation, not knowing if the snow would get worse.  I was in a valley between two high-elevation passes, and had no data connection on my phone to see where the snow was moving.  There were no other vehicles on the road.  I had water and food, so I could stick it out if the conditions worsened.  It was thirty minutes before I finally saw a rancher come down the mountain pulling a horse trailer.  He pulled just across the highway and I immediately went over to talk with him about how far the pass was and what the road conditions were like.  His first words were "Were those your tracks I saw up there?".  He told me to stick it out and not go back up the mountain for some time.  After nearly another hour, I started seeing cars coming down the mountain and eventually another moto.  I flagged them over and asked how the road was.  The rider's first words were "We're from Germany", which I interpreted as they knew how to handle this stuff.  He told me they followed the car tracks and it was OK (as far as relative to German roads…).  We had a nice visit, and I geared up and headed over the pass to Hannagan Meadow.
On the way down, I collected more elevation boni as well as a courthouse and Thursday bonus.  The temperature was still cool as I rode across Indian reservation land to Show Low.  My objective for the day included a stop in the Petrified Forest to document another state for the IBA National Parks Tour.  I had lost 2.5 hours waiting for the snow to clear on the Devil's Highway.  The visitor's center would be closing around 5:00, so I did not have much time to waste.  The weather was so nice as I passed through the Petrified Forest, it was hard to believe that earlier in the day I was worried that snow would completely shut down my day's ride.  I turned east to try to grab another high point Thursday bonus, but it was totally dark and almost impossible to match the picture requirements.  I submitted the photo of the old Rio Puerco Route 66 bridge, but never got points for it.  Considering the weather drama earlier, I did not care too much and was happy to get to my motel and warm shower in Albuquerque.
Friday morning I arose to a very nice crisp New Mexico morning with clear blue skies.  This was a welcome relief from the previous day…  My route home would be a straight run with a few more city limit signs to get the last of my elevation points.  I passed through the ghost town of Yeso, where Debbie and I had stopped for black-and-white infrared photos some 30 years earlier.  Clovis was another stop for a courthouse bonus.
The Texas border brought an end to the elevation boni.  It was not too much further into the Panhandle that mother nature threw another kink in my ride.  A typical Texas spring supercell line was blocking my return home.  I stopped for food and assessed the situation.  It was a long line of storms, but I felt I could zig-zag my way through the supercells.  That idea worked as far as avoiding the heavy and dangerous individual storms, but I ran into flooding on the two-lane back roads and had to back-track several times.  I eventually broke free of the bad weather and made my way home.
I had one last Monday morning ride to Louisiana to catch a high point bonus.  Story goes the original name of Rodessa was Frog Level, devised when the local officials were trying to name the town while the frogs were hollering in a nearby pond.
I finished out the BMR with a few local rides to catch word of the hour/day.  The last day of the rally, Deb and I were in Cabo San Lucas.  What better way to reward my understanding wife than a trip to the Baja Pacific?
The finish banquet for the 2019 Big Money Rally was held in Greenville, SC on June 14 in conjunction with the start of the 2019 Iron Butt Rally.  I spent a couple of thousand miles to get there via Pennsylvania as part of my National Parks Tour.  The photo above is comprised of all the BMR riders that would be starting the 11-day ~11,000 mile IBR on Monday.  I can't say enough good things about RJ and his crew of scouts and scorers.  They all put in a lot of volunteer effort in order to give all of us another reason to get on the moto and burn up gas and tires.  Thanks!
Tracklog    https://www.alltrails.com/explore/recording/2019-big-money-rally–2020