2016 HW3
This is the third year for Justin Philipson's How the West was Won rally.  Justin chooses great places for ride starts and he and his scouts do a lot of homework ahead of the rally to find interesting bonus locations.  I received the rally pack the weekend before the ride, but between work and family, I did not have a lot of time to plan my route with thought.  Justin had a variety of themes for the bonus locations, with multipliers in place for staying with a theme.  I came up with a route heading away from the sun and Grand Junction into the vast open lands of Utah.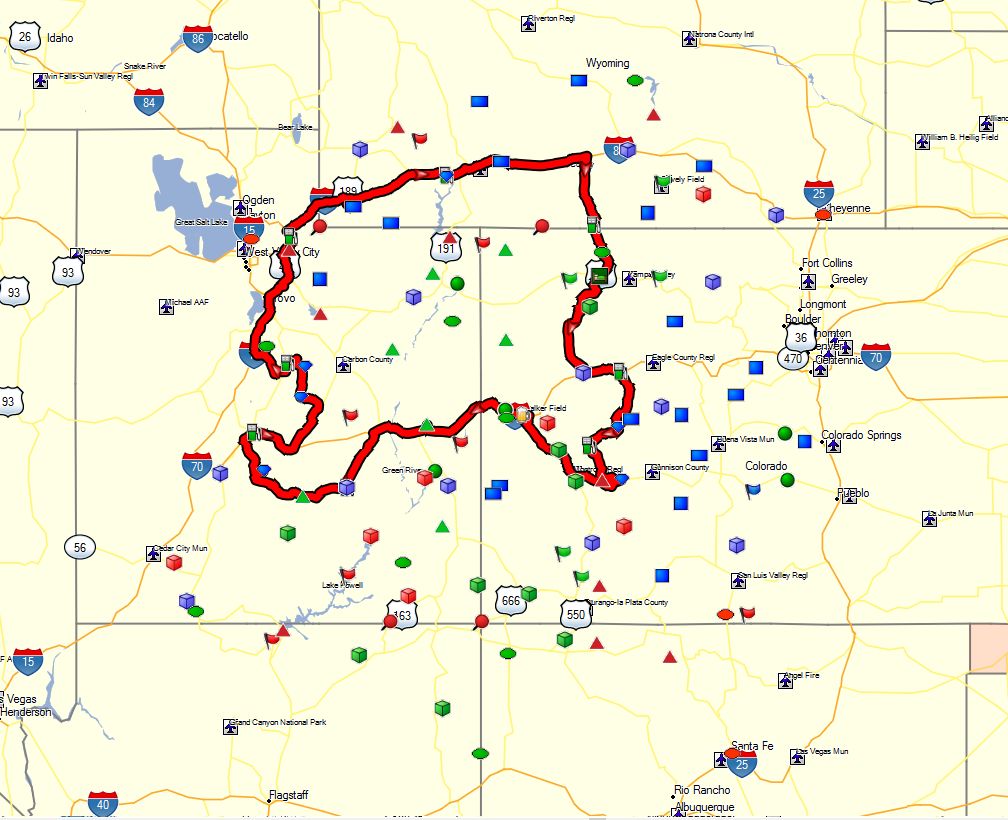 August 17, 2016
The storm without a name that pounded Louisiana was drifting through Dallas.  Deb and I looked at the forecast for my original early Thursday morning departure and we both decided a Wednesday evening ride between storms would be a good idea.  I quickly finished my packing and hit the road to the Texas Panhandle to get away from the rain.  The sunset was a pleasure to watch as I rode northwest from the metromess.
August 18, 2016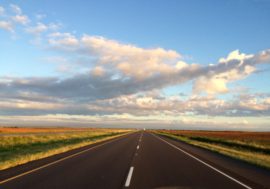 My stopover in Childress put me ahead of my original schedule to ride to Westcliffe.  I decided to head instead to Pagosa Springs through Santa Fe.  In the Texas Panhandle, I left the main road to visit Adrian, which is the halfway point of Route 66 between Chicago and Santa Monica Pier.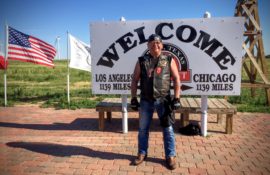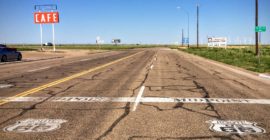 Gerve from Barcelona asked me to take his photo at the Route 66 midpoint sign.  He did not speak very much English but was pleasant to visit with for a bit. I continued west and grabbed a pressed penny at Clines Corner to add another state to the the IBA insanity ride.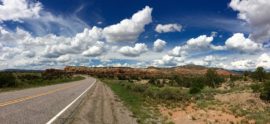 The land around Abiquiu is rough and beautiful at the same time.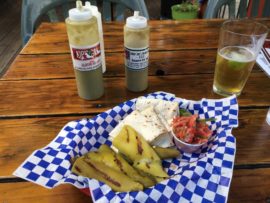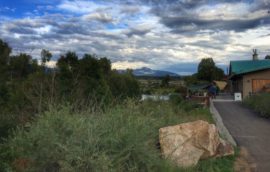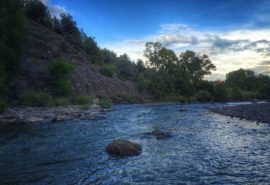 I settled into Pagosa Springs and immediately headed to Kip's Grill for some southern Colorado green chilis.  Afterwards, I wandered along the banks of the San Juan River taking in the sounds of the water rolling over the rocks.  It was very relaxing.
August 19, 2016
It was a beautiful morning in the mountains as I made my way to Durango.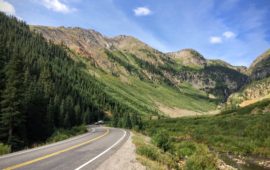 Turning north on Hwy 550 made my heart race a bit thinking about the upcoming views and tight turns.  This morning was promising to be a rare dry ride through the Million Dollar Highway.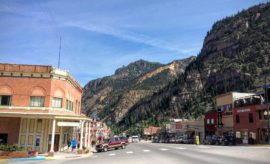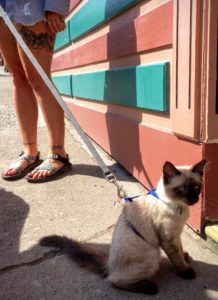 I stopped in Ouray to stretch my legs and to grab a pressed penny from Colorado.  A young couple with a their Siamese cat on a leash caught my attention.  They were nice and let me capture the moment in a photo.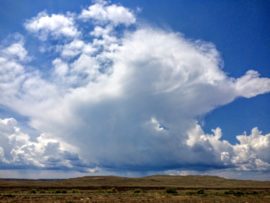 Once I left the mountain roads, the ride through Montrose and Delta was more of a commute than an enjoyable journey.  But the wide-open western Colorado skies kept me entertained.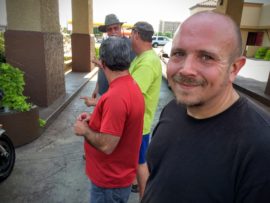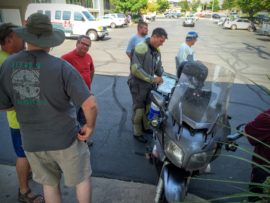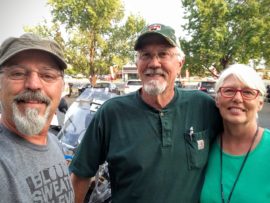 I arrived at the rally headquarters and saw familiar faces.  That made the monotonous and warm ride from Delta all worth it.  I saw Erik Lipps, said some hellos, worked through my tech inspection and started my odometer check out the road towards Utah.  Once that was all done, it was time to unwind and visit.  Leonard and Liz arrived from Steamboat Springs to visit for a while.  It was nice to see their smiling faces.  They were wrapping up their 6-week summer sojourn into the Colorado highlands.
We enjoyed dinner and more visiting into the evening.  There was very little pressure with Justin distributing the rally pack the week prior.  This gave time for everyone to socialize rather than stressing over what would transpire the next morning and 32 hours afterwards.  I retired for the evening with my alarm set for 4:30.
August 20, 2016
3:30 AM.  I'm awake.  Seriously?  Body – you can have another hour of sleep…  Nope.  Might as well get out of bed.  I looked over the rally pack a bit more for the reading comprehension part of the challenge.   The hotel staff served us a hot breakfast at 5:00 AM which was nice.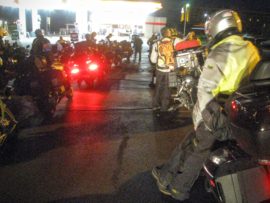 Motos started lining up at 5:30 for the final odometer check and ride start at 6:00.  Justin sent us off in orderly fashion and riders started peeling off in different directions.  That's the sign of a well-planned rally with no obvious route that all would follow.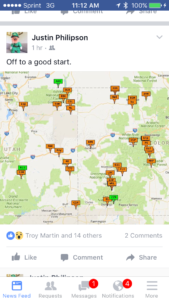 The sun was rising behind me as I traveled into the sparse landscape of Utah.  This type of riding is good for collecting thoughts.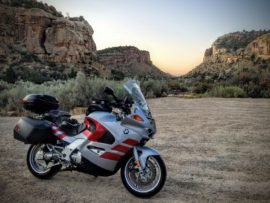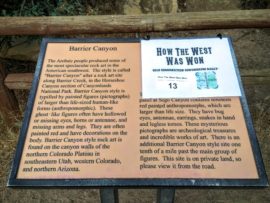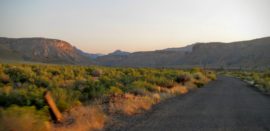 A hundred miles west, I exited the highway and negotiated a rough road into the cliffs to collect my first bonus at the Sego Canyon pictographs.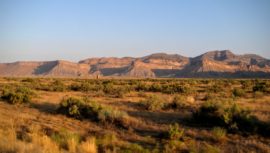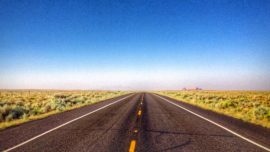 I returned to the 80-mph interstate to ride further west and exited to 2-lane roads where I did not see other travelers for 20 minutes at a time.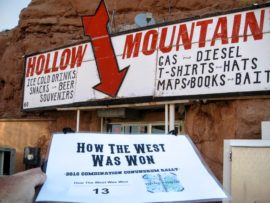 Out of the solitary high desert suddenly appeared Hollow Mountain, where a convenience store and gas station was literally carved out of a massive sandstone hill.  I took my photo of the bonus, documented time/odometer, fueled up and rode north to Capitol Reef NP for another petroglyph bonus.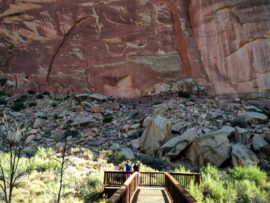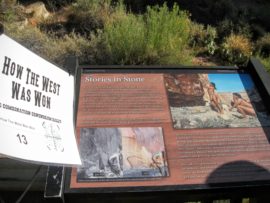 I walked down the incorrect boardwalk to discover a tree fallen on top of what I thought was the bonus location.  I went back near my moto to see a shorter walk to the correct location.  Time burned…
The landscape changed as I rode deeper into Utah with irrigated farmland and small communities every 10 or 15 miles.  I approached Loa greeted by a Sheriff that had closed down the main road into town.  I paralleled my original route for a while through the village and then turned down a street to pull back onto the main road.  I found myself in a parade route with everyone staring a bit at me.  I backed my moto onto the side street and worked my way to the other side of town, greeted by another smiling sheriff waving goodbye.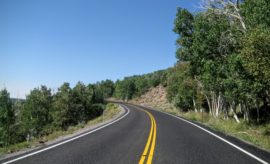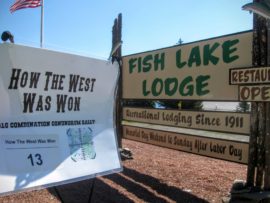 The road to Fish Lake was pleasing after I got off of the "shortcut" gravel road.  One would never imagine places like this while traveling the lower farmlands.  Aspens, winding roads and lovely vistas were pleasing to my mind.  Every time I encounter a find like this, I wish I had more time to absorb it all.  It will have to be some return trip.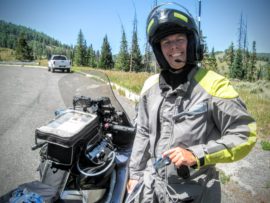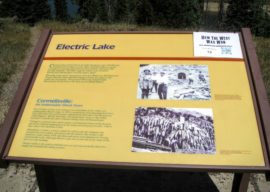 Josh Mountain rolled up to the Electric Lake bonus at the same exact time as me but from the opposite direction.  We exchanged quick greetings, shot our bonus photos and left together in the same direction.  He was more efficient in leaving the bonus, but I caught him at a fuel stop in the village below.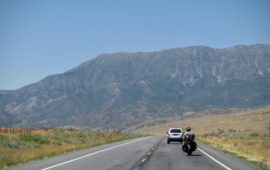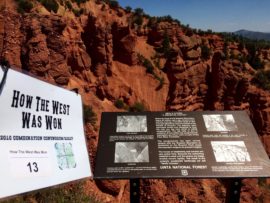 Josh passed me on the road and I chased him up the tight winding curves to Devil's Kitchen bonus.  Trying to keep pace with him was the highlight of my rally experience.  Josh is a truly friendly person having a great time on the moto and managing to place well in competition.
I checked briefly on Josh after he pulled to the side of the road at a turn.  Thumbs up and I headed further north on the outskirts of the sprawling Salt Lake City area.  The warm weather brought out the masses to play in the lakes below my route.  I stopped in Heber City to stretch my legs and grab another pressed penny for the state of Utah.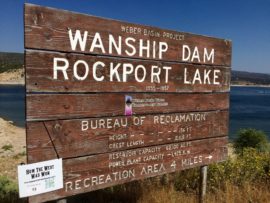 The next target was to continue towards Wyoming and the Wanship Dam bonus.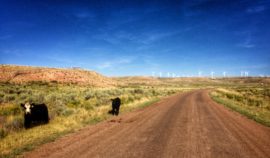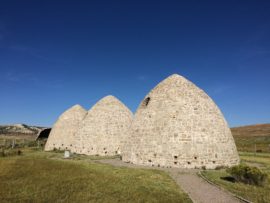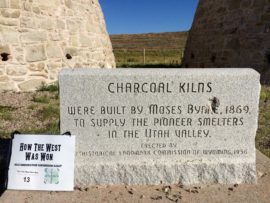 The ride began an eastwardly track on the interstate.  I turned off onto a nicely-packed gravel road to find the Piedmont Kilns.  What tweaks my mind is what the heck was in the settlers' minds to build structures like this in the middle of nowhere.
My GPS was trying to give me the experience of Wyoming goat trails on the way back to I-80.  I graciously declined the experience and backtracked my path to the slab.
Little America pulled me off of the slab with its promise of a Wyoming state pressed penny.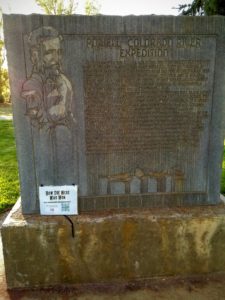 I returned back to the road to find the Powell Expedition bonus.  It was here in Green River that I was helped by a fellow rally rider that pointed me to the correct Powell stone memorial where I was ready to pack up and move on.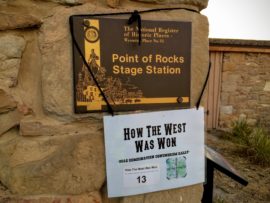 At the Point of Rocks Stage Station, I paid back the earlier favor to another rider that was ready to leave after photographing the incorrect plaque.
The sun was setting behind me as I continued east.  At Creston, I turned south on 789 towards Colorado and immediately saw deer wandering about on the side of the road.  Cutting the speed a bit seemed to be a wise choice considering self-preservation.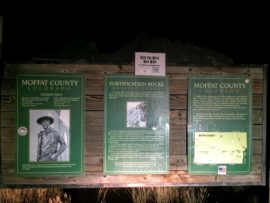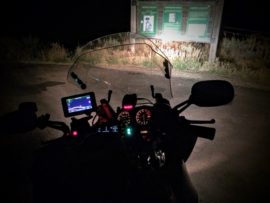 The temperature was dropping quickly as I rode past the border nearing my last bonus for the evening  at Fortification Rocks.  Staying in line with the two seasons in Colorado (winter and construction), I was stuck just north of Craig for near 30 minutes waiting on the pilot truck.
 I found a gas station in Craig with a working receipt printer to log the start of my rest bonus.  The hostess at the Super 8 was very nice with me arriving after 11:00.  The shower and bed felt wonderful after the ~900 miles of riding for the day.
August 21, 2016
My alarm was set for 4:30, but I awoke at 3.30, ready to ride.  I looked at the return route and did some additional rally pack reading comprehension exercises.  I packed up my minimalist hotel luggage, mounted the moto and documented the end of the rest stop bonus by topping off my fuel tank.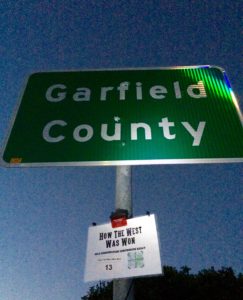 The Garfield County marker caught my attention as the sun was creeping over the mountains.  This would be my first presidents bonus stop.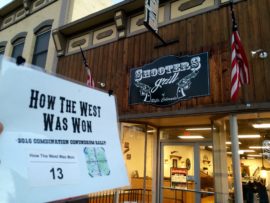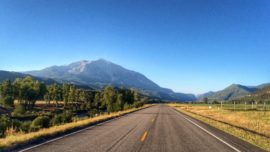 I rolled into Rifle to log the Shooter's Grill.  Glenwood Springs was a fuel stop with gourmet gas station sausage and egg sandwiches and burritos.  It worked for me and tasted good.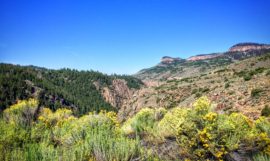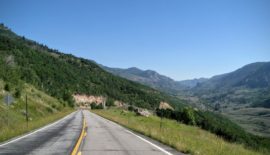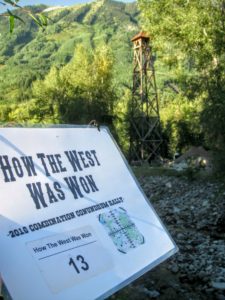 The sun was starting to warm the crisp mountain air as I turned south towards Marble and McClure Pass.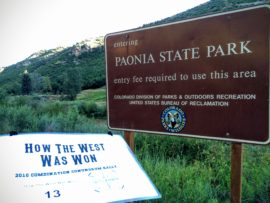 I stopped by Paonia Reservoir to document another bonus and continued down the winding road taking in the beautiful morning unfolding in front of me.
The Black Canyon of the Gunnison is always challenging and exhilarating to ride.  This morning was another rare dry road experience, which is always great!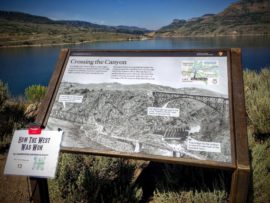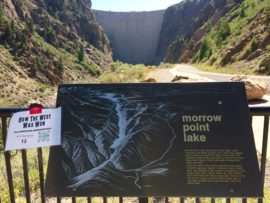 I turned back west at the Blue Mesa bonus to wind my way to the Morrow Dam bonus. I've ridden this road many times and did not know this dam was the reason the view from twisty Hwy 92 is so pleasing with the narrow lake below fed from the Gunnison River.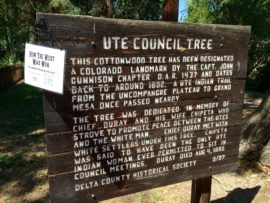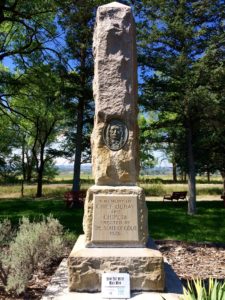 Working my way north on Hwy 50 took me past my last two bonus locations based on the Ute Indian history.
As I approached the rally endpoint, I considered a couple of other locations that were in my reach.  But, the possibility of bagging those included the risk of not returning to the finish before 2:00 resulting in a DNF.  I knew my route choice would not score high, so I opted to roll on in and enjoy the ride and socializing that would ensue.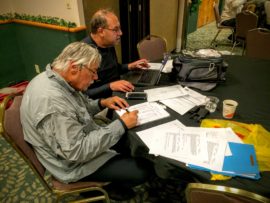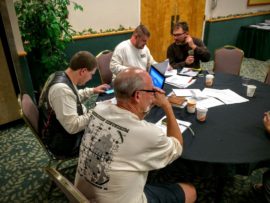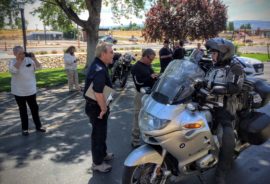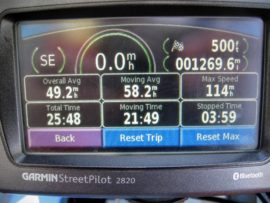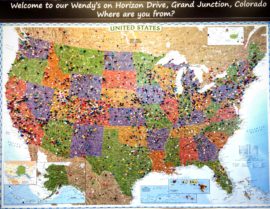 I finished up my scoring and grabbed a bite to eat before the evening banquet.  I stuck a red thumbtack on top of Garland.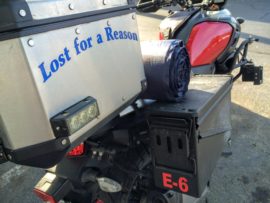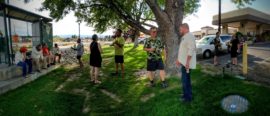 The riders began grouping about sharing stories from the previous 32 hours.  It was fun just hanging out and listening in on all of the experiences.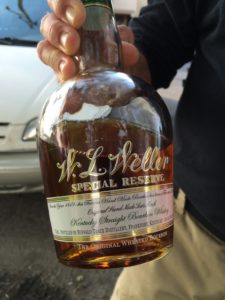 Tyler walked about offering samples of his his bottle of tasty bourbon.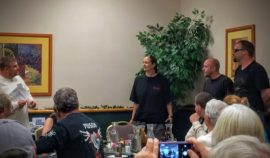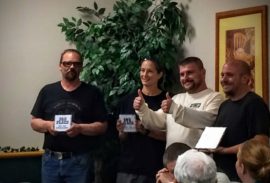 The dinner was good, especially considering what I had consumed over the previous day and a half.  Justin announced the winners of the rally, with Erik Lipps blowing everyone away again.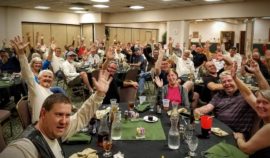 All gave a wave to Maura, who had taken out a deer during the ride.  She was OK, but her moto could go no further after the hit.
The results and the top 3 riders' routes are below: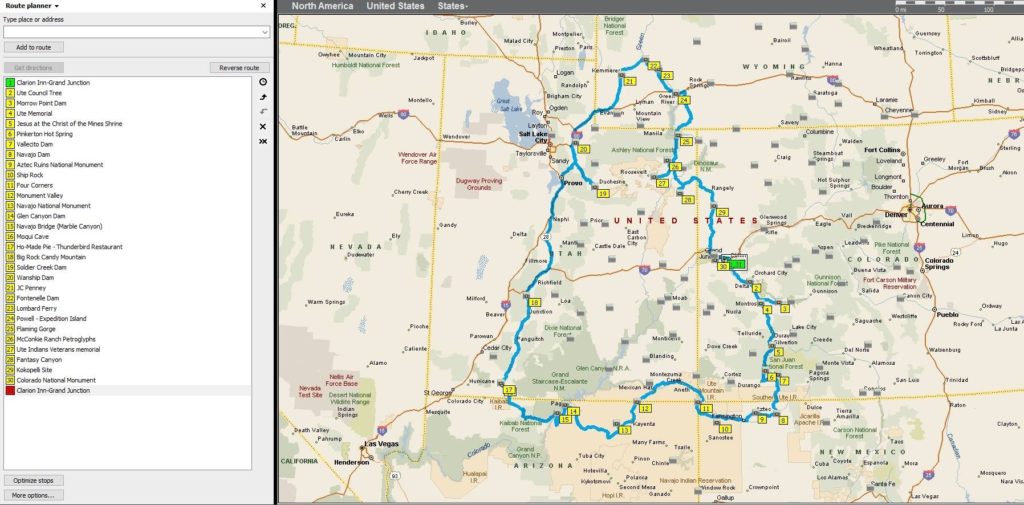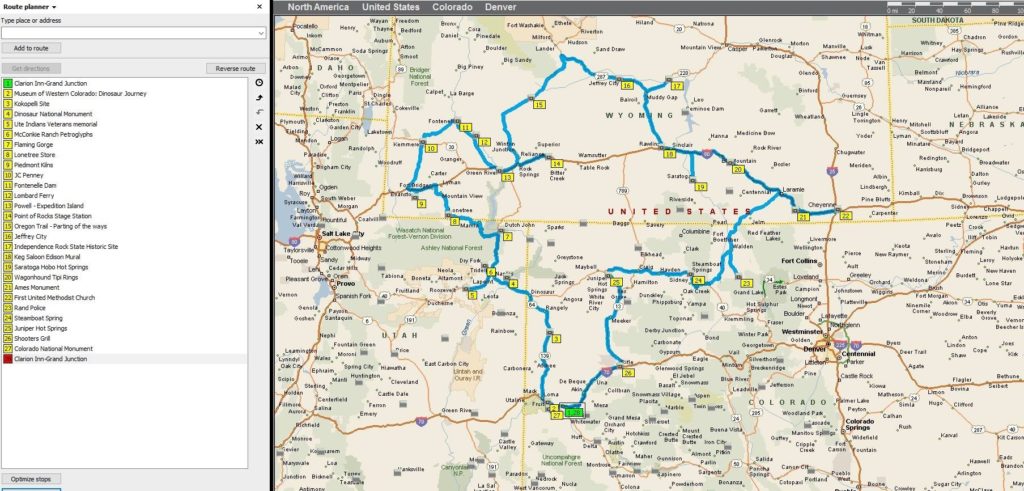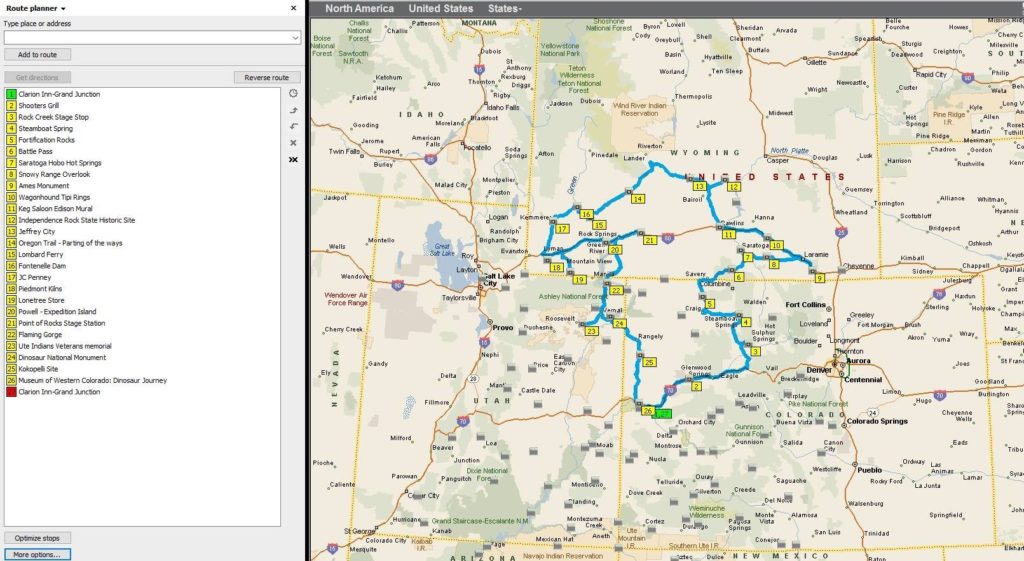 PLACE  NAME  POINTS  POINTS-PER-MILE
1  Erik Lipps    25871.835    1753.5    14.75
2  Wendy Crockett    21655.2    1556.1    13.92
3  Eric Markus    21070.43    1457    14.46
4  Josh Mountain    20250.4    1651.6    12.26
5  Andy Mackey    20067.55    1529    13.12
6  Bill Lynes     19676    1416.2    13.89
7  Michael Brooke    19641.4    1698    11.57
8  Nancy Lefcourt    19361.2    1342.2    14.42
9  Timothy Allen    19326    1368.7    14.12
10 Steven Peugh    18857.76    1607.8    11.73
11 Robert Reil/Marlisa Williams    17027.4    1479.1    11.51
12 Rod Schween    16944    1516.3    11.17
13 Peter Green    16858.2    1640.4    10.28
14 Alexander Shmidt    16701.2525    1525.1    10.95
15 Greg/Wini Farmer    16254.6    1351.5    12.03
16 Dave Biasotti    15622.4    1436.6    10.87
17 Tom Daniels    15597.54    1648.4    9.46
18 Ken/Linda Schleman    15116.8    1346.508    11.23
19 Rebecca Rasmussen    14416.24    1388    10.39
20 Paul Meyer    14187.6    1685.6    8.42
21 Phillip Oconnor    13469.6    1317    10.23
22 Bob Scott    13435    1211.1    11.09
23 Mark Pierce/Robin Freeman    13390.8775    1437.8    9.31
24 Roy Kjendal    13357.11    1458.8    9.16
25 Chris Sims    12382    1222.1    10.13
26 Kyle Hayes    12375    1186.7    10.43
27 Dale Bundy    12350    1529.6    8.07
28 Glenn Pancoast    12076.4    1369.2    8.82
29 Marc Beaulac     11993.4    1199.2    10
30 Tim Hayosh    11767    1633.8    7.2
31 Chris Purney    11655.2    1182.3    9.86
32 Jerry White    11599.8    1204.3    9.63
33 Mario Winkleman    11599.8    1205.4    9.62
34 Chuck Lackey    10742    1206.4    8.9
35 Paul Stark    10458.2    1164    8.98
36  Kip Pesterfield    10458    1159.2    9.02
37 Danny Alsop    10318.8    1158.8    8.9
38 Shawn Hayes    9998.2    1182.9    8.45
39 Tom Houdek    9560.2    1171.2    8.16
40 Terrence Moore    8918.2    1172.2    7.61
41 Richard Swim    8828.4    1253.6    7.04
42 Doug Rasmussen    7905.8    1264    6.25
43 Richard Leighton 5881    1266    4.65
44 Bill Aviles    4583    1192.2    3.84
45 Jan Mondale    DNF
46 Maura Gatensby DNF
August 22, 2016
After a tasty warm breakfast and saying goodbyes to my long-distance friends, I took the long way to Pagosa Springs via Slumgullion Pass.  The weather started to look traditionally wet as I rolled towards the mountain.  I spoke with a couple of riders at Lake City and asked about the conditions over the pass.  They advised me to don rain gear…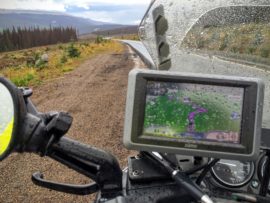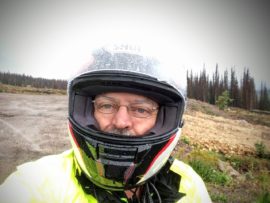 The road had been freshly paved and well in need of it.  I took the ride slowly with the heavy rain and cold conditions.  It was all still very beautiful even with the rain.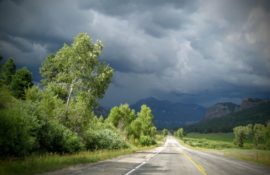 I approached Pagosa Springs from the east after finally punching out of the wet stuff.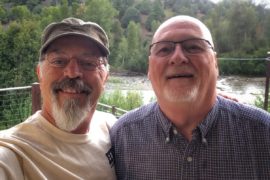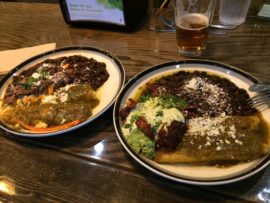 Troy was working a few days in Pagosa Springs and we met up for dinner and visiting.  I walked the river into the evening and took in the sounds of the San Juan River.  I slept well.
August 23, 2016
It was a bit difficult to prepare for the return to Texas, but I also had the bonus of seeing my lovely wife.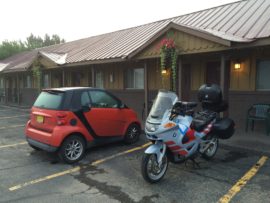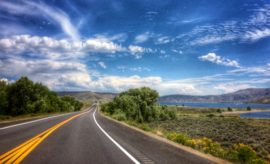 So, I packed up and rode.  It would be around 800 miles, but luckily the weather was relatively cool for this time of year.  Blue Mesa looked nice in the early morning light.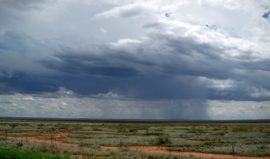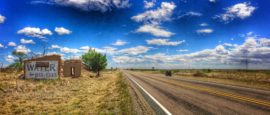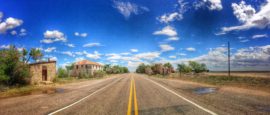 Showers danced above the high desert along my ride.  I rode through Yeso, a ghost town Deb and I found in the early 80's.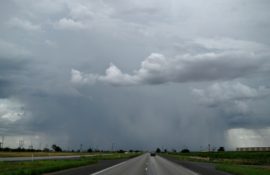 As I approached Lubbock, I was starting to get warm and thought a summer shower would be nice to ride through.  I got my wish, but found wind shears from both directions as I pierced the wall of rain.  As I exited the storm, I saw rain swirling around the front of my bike, but felt no wind.  I looked down at the speedometer to see 55 mph.  That's what I felt from both sides as I entered the storm.  Whew…