Greenwood Grill
January 2, 2009
So Tuesday, Yeeha Stephen sends out a short message on the LSBMWR board saying he's riding Friday out to Greenwood, "…a hunert' miles for a burger".  Weather looks good, things are slow at work, I'm in.
The New Years festivities are done, it's Friday and time to ride.  We are to meet at the Hurst BMW store, so I'm not looking forward to heading across the metromess in rush hour, but it's not bad due to the holidaze.
I once again confirm my belief that motorcyclists don't need much prodding to go ride.  Stephen sent one message with short notice, and there wasn't much chatter on the board after it.  The bikes and riders keep showing at the ride start, eventually nearing 20.  Stephen leads us all around the back roads west of Fort Worth, on some roads I have never seen.
After a stop in Weatherford and a jump start for Yeeha's bike (that's rare for a BMW), we head north towards Decatur and Greenwood.  As we near Greenwood, we see Jim and some of his group heading back home.  Yeeha's battery killed over in Weatherford and that set us back just a bit, but hey, no prob.  I guess Jim gave up on us in Greenwood.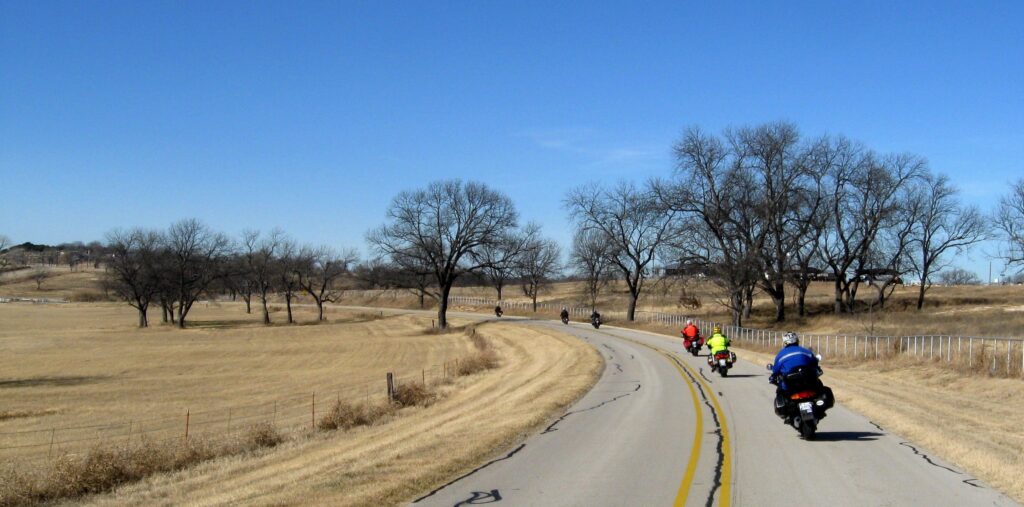 The road to Greenwood is off the beaten path.  I don't think many folks will stumble upon Greenwood unless they were intending the trip.  But it's nice to hang in a place like this after living and working in the big city.​
The burgers were large and tasty at the grill.  The weather was great, and the return ride across 455 was fun and twisty.  It was a great day for a lazy 288 miles.  Thanks Stephen for planting the idea of a ride, and Happy New Year!
Photos    https://photos.app.goo.gl/BHz49si6gtANpw1g6
Tracklog    https://www.alltrails.com/explore/recording/20090102-greenwood-grill–20090103