2017 DFW Defective Gene Pool RTE
February 25, 2017
Cliff Wall and Bill Thweatt have been luring long distance riders from around the United States for 6 years now with the DFW Defective Gene Pool Ride to Eat at Big Ray's BBQ in Allen, TX.  There's a lot of fossil fuel burned in a few days around this weekend resulting in what appears on the surface as only the consumption of great Texas BBQ.  But there's so much else going on deeper within this subculture of motorcycling.  An outsider might view Dave McQueeny's journey this week of over 4,000 miles to eat BBQ an indication of possible insanity.  But a seasoned long distance rider would totally understand this perceived insanity as total normalcy.  Motorcycling, especially of the long distance variety, is an activity that we often do alone, but together in soul and connections with others in this moto community.  This type of get-together is a required element to meet friends and associates and bond through sharing of stories and experiences of the road.
I arrived via 4 wheels to the RTE, still in shoulder surgery-recovery mode.  There were many motos in the parking lot and nobody to be seen.
Some serious eating was going on as I entered Big Ray's.  I sat down with Troy and Bobby to slam down my sandwich before the festivities began.


Here's a re-hash of the the proposed seminar agenda shared earlier:
1) Bill Thweatt – 5 time IBR finisher and DGP HOF founding member – "How I overcame shyness and lack of self-esteem through provocative outer garments".
2) Paul Tong – IBR Finisher and soon to be ground-breaking 2017 IBR participant in the first ever all-male two up riding combo – "How I overcame shyness and lack of self-esteem through male bonding".
3) Wayne Boyter – IBR Finisher, Rallymaster Legend and 2017 DFW Defective Gene Pool Hall of Fame Inductee – "How I overcame shyness and lack of self-esteem while scouting a nude beach bonus".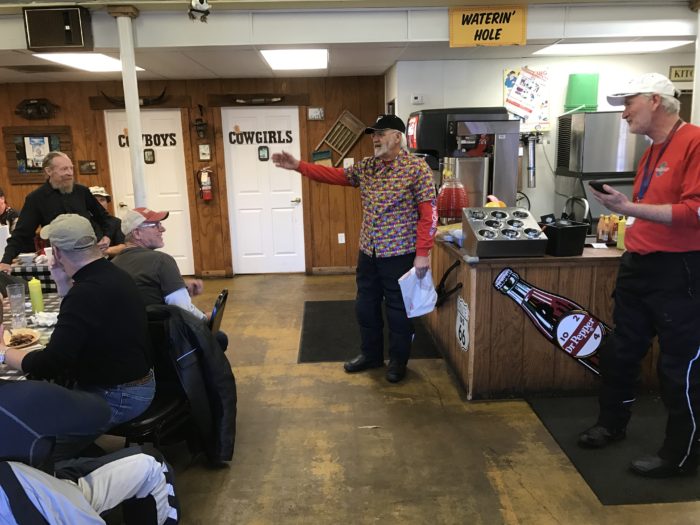 But the seminars fell a bit short.  That could be due to a possible shortfall in the honorarium budget.  But all was not lost.  Bill gave a visual presentation of how neon bright overshirt wear can be more effective in accidence avoidance than the lime-green stuff most all of us wear.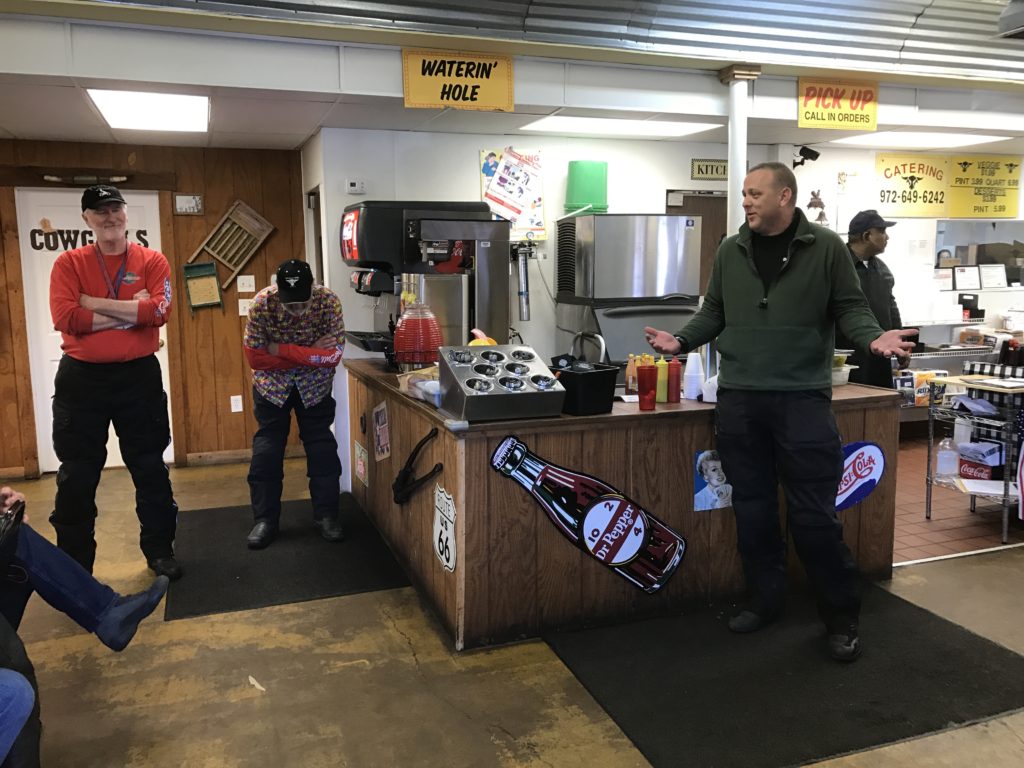 Paul Tong gave a pitch on the upcoming Heart of Texas rally, which I hope to be participating in.  He also shared his vision of male bonding and cumlitive brain processing power that should lead to a historical Iron Butt Rally two-up first.
And onto the awards…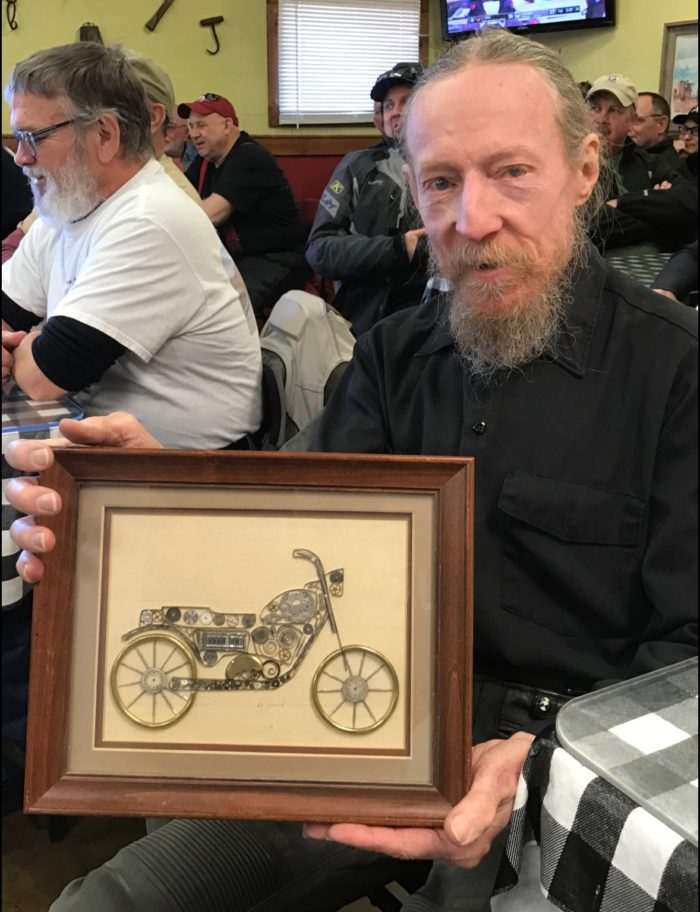 Dave McQuenny was the dominant leader in the miles ridden to the RTE category.  Dave routinely rides to Texas from California for this get-together.  It's always great seeing him.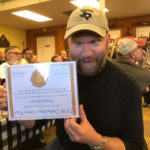 Wayne Boyter was inducted into this year's DGP Hall of Fame with his contributions to the Texas rally event revival and promotion efforts.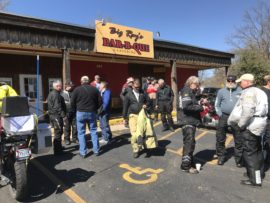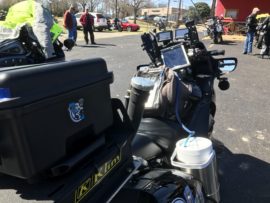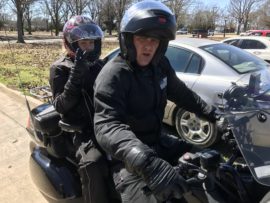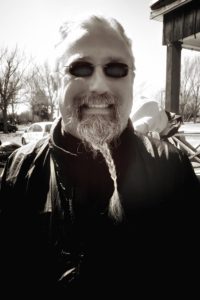 The group dispersed outside to kick tires and continue the conversations.  The weather was great today with crisp temperatures and bright, warm sunshine.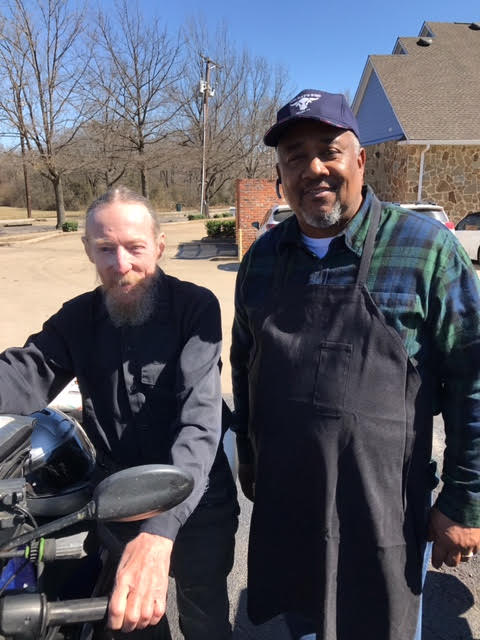 Big Ray came outside to get a photo of Dave before he started his ride back west, with an overnight stay in my old stomping grounds.
Till next year…