Wyoming Ride – BMWMOA Rally
July 14, 2008 Prologue – Home to Vernon, TX
Tom, Paul, his wife Marilyn and I wanted to get the heck out of the big city and get closer to the cooler high country, so a short evening ride after work to Vernon was in order.  We met up with Tom near his house north of Frisco and started heading west.
I'm blogging updates(shown in italics) during the trip via mobile phone email.
| | |
| --- | --- |
|   | A quick gourmet meal at a Wichita Falls truck stop. |
We are here in the metropolis of Vernon, TX amongst the grain elevators just a couple of hundred miles up Hwy 287.  The weather during the ride cooperated nicely, with some cool outflow from nearby thundershowers around Decatur.  The roads were dry, though.  Tomorrow morning we get up early for the trek across the Panhandle, through a corner of New Mexico, and into the Rocky Mountains of Colorado.

July 15, 2008 Day 1 – Vernon, TX to Westcliffe, CO
We are in Westcliffe, CO after a 536-mile run today, and posting from Poag Mahones pub downtown. It is a great find for dinner where our waiter, Brennen has served up some very tasty rib eye steaks and burgers with fresh baked Amish buns.
The ride across the Panhandle was hardly hot since rain showers greeted us from just west of Vernon to Amarillo. We donned the rain gear and welcomed the cooler temps.  At Bushland just west of Amarillo, a local looked over his station wagon and asked "is that one of those engines that goes…" while he was motioning with both hands going away from each other.  I pointed to Tom's R1200RT and said that was the boxer engine he was trying to describe.  And then he said "Hey, it's Tuesday and you guys aren't at work!".  Yep.
We made a detour off the main route Hwy 87 through northeast New Mexico onto hwy 72, near Capulin Volcano.
Bo would have been proud of us since the road
was small enough that
we had to wait on cattle
to clear in front of us.
That's Capulin in the background.

 
Another nice road find was Hwy 165 just west of Colorado City.  This road was lightly-traveled and very winding over the mountains into Westcliffe.
Tomorrow starts the run through some of the best mountain scenery of Colorado and into Wyoming.  As Tom just said, "Life is good…"
July 16, 2008 Day 2 – Westcliffe, CO to Dubois, WY
Blogging live tonight from Dubois, Wyoming listening to the Prairie Grass bluegrass band performing some excellent music with 12-year old Tori Anderson leading the vocals. We just had a wonderful steak and salmon dinner at the Rustic Pine Steakhouse and Tavern.
 
Our waitress, Cathy told us about the concert right next door.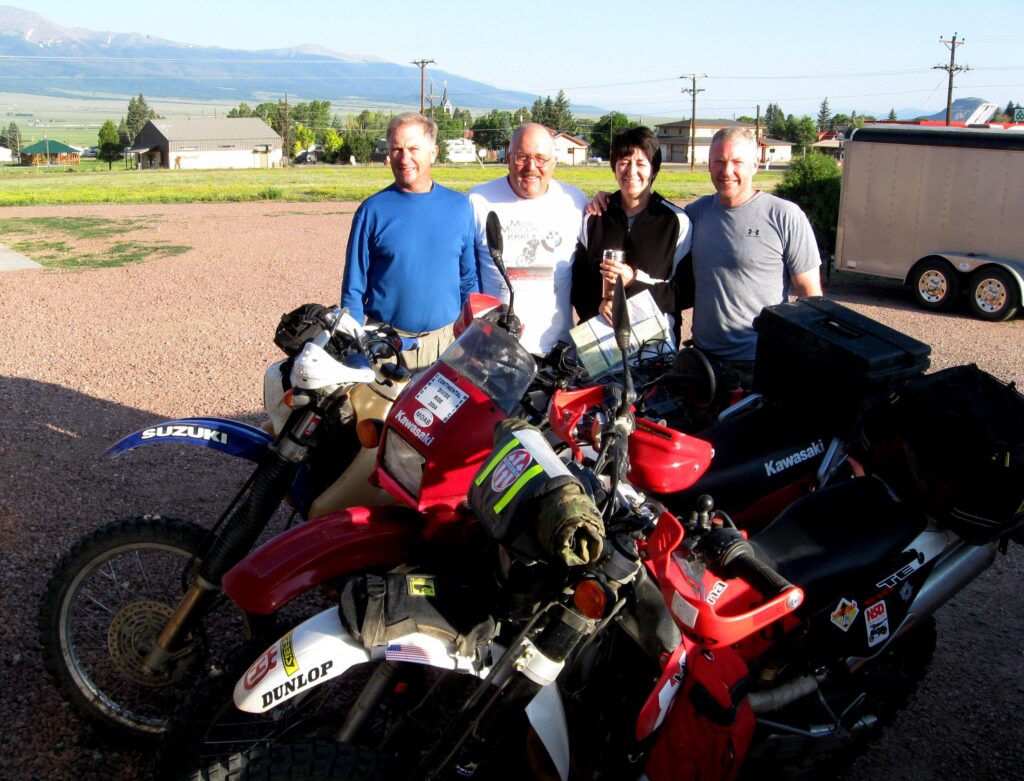 At breakfast in Westcliffe, we met up with Jon Wiggins, Richard Neas, and Kurt and Angie Gibson
who were on an off-road excursion via the Trans American Trail. They are from Springfield, MO and started their all-dirt ride in Arkansas finishing in Ouray, CO.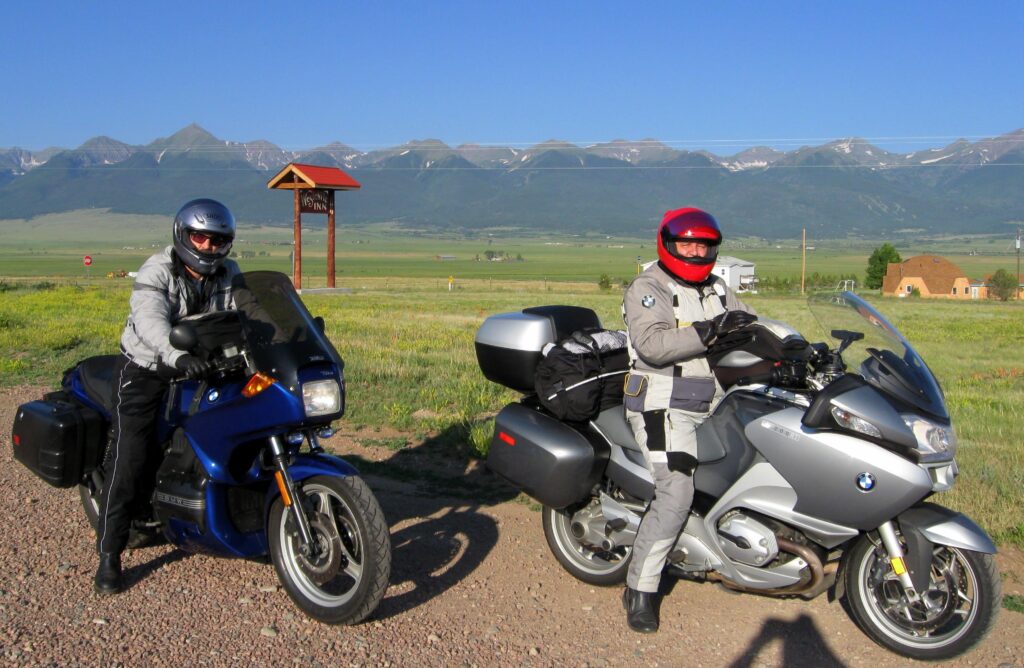 Today's ride took us 546 miles through central Colorado and through the windy high plains of Wyoming. We left Westcliffe early in the morning and immediately spotted Elk in the valley just below the road.  We couldn't go more than a few miles before spotting more wildlife along the highway.
Along the Arkansas River we came up on a Harley
sidecar rig with a dog wearing goggles.
He (the dog) kept turning around
to check us out
as we were passing them.

 
 
We had to stop in Wyoming this time for a cattle drive.
The cows were bellowing at us like we were messing up their road crossing

We met up with Matthew in Lander, WY at a fuel stop.
He has been on the road for over a month riding
his R1100S through the eastern states.
He was on his way back home to Dubois.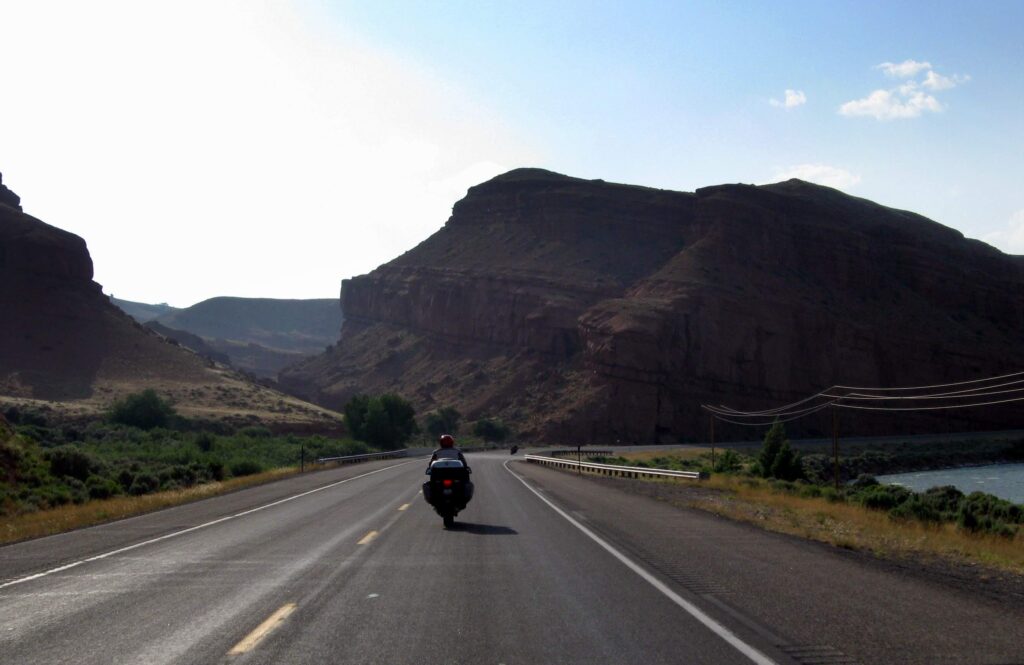 Matthew took the lead for the last 80 miles of today's leg through the canyon sweepers into his home town. It was cool watching him wave to the locals once we entered town. But, he said he was just returning to pack and get the heck out of Dubois.
We decided to live

on the edge
and

went into this biker bar.
Tomorrow is a ride to the Grand Tetons and Yellowstone with a stay overnight in Cooke City, MT.


July 17, 2008 Day 3 – Dubois, WY to Cooke City, MT
I'm starting today's post while waiting on the pilot truck to lead me through some road construction just outside of Silver Gate, MT. It's only 2.5 miles to the hotel in Cooke City, but the road construction is holding things up for around 20 minutes.  There's a light rain falling and the temperature has dropped into the 50's.​
Kristen, the flag person,
says her hands are so cold
she can hardly hold the
camera steady while she
snaps a pic of me
I see the pilot truck heading in my direction, so I must get ready to ride.
I'm resuming the journal now in
our room listening to the soothing
sound of the Soda Butte Creek
that is just below our window.

Tom, Paul and Marilyn split off from me at the top of the falls of the Grand Canyon of the Yellowstone so they could head on to the Soda Butte Hotel. I spent another couple of hours riding the 60 miles of beautiful northern Yellowstone shooting way too many photos, but you know I had a great time.
We started out from Dubois early this morning riding through the Grand Tetons.
Carolyn, a very friendly park ranger, struck up conversation with us at the Snake River Overlook.

I removed myself from my riding partners and thought back on the time when I was very young in this
very spot with my parents. I owe so much to them for introducing me to this beautiful area of the West.

 
In Yellowstone, we visited Old Faithful but were surprised by the number of people. We decided to not wait for an eruption after seeing the traffic of the previous as we were arriving. After a quick lunch, we moved on. We enjoyed the sweeping and twisty turns of the park and listened in on the French visitors using the same radio channel as ours. We couldn't understand a lot, but Tom corrected their "Continental Devine" with a radio response.
While now on my solo ride, I had to put on rain gear at the top of a
mountain when the temperature dropped 15 degrees and the sky darkened.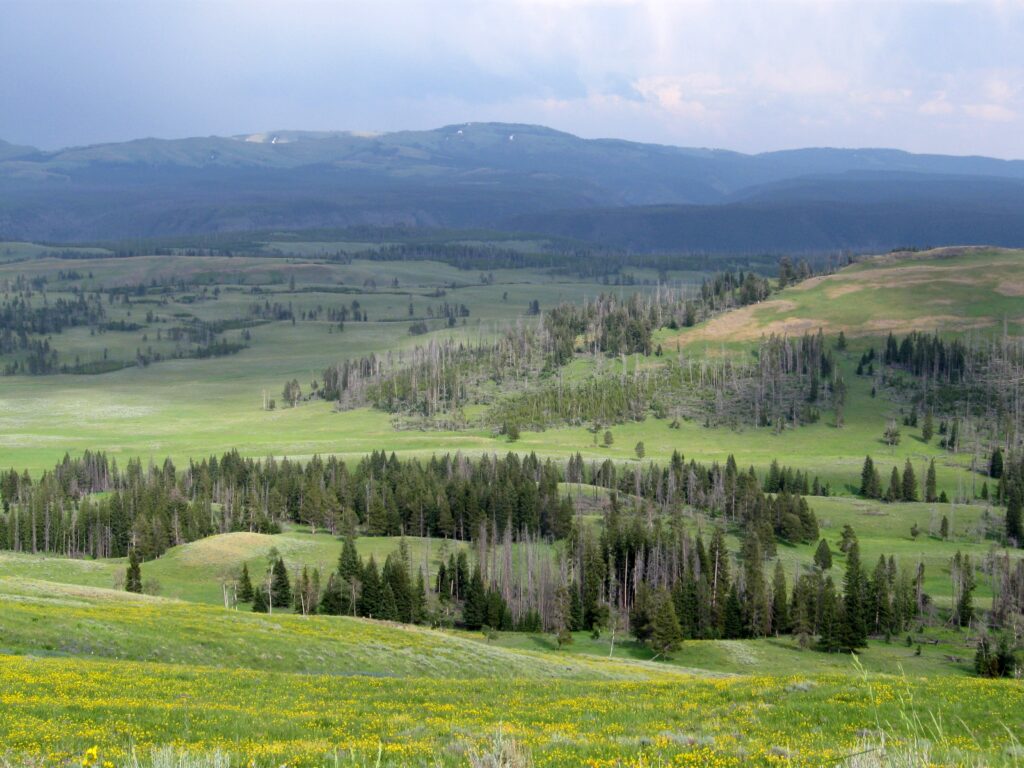 The rain was short-lived, and the afternoon light was spectacular on all of the flowers covering the valley below me. My ride into Cooke City was stopped many times for wildlife and wonderful lighting on the Sage and hills around me.
So once I got through the final 2.5 miles of road rebuilding, I rolled up to the hotel to see Tom sitting in the timber-ceiling lobby window.  We had dinner and brew later and listened to a chap telling a story about a camper  that was attacked by a bear the night before just outside of Cooke City.  We were trying to figure out if the story was legit and later found it to be true after meeting Adrian in the lobby.  She is an empty-nester from California and spending time hiking here where she once lived.  She was at the same camp last night when the attack happened. The rangers made everyone break camp and either leave or sleep in their cars.
Next up is Beartooth Pass and on to Gillette.
July 18, 2008 Day 4 – Cooke City, MT to Gillette, WY
The Grizzly attack stories continued with the Cooke City locals this morning at the fuel station. Tom and I loaded up with fuel and headed out at 7:00 towards Beartooth Highway. How appropriate. Early morning is the most favorite part of the day for wildlife, so that fact and the 36-degree air kept us a bit under the posted limit. The cool air and spectacular scenery woke me up quickly and made the slower ride very pleasing. We saw a couple of moose, plenty of deer, Pronghorn and some random marmot for good measure.
We stopped for a SLR moment
at a still pond with the mountains
rising from the far side. The water
vapors were rising from the grass
as the morning sun first hit.

 
 



On up Beartooth Highway, the road rose near 11,000 feet and above tree line.  As we ascended the pass, ten-foot snow drifts lined the side of the road that twisted tightly and demanded attention to keep the bike on pavement. This has to be one of the best mountain rides in the States.
We rode through Red Lodge and out in the high rolling sage hills of Montana to highway 14A over the Bighorn range.  This section was an exciting surprise that rose out of the dry scrub.  Once down in elevation, we shared ride stories with another group from Arizona and Seattle at the Sinclair. The rider said he was "still on the high".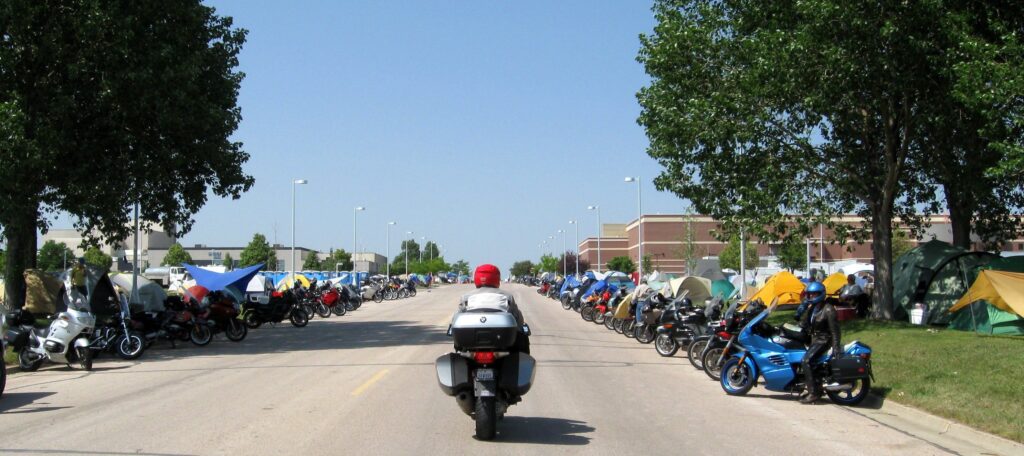 We got off of the short stretch of interstate quickly, rode the back roads of hwy 14 and entered the MOA rally site in Gillette. We went through registration and chose a grassy area to pitch the tents.
I took my bike over to a washing area to get the Texas rain and Montana forest road construction grime off of my bike in prep of tomorrow's 25th anniversary BMW K-Bike Koncourse celebration. And who rolls up to wash his K75S but Greg Feeler with its sister serial number to my K75S.  We exchanged greetings and I held both bike's handlebars. It was a touching moment… "Separated at birth and reunited in Gillette."
I'm finishing this post listening
to the New Riders of the
Purple Sage playing Panama Red
outside the Beemer Saloon
and having an Odells Pale Ale
microbrew from Ft. Collins, CO. 

The big thunderstorm earlier this afternoon rained lightly on us, flattened a few tents, and nicely cooled things down. The music is good, evening air is good, ale is good, company is good and today's ride was a dream. Life is definitely good.


July 19, 2008 Day 5 – BMWMOA Rally in Gillette, WY
The sun is shining bright today in a blue sky above Gillette. Last night's temperature was cool and perfect for a good sleep in the tent.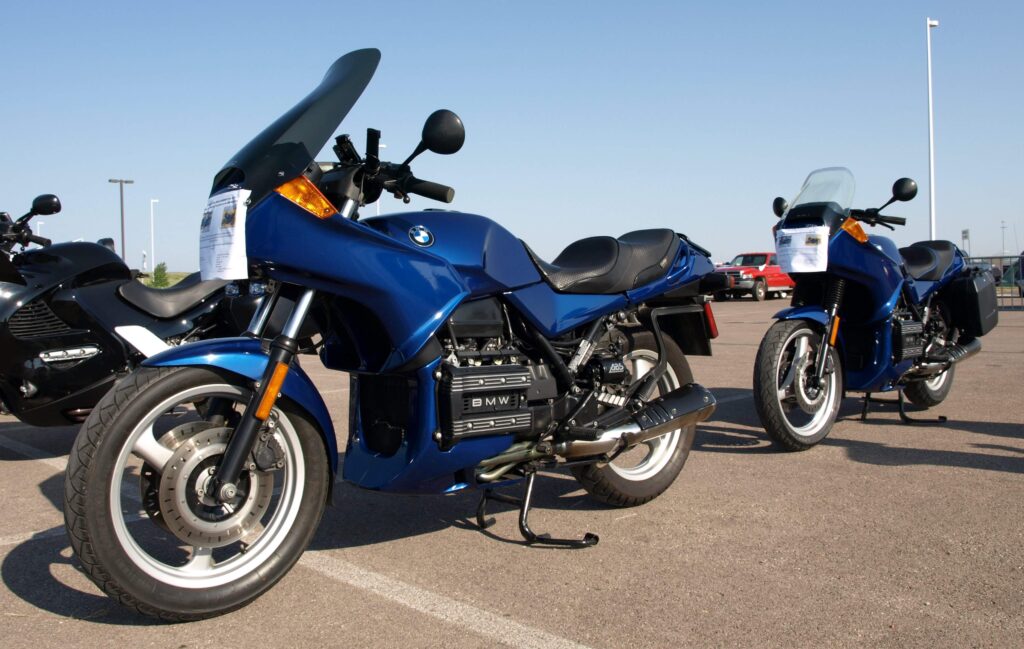 The K-Koncours bike judging continues as I am starting this post. Our sister bikes are drawing a lot of attention, and it's been fun meeting and talking with Greg. The bikes have been spending some quality time together in the show and are likely swapping stories from the road.
Greg's bike took honors in our class, and is well-deserved. It was a blast watching all of the K-bike fans looking over the fine machinery.  BMW presented a great history of the K-bikes, with Andy Sills present.  Andy set a world land speed record of 173.57 on a K1200S at the Salt Flats.
Chris McNiel tearing it up at the stunt

show.

 
| | |
| --- | --- |
| | Lone Star BMW Riders and a random couple |
We met up with Tom Mamic from British Columbia, who is on a world ride on his F800GS that he had shipped from South Africa to Argentina. He made his way down to Tierra del Fuego, and is now on his way through the United States. He has ridden 74,000 Kilometers so far, and has just been presented a MOA distance award for that effort.
Ben Lower was introduced at the closing ceremony as one of the directors of the MOA. There are 5,103 rally-goers here this week from all over the country and internationally. Ninety percent of the 4,000 bikes here are BMW's.
The David Swisher million-mile award has just been presented to Ken McHugh. Bob's BMW has given a whole riding suit with gloves and boots as a door prize. Many other door prizes and awards were handed out.  The grand prize bike is a new R1200GS which has just been won by Howard Morgan from Longmont, CO.  Next year's rally will be held in Johnson City, Tennessee. There will be trees and grass.  If you have never attended a MOA national rally, start planning now for next year.  I'll see you there.
Tomorrow we head to Devil's Tower, the Black Hills and the Badlands in South Dakota.
July 20, 2008 Day 6 – The Black Hills and Badlands, SD
There was a of activity this morning as rally rats were packing up to head out in all different directions that they may have arrived from.  Our now four bikes (with Alan's arrival) were loaded up with gear and some additional stuff procured at the vendor tents (Remus pipes and luggage).  Tom found a way to avoid the interstate totally on the way over to Devil's Tower, which is always a plus.  Highway 14A really got interesting as we headed north.  We saw many deer and Pronghorn along with a very
friendly rabbit at the tower.  After a fuel stop just north of Spearfish, we continued on through Spearfish Canyon.  We quickly saw the 35 mph limit, and we had heard that the local law uses all varieties of vehicles.  Enough said – an easy pace was in order for the 20 mile canyon. 

Photo credit Marilyn Goode




A turn toward Sturgis took us through
Deadwood.  The stomachs were
growling a bit, and all it took was
a suggestion over the FRS radio
of a hamburger and Tom
quickly saw Tin Lizzies.

We parked the bikes and talked with a local who was waiting for his wife.  Later I discovered his wife was playing the slots.  Tom found us a casino for lunch, but rest assured, no slots for lunch, just cheap burgers, and it was good enough.


Sturgis was next, just because.  I can't believe how many Harley apparel stores are there and vendor tents, and the big rally is a couple of weeks away.  We stopped for pics at BMW Sturgis, which also sold Yamaha & Suzuki.
A back-track through Deadwood to stop at Mt. Moriah cemetery for Marilyn was next.  I enjoyed the downtime and checked in with Deb.  I led the group down 385 towards Crazy Horse to see how that mountain carving is going.  We then took 87 to the Needles Highway in Custer State Park, filled with tunnels and very sharp turns.  Alan later commented that this was one of his most technical rides.  County Road 753 was a shortcut to 16A, which we took to Mt. Rushmore.  More tunnels and some pigtail bridges made this section interesting.  After we stopped at a tunnel to stretch and take photos of the prezes, I dropped my Olympus lens down the mountainside – bummer.
On the way out of the Black Hills,
we shared FRS channel 5 with
Rick and Pattie from Austin.
We stopped for fuel and talked a bit.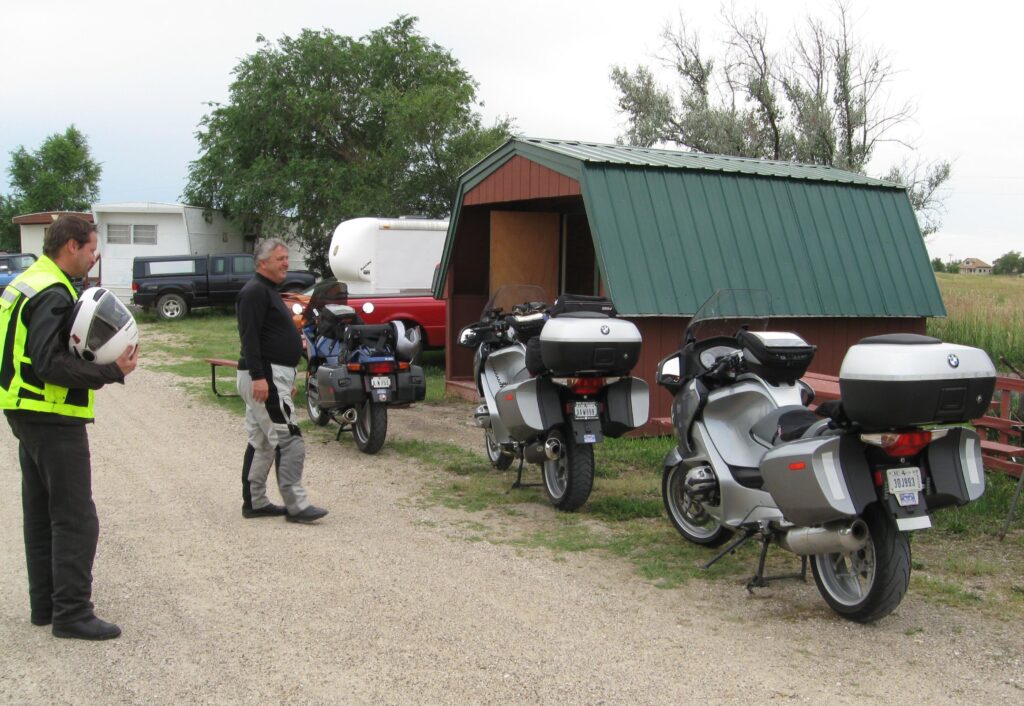 On to the Badlands, where Tom, Alan and I are sharing a camping cabin (basically a storage shed with an air conditioner). It's better than it sounds, and something different. Speaking of different, we have heard many languages on this trip.
I am sitting out front of the camp store composing this looking at the moon in the mild evening air.  Alan and I had a swim earlier and watched the bats fly down and skim the pool surface for a drink.  Now it's time for a good sleep.  Tomorrow it's south through Nebraska and Kansas to Hays.
July 21, 2008 Day 7 – The Badlands, SD to Hays, KS
We woke up this morning and had a "Cowboy Breakfast" of pancakes and sausage.  We took our time leaving and headed south through the rolling hills of South Dakota, Nebraska and Kansas for near 500 miles.  Considering that we were traveling these states, the ride was entertaining and with more sweepers than I expected.  This was due to riding the back roads instead of the majors and the interstates.
I rode early in the morning to see the Badlands


Alan is with us after joining at the MOA Rally

 

We saw many combine caravans



The key word for today is HOT.  We saw 102 degrees through Nebraska and Kansas, and took more stops than first planned to keep the fluids in.  Had a great steak dinner served by a very spunky waitress by the name of "Shasta" (more to that story).  We are crashing now to get an early start in the morning to beat the heat.
Tomorrow we are changing the route just a bit to look through the town of Greensburg that was almost totally destroyed by an EF5 tornado in May, 2007.  Then we will shoot east through Wichita, KS to have a BMW dealer look at Tom's ABS fault.  We should be back home at around 540 miles.
July 22, 2008 Day 8 – Hays, KS to Home
Blogging live from Kingfisher, OK, the birthplace of Sam Walton.  We are making extra stops due to the 104-degree heat outside of this cool oasis right inside of town.  We left Hays this morning at 7:00 and it did not take long for the temperature to rise.  The ride through Greensburg was sobering when we saw the devastation from last year's tornado. We headed out of Greensburg into the sun and quickly decided to turn south for as long as possible.  That eventually brought us through Nash, OK and at a perfect time for lunch and a few buckets of tea.



The heat is getting to Tom and Alan, AKA Hans and Franz



We had a authentic country-fried steak lunch and a whole lot of tea at the only cafe in town.   Joe came over to our table to meet us, and Tom and Joe figured out they both used to work for Sam Freedman in Henrietta.  Small world.
 
 

The Ranch House is also known as Gripey Joe's according to Joe Park's wife, Susan.
 
We also learned that there are only
two seats ever available at the bar,
so all of our group scattered through
the café with the locals.
The rest of the bar is for
all of the tea and pitchers,
and a serving table
for the waitresses.

Well, back into the oven for a while…
The worst heat of the year so far picked today to hit on our ride back home.  The temperature was indicating 104 on several bikes at points, and we had to stop every 50 to 80 miles or so to keep the fluids in.  All of the extra stops to get fluids and take in a bit of cool air added some time.  We used the Oklahoma BMW dealership as an air-conditioned haven for a couple of hours letting the afternoon heat pass, but it did not help a whole lot.
| | |
| --- | --- |
| The parts man at BMW recommended Bandeleros for some good mexican food. | Jose treated us very well there with quality food, complimentary dishes and lots of tea. |
We parted ways as we neared the city.  The day's trip log showed 553 miles as I rolled into my garage at 10:00 in the 97-degree heat.  The trip is done with 3,319 miles on the main GPS log, and I am both sad to end the trip, but happy to be home.  It was a dream ride for me, and I will pulling the experiences out of my head for many days to come.
It's really good to be back home (especially in some air conditioning).  Debbie, Laura and Wes greeted me at the door with smiles along with Katy our Border Collie.  I'm looking forward to my bed.

Tom, Paul, Marilyn, and Alan
it was a great ride
and I really enjoyed your company!
 
Photos   https://photos.app.goo.gl/A92TA933YWz2ziZe9
Tracklog    https://www.alltrails.com/explore/recording/20080722wyoming–20080723