LSBMWR Breakfast at Tin Top
July 13, 2008
Bo put together an early-morning breakfast run to Tin Top and coerced around 15 riders to get up way too early on a Sunday.  The ride there was a typical bit of a drag through the metromess, but it was early and the winding roads out southwest of Ft. Worth made up for the urban journey.  Breakfast was great at Mary's Brazos Cafe, although I think we overwhelmed the staff when we all converged at the same time.  The coffee was good, and the waitress must have thought I wanted a little extra down my back so she broke the carafe on the chair behind me.  A bit hot??  Yes!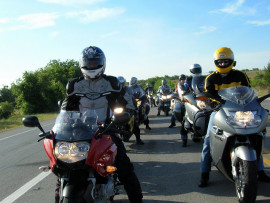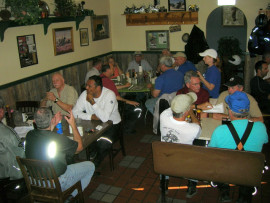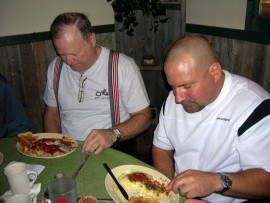 David joined up with us on his new-to-him 2003 K1200LT.  Nice sofa on
two wheels.  We found out today was Colin's birthday, so… Happy
b-day, Colin!  Friggin' hot on the return.  Tomorrow starts my
week-long run to Wyoming along with Tom and Paul.  Once we get out of
Texas, the temps should be good.  Other club members are on the road
already.  Check back at motoblog.richardswim.com for almost daily updates from the road and the MOA rally.
Photos at: http://picasaweb.google.com/rlswim/LSBMWRTinTopBreakfast