LSBMWR Club Meeting at Humperdink's
June 16, 2008
The monthly meeting of the Lone Star BMW Riders was held at the usual spot – Humperdink's.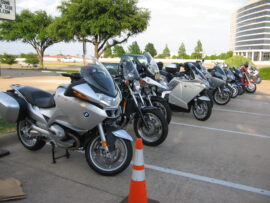 Humperdink's has been treating us well with a private area in the restaurant, good food and sectioned-off parking for our bikes.
Patt gave a presentation on proper hydration for these hot summer months, while some of the club members enjoyed an alternate interpretation of hydration (not condoned by the club in any manner).  We also talked briefly about the upcoming BMW Motorcycle Owners national rally in Wyoming.  There are around 15 of us attending that event in July.
There was a good turnout and a lot of great discussion and tire-kicking out in the parking lot.