Santa Fe
April 24, 2010
Deb and I drove over to Santa Fe to meet up with our good friends, Troy and Susan from Colorado.  We try to see each other often, but the 1,000 miles between us makes it difficult.  So, Santa Fe was a good compromise for a 4-day weekend.
Troy and I took a drive and visited the Santa Fe BMW shop so I could get a shop t-shirt.  As we were getting ready to leave, a rider pulled up on a vintage BMW boxer.  It turned out to be Bob Hall, who won the 2001 Iron Butt Rally .  He was on his 1967 R69S that he had just recently coaxed to run.  He rode it up from the Albuquerque area up to Santa Fe.  We enjoyed talking with Bob and exchanging ride stories.  Bob asked me if I knew Ardys Kellerman, who I had just run into down in the Texas Hill Country.  Bob met Ardys in his Iron Butt days.  Of course, Bob knew Bo.  Everyone knows Bo…
As we were talking, Bob pointed across Cerrillos Road to a photo op.  We saw an image straight out of the 1800's with a rider wearing a duster heading towards downtown, with two cow dogs walking aside his horse.  There was a bed roll behind his saddle, and he looked like he was on a cross country ride.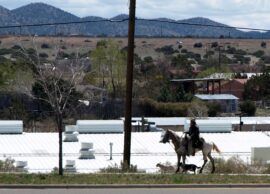 We parted ways with Bob, and Troy and I went back to our inn to meet our ladies.  We were walking around later near the square, and saw the rider again.  I had to walk and run briskly to finally catch up with him, while he was giving his horse and dogs some water at the Santa Fe River.  He told me his name was John Wayne (really).  He is currently working around the Cerrillos area, and out today for a ride up to Santa Fe to mark his one year anniversary of him coming down from Michigan to Santa Fe.
John and I said our goodbyes, and I walked for a while and watched him ride into the square of Santa Fe.  All the way, walkers and drivers stopped and pointed their cameras his way.  Today, John is the most photographed man in New Mexico.
April 25, 2010
Troy and Susan headed back to Colorado this morning.  We always treasure our visits with Troy and Susan, and look forward to the next.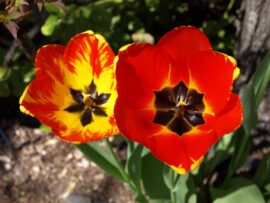 Deb and I strolled around Santa Fe for a while and stopped by Barbara Bowles ' photography gallery.  We first met Barbara around 5 years ago when she had just opened her shop.  She is known as the Pickup Artist, and has a trademark on the same.  She is doing well and is a pleasure to visit with.
We headed up later in the afternoon towards Santa Fe Baldy to get a mountain fix.  The snow is still around, but will not be for long.
It's time to head back home, but we will be planning the next trip here on the drive back.