Silver City and Mexican Hat
I was so ready to ride.  Work has been very hectic for the last several months, and today was no different. Enterprise-wide networked medical equipment projects has demanded way too much of my attention, and this Friday pulled together 60-plus clinicians and technical staff to decide the future of patient monitoring standards for the health care system.  But, I knew that as soon as this all day meeting was over, my KRS was packed and ready in the parking garage for a long weekend in the desert southwest far away from the daily commute and rush of the big city.  Debbie would follow in her car to Abilene, where we would stay together overnight at her mom's place, and for her to visit over the weekend there.  The ride Friday evening was a hot one, but brief.  Other club members from the Lone Star BMW Riders were staying overnight Friday in Abilene and Haskell to get a head start on their way to meeting in Roswell for the official beginning of a nine-day ride through New Mexico, Arizona, Utah and Colorado.  I could not spend the time for the whole club trip, but would make the best of an extended weekend to ride with my friends and then solo for the return.
June 11, 2011
Saturday morning, I met Herman, Sharon, Leonard and his wife at the local Cracker Barrel.  Everything on the menu is country, and they don't understand the meaning of breakfast burrito, but that did not matter.  The country breakfast was fine enough.
We rode west through the red dirt fields of Snyder and under the tall wind turbines that have taken over this area.  I checked the SPOT position of the rest of the club riders and calculated as Herman had already figured out that we would all meet in Post.
We picked up fuel, and the main bulk of riders started heading west towards Roswell.  Herman and I had a brief set-back at the fuel station, and we played catch-up for a while until we slowed for a stop at the Dairy Queen in Plains.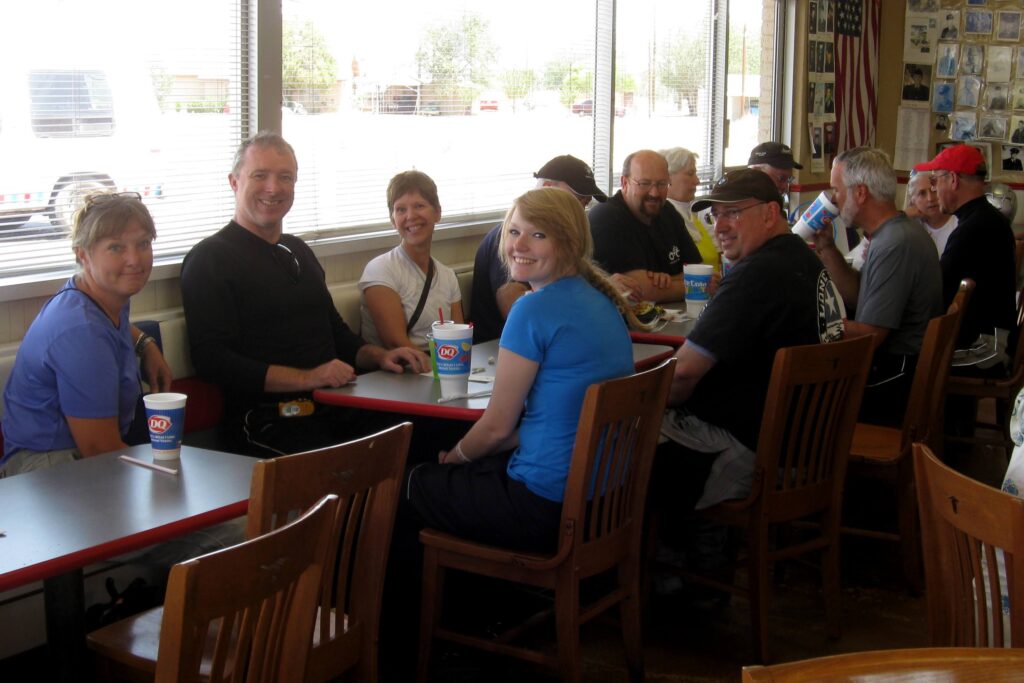 After sandwiches and Blizzards, we kept riding on the long, straight roads of the western Panhandle and eastern New Mexico.  Lonely oil pump jacks carrying out their rhythmic work would be the only scenery for miles in these roads that go forever.
I have considered this part of a ride the meditation that is necessary prior to the demanding technical twisties that will no doubt be coming in the next few days.  As we pulled into the hotel parking lot, Stephen, Miss Vicki, Mark and Randy greeted us.  An afternoon story-telling session began outside our room in the dry afternoon heat, and I slipped off for a dip in the cool water of the pool.  Dinner later that evening was tasty, and the 'hot' green chili on my enchiladas was not all that hot as the waitress had warned.
June 12, 2011
Doc headed back home early with his photo proof of visiting Roswell for his club's bonus point contest.
An alien on a motorcycle was spotted in the motel parking lot…
Bo and Byron left in the early morning as planned to ride back home.  The tour group nine o'clock ride start came too late for my impatient mind.  I tried to be patient, and then turned out to be the hold-up for a bit while I was finishing up a conversation with Debbie.
We rode through the parched scrub of eastern New Mexico up into the foothills of Ruidoso, and on through the forest to Cloudcroft.  I split from the the group in Cloudcroft while they made their way on south to the solar observation station, Sunspot.
There is not much around White Sands to look at other than distant mountains and strange matrices of poles in the desert that who knows what the military was doing with out there.
I had to stop very briefly at a Border Patrol station on my way north.  The federal officers at these stations always grill the passengers of packed vehicles, and just wave me on by with no questions.
Hatch, NM would be a lunch stop for me, and the green chili cheeseburger was out of this world.  That alone might be enough to ride from Texas to eat, and then turn around and go home.  I rode through the Rio Grande Valley north of Hatch, where its life-giving water turned the parched tan landscape to green.  Highway 152 was a blast, with its tight turns through the rugged hills east of Silver City.
I had to record this technical riding with some video so I could look back later to re-live this exhilarating ride.  A quick stop at the Santa Rita copper mine was in order.  That's a really big hole in the ground.  I checked into the motel in Silver City, and then went downtown to have a brew and explore the area.  I was not too impressed with the first spot that a local pointed me to, but as I was getting ready to leave, I discovered Isaac's, with multiple taps of craft beer, and none other than Stone IPA from San Diego.  I settled in for dinner here with green chili enchiladas and conversation with John, a local and JP, a construction worker from Terlingua, TX.  I was watching my riding partners' position via SPOT, and as they neared, I finished up my dinner and rode back to the motel to visit a bit and walk with them to the steak house that was in the original trip plan. As soon as I discovered there was no TV to watch the Dallas Mavericks playing their possible last game of the NBA finals, I decided to head back down to Isaac's.
The red sun was setting through the smoke from the Monument Fire in southeastern Arizona.  JP had told me that a good portion of the forest had burned in this fire.  This forest fire smoke would be a theme in many different places over the next several days of riding.  I never imagined that I would find so many Mavericks fans in western New Mexico.  The grill was filled with energy as game six neared the end and the Mavericks took control over the Heat for the championship win.  We closed down the grill after the game was over, and I rode back to my comfortable bed through the cool high altitude mountain evening air.

June 13, 2011
Monday would be a solo ride for me up to Utah.  I had originally planned to ride Hwy 191 with the group, but this curviest road in America was closed down due to the largest forest fire in Arizona history.  Herman pointed the LSBMWR group south for their journey to Payson, AZ. I headed on north on Hwy 180, but I found that it was still closed at the turn towards Springerville due to the Wallow Fire.
I rode east through thickening smoke and tent cities of fire fighters to Reserve, where I needed to pick up some fuel.  The gas station attendant told me that the whole village was running on generator power since the fire had burned the power lines. But the generators had shut down just as I rolled in.  She said the closest fuel was Quemado, 60 miles to the northeast. That distance would have been close to my tank's range in Texas, but in the high altitude of New Mexico, I was getting upwards in the high forties for fuel mileage.  I kept riding the lonely high plain roads of the Zuni Reservation to Gallup.

Here I turned west to Arizona, where the landscape turned quickly to red sandstone rock and desert scrub.
I stopped at Canyon de Chelly, where archeologists state inhabitants have lived in the canyon for 5,000 years.  I will have to return here to explore the canyon in much more detail with a Navajo tour guide.  I stopped for fuel and a quick snack in northern Arizona.  I never knew a green chili corn dog could taste so good!  I wish I could find these back in Texas.


I rode on west into the majestic Monument Valley.  This is awesome scenery that continues to unfold on the horizon forever.
Just beyond Monument Pass is what the locals have coined as "Forrest Gump  Hill", where in the movie,  Forrest stopped running and said "I'm pretty tired…  I'm think I'll go home now.".
Mexican Hat was not much further east.  There's not a lot in this town, but it looked welcoming to me as I crossed the San Juan River, an oasis in this dry land.
I checked into the Mexican Hat Lodge, stowed some of my bags in the cool room, and headed out to ride up the road a bit to climb the Moki Dugway.  This is a three mile section of gravel road that ascends 1,100 feet up the face of Cedar Mesa.
The descent down was not too bad, but demanded obviously-needed attention…

It was getting a bit late, and I was getting hungry.  The Swinging Steak was on my mind as I neared Mexican Hat.  While I was eating the tasty dinner, I met a couple from France that was touring the American Southwest by moto.  Right after that, a large group of Germans came down for dinner, and as I returned to my room, another Frenchman was planning his return to Las Vegas.  This area is a definite draw for Europeans.  In my room, I debated my return to Texas to be two days, or a single-day Iron Butt ride home. If I spent two days riding, I could do some other roads in Colorado, but not that many more, and I would have to ride a good portion of the second day in the afternoon Texas heat.  A single-day 1,000+ mile ride would be a beating, but a challenge and an evening return through Texas. Plus, I would be back with Debbie a day earlier, which is also a plus.  So be it.  It's an IBA run.  I set my alarm for 5:30 AM.
June 14, 2011
I had never done an Iron Butt ride, but was packing the paperwork in the case the opportunity presented itself. Roberta at the Shell station signed my witness form for the start.
I filled up Katrina, confirmed the date and time on the receipt, and headed off into the rising sun.  Shiprock was rising high above the horizon in the distance as I approached Colorado.
After refueling in Cortez, the landscape turned a brilliant green as I ascended into the San Juan Mountains.  I turned on my heated grips as the temperature dropped in the higher elevation.  US 160 led me across Colorado through majestic peaks and the snowy forests of Wolf Creek Pass.  Riding the high-speed sweepers through the mountains was just the right medicine for me.  But, it eventually had to end as I dropped into Monte Vista for fuel.  At every fuel stop, I recorded the time and odometer for my Iron Butt documentation.  This is what the association would look at as proof of the ride.
As I was leaving Monte Vista, a highway department information sign said that I-25 was closed going into New Mexico.  I would have to make a detour around the Track Fire that was burning the forest to the east and north of Raton.
I kept  riding on 160 east of Trinidad and turned south towards Capulin Volcano to get back on my planned route.
The temperature was still pleasant through northeast New Mexico, but as soon as I crossed the Texas border, the oven-like conditions appeared.  My thermometer continued to rise up to 100 degrees as I rolled into Dalhart for a dinner break in the air conditioning. It was 6:00 when I started riding again towards Amarillo.  The sun was on my back, but not unbearable as the evening progressed.  The colorful tail fins of the Cadillac Ranch jutted up above the red dirt field to my right.  I don't care much for Hwy 287, but today it would be a relatively safe road for the ride in darkness that would be coming.
I saw the sun rise earlier today, and now watched it set in my mirrors, while listening to "Feats Don't Fail Me Now" on satellite radio. "I said roll.  Roll right through the night…".   Clouds appeared way off on the horizon in front of me.  I was thinking it might be a refreshing shower in the warm night.
But, as I neared Wichita Falls, lightning was defining this as a dangerous storm.  I pulled off of the road west of the town, and studied the storm's movement for  a while.  Once it moved ahead of me a bit, I rode on into the city on wet roads to get fuel, and watched the storm's direction of travel again.  Rather than punching the core of the storm, I
decided to ride northeast of the storm to Sherman, and then turn straight south to my home.  The lightning was getting intense on the north side of the storm as I rode through Muenster. The hot, strong winds blowing out were a concern, but manageable on the dry roads.  Once I turned south towards the Dallas area, the storm was approaching my path, but it was collapsing with only light, and refreshing rain.
I pulled into my garage at 2:23 AM after my 1,046 mile ride, parked Katrina, kissed my lovely and very sleepy wife, showered off, and passed out in bed.
Photos    https://photos.app.goo.gl/yh3jzPrg2FW257SR6
The 1,046-mile IBA run:    https://www.alltrails.com/explore/recording/20110614mexicanhathomeiba–20110615?u=i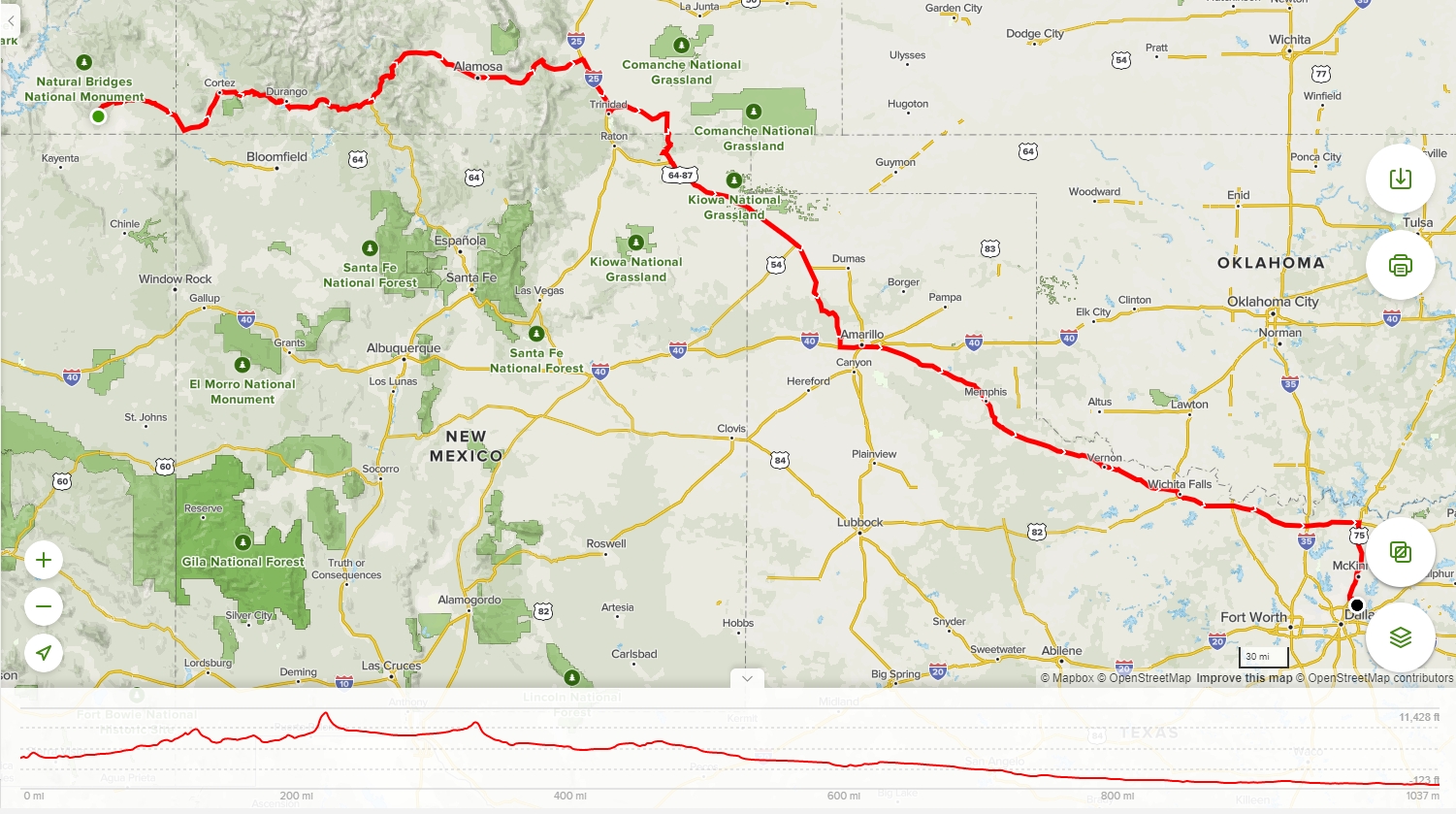 The complete ride tracklog:    https://www.alltrails.com/explore/recording/20110614silvercitymexicanhat–20110615?u=i