Canada-PNW Day 2, Westcliffe to Alpine, WY
July 6, 2010
The morning started cool in Westcliffe at 40 degrees.  I packed up everything into Katrina, and decided to skip the free breakfast to get an early ride start.  I fired up the K12 and let it warm just a bit, rolled off the center stand, and noticed a strange light sequence on the dash.  Brake failure… oh boy.  I checked the brakes – they worked fine.  Looked over all of the line fittings.  Nothing obvious.  The front circuit reservoir was low, and was tripping the warning.  Everything in Westcliffe is still closed, so I decided to roll on to the next town.  I stayed off the brakes as much as possible, and used the engine to brake on corners.
In Salida, I found a parts store, that opened at 7:30, which was the exact time I pulled up.  That works.  Pulled off the tupperware to get to the reservoir, and while I was working on things, a man pulled up beside me and asked if it was anything serious.  "No major prob", I replied.  We talked a while as I was finishing up things.  Ed is a retired forest ranger, and turns out to be a moto rider, enjoying the fire roads around Salida with none other than Malcom Smith, off road motorcycling legend and star of "On Any Sunday".  Man, another unique day is in the making…
Coffee and breakfast, and I'm heading north again.  The air feels good, and the weather is great.  Worked my way through some great sweepers and aimed Katrina west on I-70.  This has to be one of the best interstates in the country, and you know how I despise interstate highways.  Made the best of good cell phone coverage and talked with Wes, Deb and Troy along the multi-lane.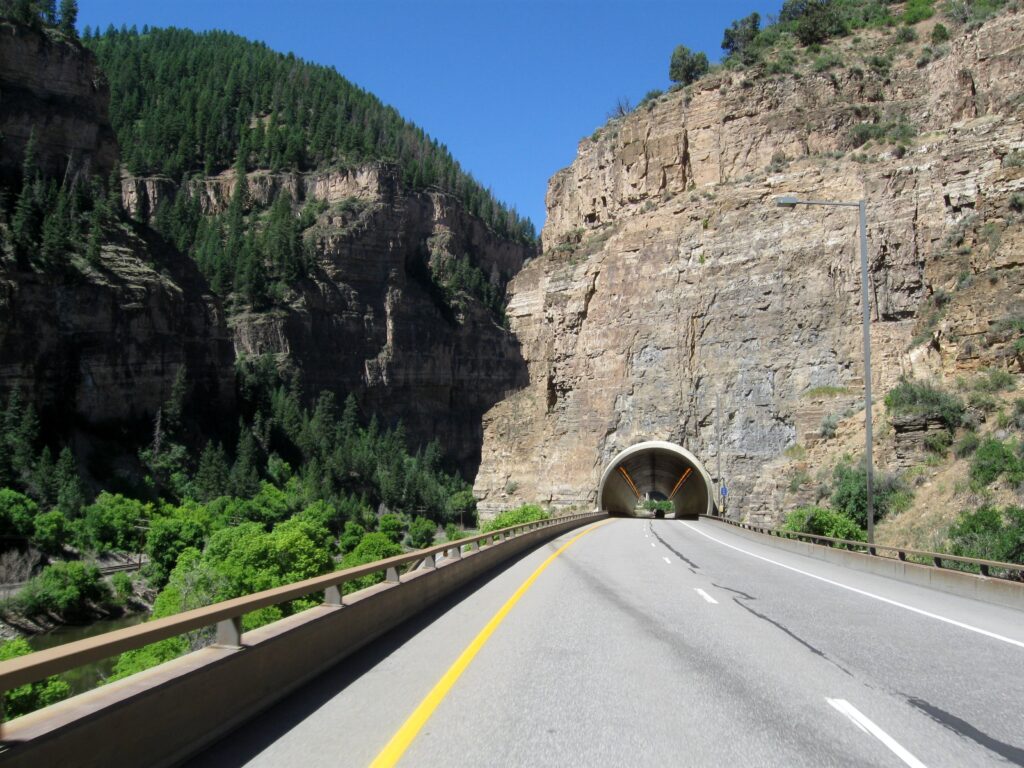 Off on a 2 lane again and headed to Utah.  I met a pair of riders at the Utah visitors center that are heading to Banff on older Wings.  Nice guys.  Had to buy some Sinclair gas in Vernal, you know, supporting the dinosaurs and all.  The roads to Flaming Gorge are spectacular, and dynamic scenery.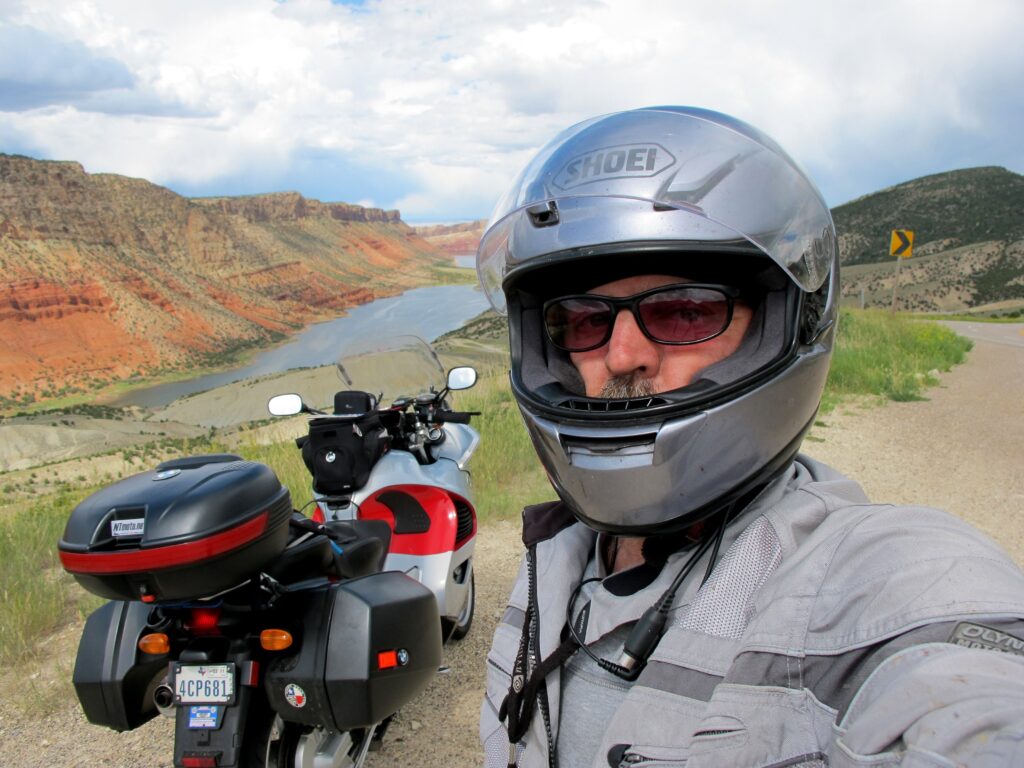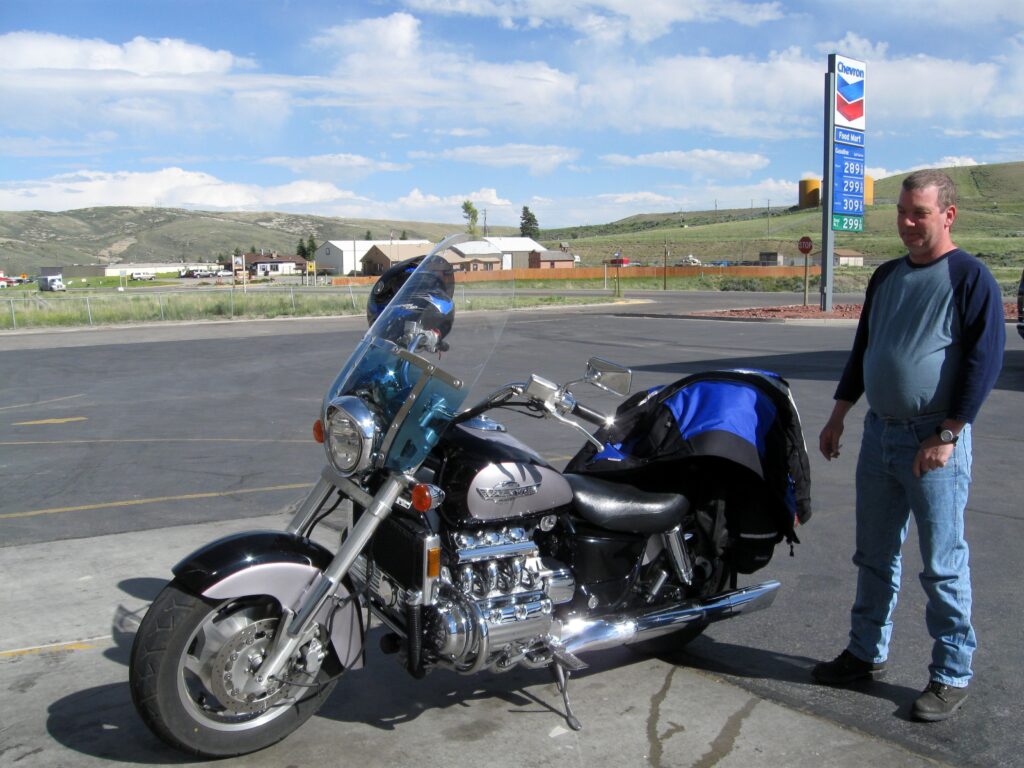 I met Kevin in Kemmerer, who had taken a ride on his bike over to Wyoming from Utah to pick up a lottery card.  The land opens up in Wyoming, and it beckons to be ridden with spirit.
What is it about Wyoming and cattle drives?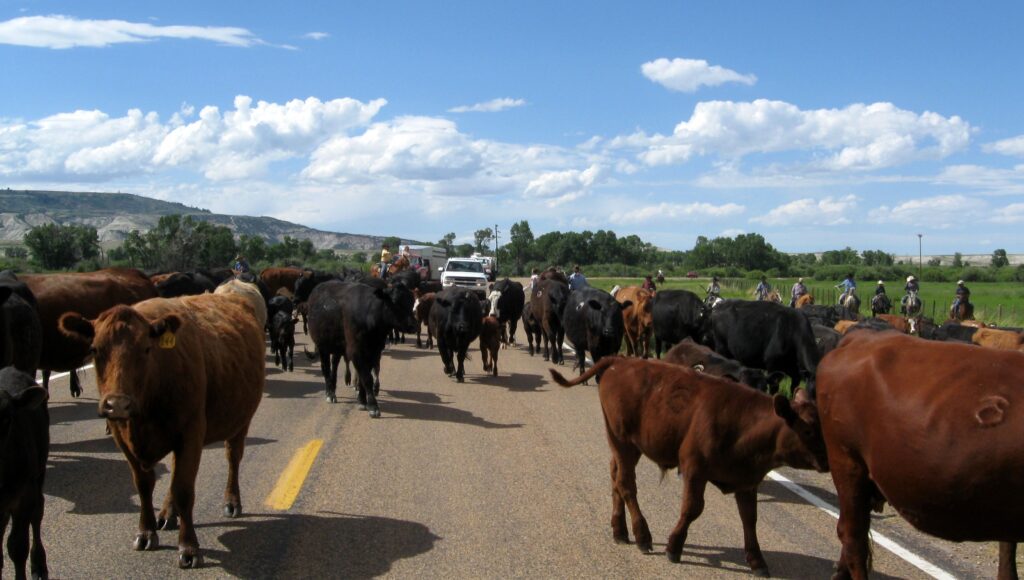 Riding along the border of Utah and Wyoming, I came across a small yellow trailer filled with elk and buffalo jerkey.  Had to grab some elk jerkey.  I'll be enjoying it over the next days.
Finishing up this journal at the Bull Moose Saloon in Alpine, enjoying a Snake River Pale Ale.  Talked to Deb earlier, and I am looking forward to picking her up in Seattle.  Life is indeed good.
Photos still accumulating in this album   https://photos.app.goo.gl/6jfr2ijzAXRCGRsc8 .
Tracklog    https://www.alltrails.com/explore/recording/20100706canadapnw-westcliffe-to-alpine–20100707