Canada-PNW Day 11, Coos Bay to Lake Tahoe
July 15, 2010
We had a nice view of the water in Coos Bay. This morning, the fog had rolled in, which was fitting for the area we were in. I had heard bikes starting earlier while I gathered things to pack back on the bike. When I opened the door to take some bags out, all other bikes were gone, except for Armando and Paula's, of course. Their clocks run a bit slow, and they are having a great time rising late, exploring everywhere possible, and arriving late in the evening.
Deb and I rode east from the coast on highway 42 through the fog. It was chilly, and got colder as we gained elevation over the mountains. But the fog filtering the light through the trees was beautiful. We followed a couple of riders through the sweeping turns, and waved our greetings when we finally passed them.
We picked up interstate 5 south of Roseburg, and actually enjoyed it, as it twisted through the hills and passes. At one of the fuel stops, I saw I missed a call from Tom, and checked his voice mail. He left the MOA rally grounds this morning in Redmond, OR and saw from our SPOT locators that we were on similar paths. We met at Lake Tahoe, and had a great meal on the patio under the tall pines and high altitude.
Tom and I will ride together for the next few days as we make our way home. I'm dropping Debbie off tomorrow morning at the Reno airport. I have really enjoyed her company riding from Seattle up to Vancouver, Victoria and down the Pacific Coast Highway through Forks and Coos Bay.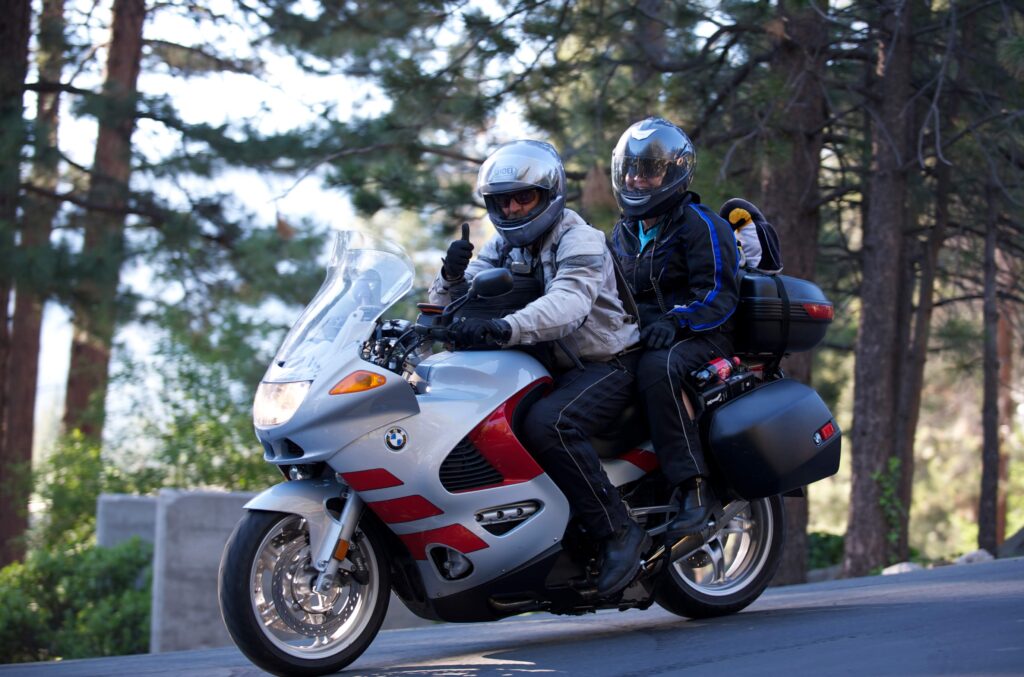 Photo credit below – Tom Oliver
Photos    https://photos.app.goo.gl/6jfr2ijzAXRCGRsc8
Tracklog    https://www.alltrails.com/explore/recording/20100715canadapnw-coos-bay-to-lake-tahoe–20100716