Big Bend Country – 2021
April 14, 2021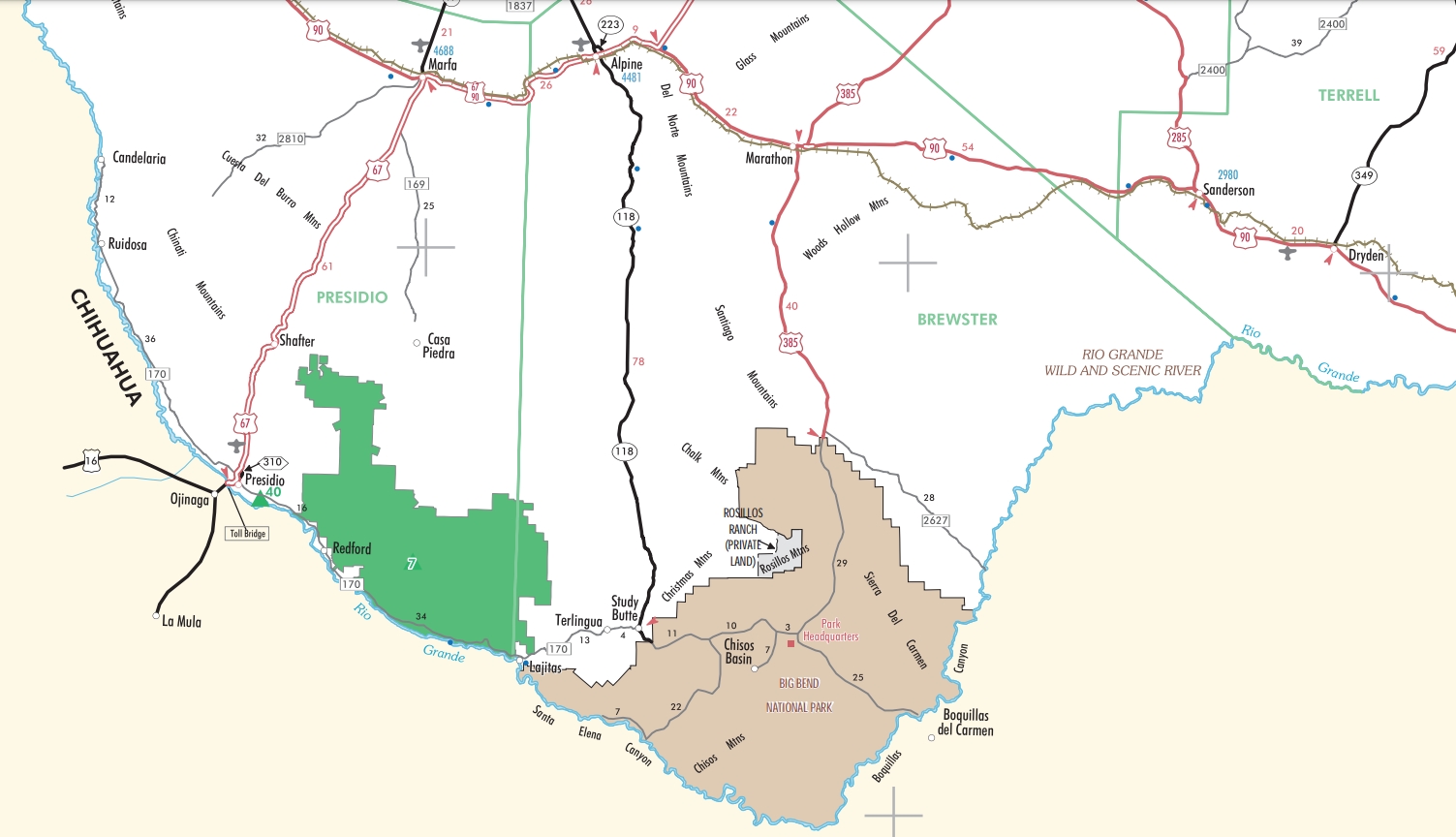 I had been wanting to ride Pinto Canyon Road for years.  It is a slightly-bad back country road, and the sport touring bikes I had been riding would not be a very good choice.  Now that I have my V-Strom 650, I have no excuse.  This road is near the western end of Hwy 170, otherwise known as the River Road.  There were some Motorcycle Grand Tour of Texas and Butt Lite X Grand Tour stops in the area, so I planned a route to take these in as well.  Just planning a route is a fun part of the moto sport.  Envisioning where one will ride in the future is interesting.
The weather on Wednesday looked good for leaving the metromess and riding to open country.  I left before the rush hour arrived and hit MCGTTX stops in Coleman, Brady and Fort Stockton on the way southwest.  My plans to stay in Alpine shifted to Terlingua after hearing that Armando and Graeme would be staying on the Rio Grande.
I kept a steady pace riding the lonely roads.  My goal was to arrive in Terlinqua before 5:00 so I could meet the boys at the Starlight Theatre for dinner.  There's a lot of opportunities to think while riding in West Texas.  The roads and countryside are wide open with very little traffic, so keeping the scheduled arrival time was relatively simple.  I rolled into the sparse community of Study Butte/Terlingua and checked into the Chisos Mining Company for my overnight accommodations.  A cold beer, chips and queso hit the spot while I awaited the dirtbags' arrival.
It was great seeing Armando and Graeme.  They were very tired after riding the challenging Big Bend back country roads all day long.  The food was great at the Starlight.  I made my way back to the motel and slept well.
April 15, 2021
Voni Glaves had sent me a message inviting me to have coffee at the Adobe.  Paul and Voni's place was a bonus location for the Butt Lite X Rally.  The rally never happened in 2020 due to COVID, and this year the organizers just decided to turn it into an almost year-long grand tour.  There was a lot of effort put into finding and documenting the hundreds of locations, and it's great that we can all experience the stops on our own pace.
The Tour officially started on April 15, and I made my first stop with a photo of the Glaves' address marker as instructed in the rally packet.  It was really great visiting with Voni, and the coffee was tasty.  Paul was still sleeping in, as is typical according to Voni.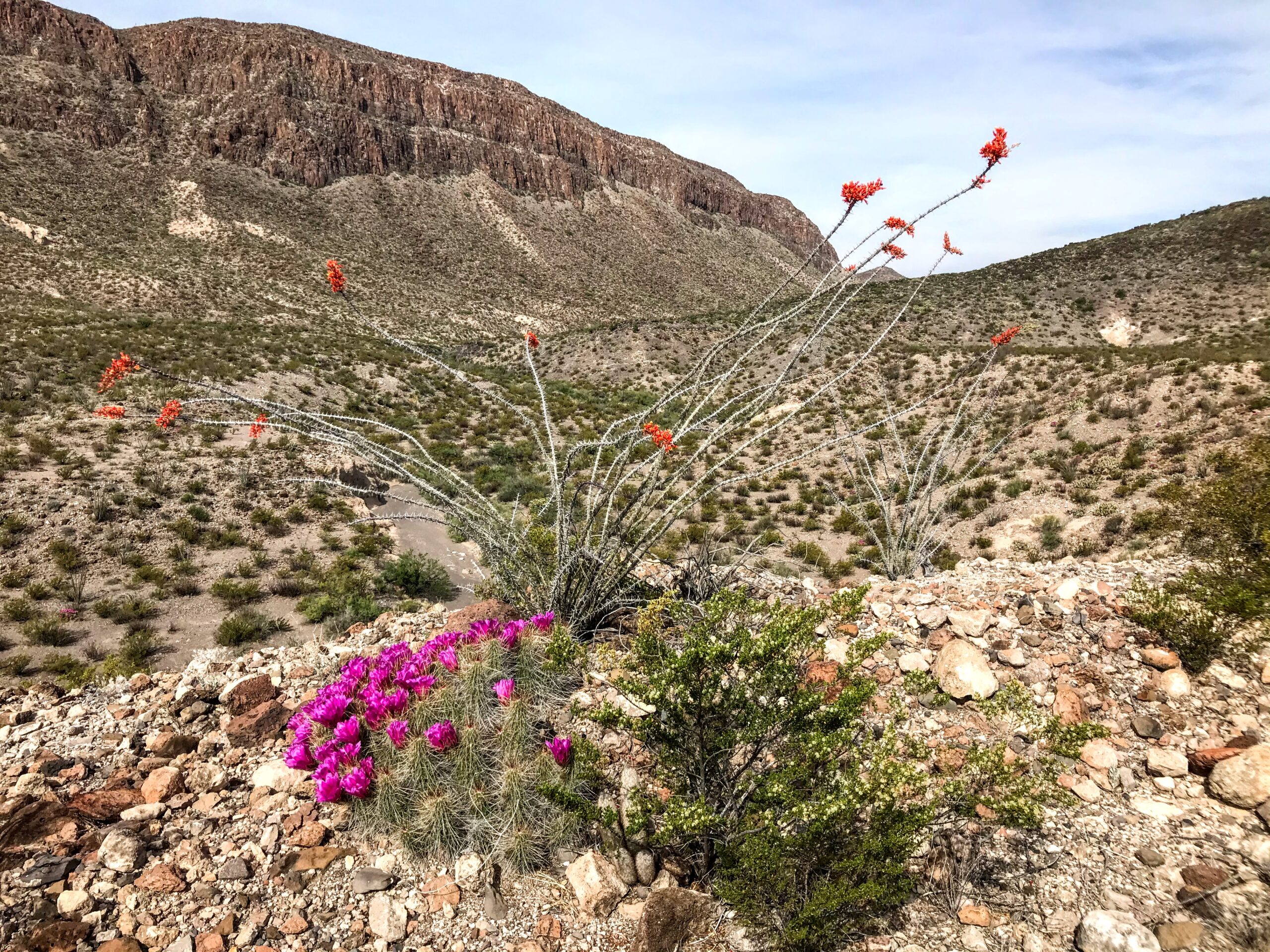 The River Road was challenging and fun to ride.  I've lost count of how many times I've been down this roller coaster of a road.  The cactus blooms were spectacular!  It's amazing how much color can be in this arid desert.
I stopped at the Presidio Post Office to do an AULDR photo (yet another grand tour I'm doing this year), and continued west on Hwy 170 to where the pavement ends in Candelaria.  Voni recommended a stop at the General Store in Ruidosa to see Jennifer.  She was pleasant to chat with.  I grabbed a cold drink to rest up just a bit before I took on Pinto Canyon Road.
Pinto Canyon Road heads north out of Ruidosa towards to Marfa.  It is around 20 miles of rough road that eventually turns into FM 2810.  I was surprised at the amount of traffic.  I saw several Jeeps and some pickup trucks, as well as some utility construction vehicles working along the road.  I took my time with a couple of stops to take in the quiet desert views.  Hwy 2810 was really nice to ride with its sweeping curves and high desert vistas.
The Marfa Mystery Lights was another stop for the Butt Lite X Grand Tour.  After I documented the bonus, I turned back west to do a stop at Prada Marfa in the middle of the high desert.  This strange building is a permanent sculptural art structure by artist Elmgreen and Dragset.  It was completed in 2005, and originally designed to degrade into its surroundings.  But it has been maintained and watched over by the locals and draws many visitors.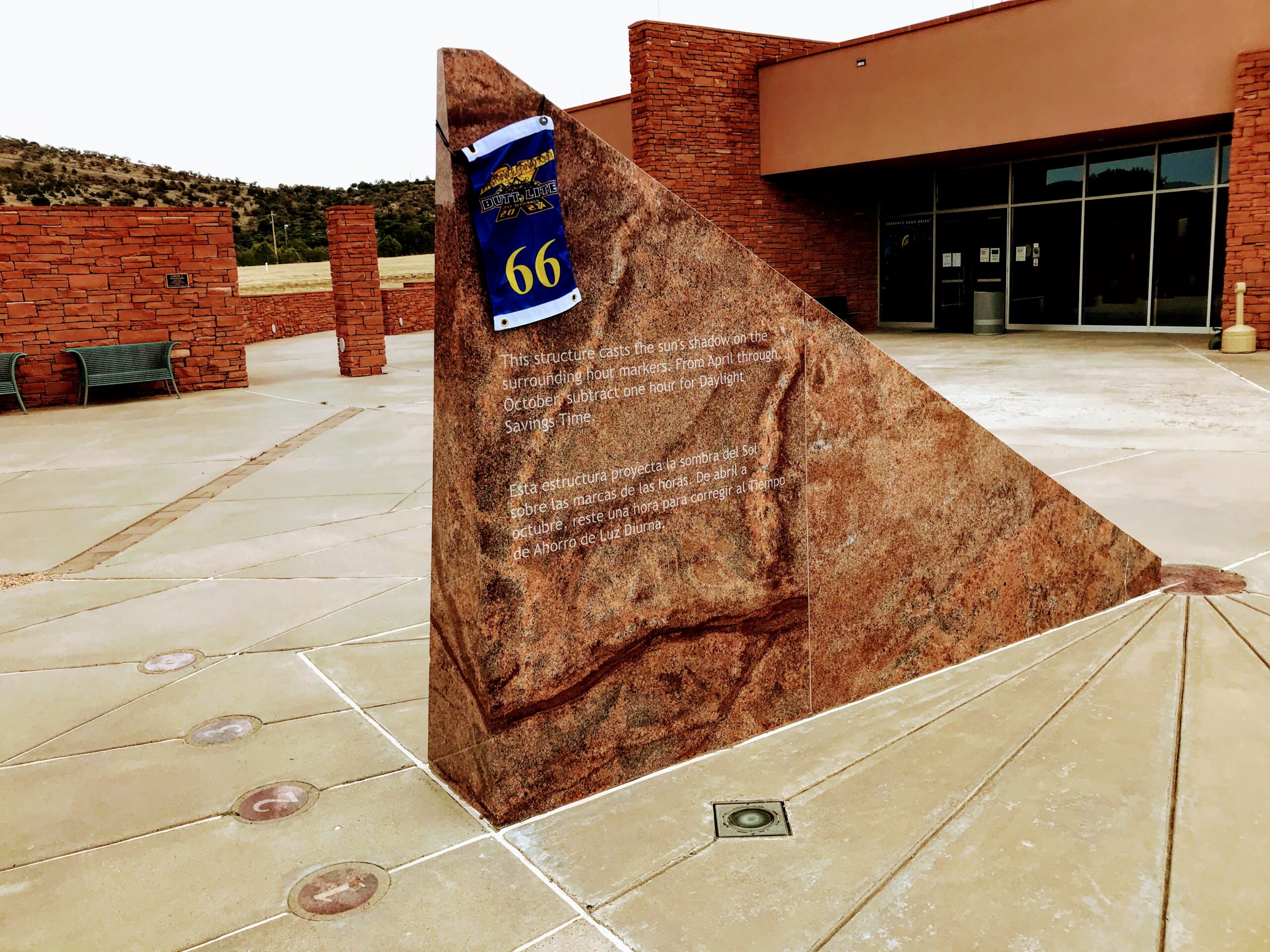 The Davis Mountains loop is a mystical ride.  I intersected the loop at the intersection of Ranch Road 505 and Hwy 166 and rode towards McDonald Observatory.  The mountains here were formed by The Trans-Pecos Volcanic Field some 35 million years ago.  This loop was the setting of the Fort Davis Cyclefest bicycle stage race in 1989.  I somehow managed to finish in 3rd place.  I picked up another Butt Lite X bonus at the giant sundial outside of the observatory visitors center.  Fort Davis was my overnight stay.  The evening air was crisp and music by a local band fun at the grill.
April 16, 2021
The temperature went up overnight, but I knew it would not last for long with a strong front coming in.  I stopped briefly at Wild Rose Pass before I descended into the lower desert elevations.
The cold front hit as I rode north out of Pecos.  It was one of those fronts that you can see from a distance with low hanging wall of clouds.  The Pecos Rodeo and Roy Orbison museum in Wink were more stops for the grand tours I was doing.  The temperature dropped, which made me stop to put on warmer clothing.  At Big Spring, I headed south to Sterling City for another bonus stop at the railroad depot and back towards Sweetwater.  The low temperature was not as nearly uncomfortable as the incessant sidewind.  Add in the crazy heavy traffic of Interstate 20, and those factors made me decide at Abilene to take the longer way over quieter roads through Albany and Breckinridge.  It was nice to return to Debbie and a warm shower…
Photos  https://photos.app.goo.gl/xt2MWgzA8QL9iYAt6
Tracklog  https://www.alltrails.com/explore/recording/20210414-16-bigbend-54fe976?u=i