Spain and Portugal 2018 – Arrival and Day One Malaga to Aracena
Keith sent me a message back in February proposing a ride in Spain and Portugal.  At first I declined, thinking there were too many things to do at work, home, etc.  But, after discussing the idea briefly with one of my associates, Dale, who responded "Why not?" and Debbie agreeing, I was in.  We got our flights arranged and reserved our spot for the 10-day trip with Hispania Tours, based out of Malaga and Barcelona.  But wait… I have to explain something first.
It's August now, and I have been reflecting constantly about this trip.  This was an experience I will cherish for the rest of my life.  The people I have met during the tour are remarkable, and our hosts from Hispania Tours were fun, sincere and well-prepared.  It has now been a couple of months since we parted ways in Malaga.  I have had a bit of writer's block, and maybe that is due in part to my decision to leave work after 39 years with the same organization.  I'm settling into my new life devoid of work pressures and documenting the journey now.  I first considered doing a single post for the complete trip.  The tour was around 2,500 kilometers with the majority of time spent in Portugal.  Each day was a new experience packed with history and images that is difficult to describe.  Riding in a different country through villages with so much character in architecture and people creates a sensory overload.  Having all of those memories surface immediately would create a post of unmanageable content and size.  So, let's break it down into daily stories of life on the road in Spain and Portugal.  In the coming blogs, look for an interactive tracklog of each ride along with a video montage of each day's fun.  The map below gives a overview of the complete tour.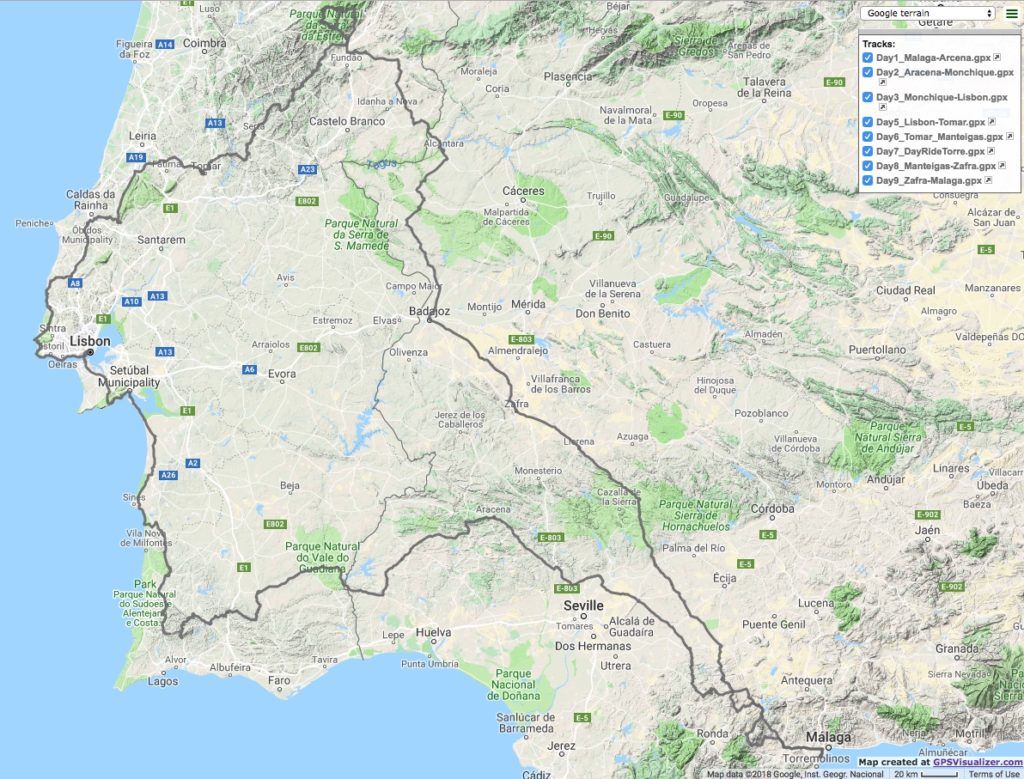 May 28, 2018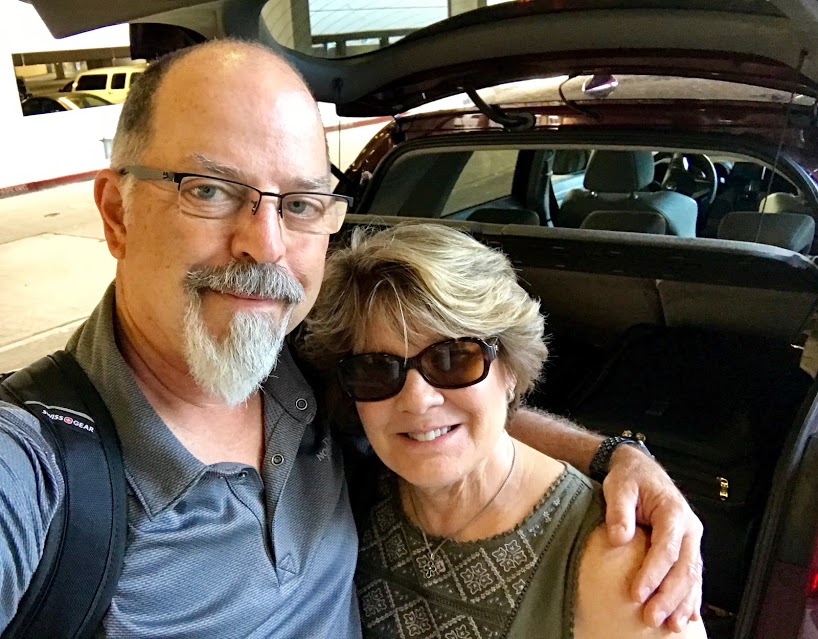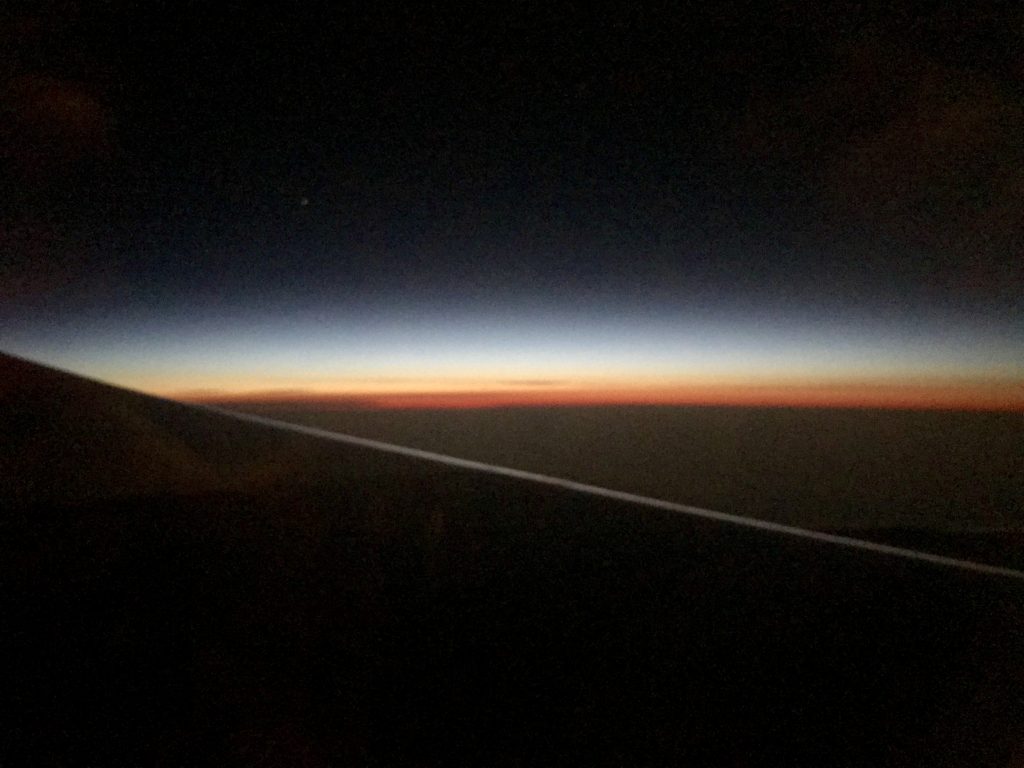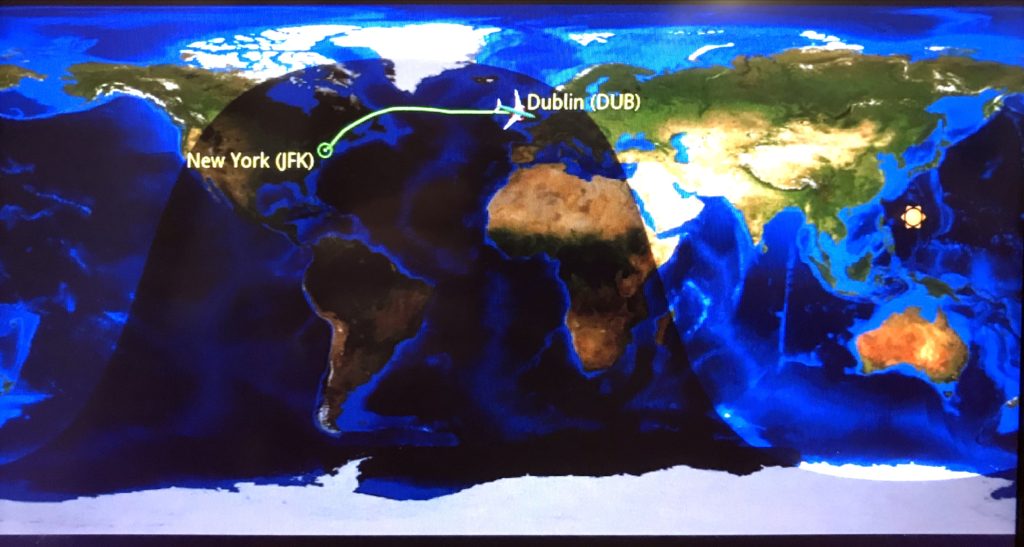 Debbie dropped me off at the airport for the long day of travel to Malaga.  The first leg of the journey was a short hop to New York.  After a brief layover, I boarded the plane for the overnight flight to Dublin.  I awoke several times to see what looked like a sunset to the north.  This messed with my brain for a while until I realized we were flying just south of Greenland and the persistent northern sunlight.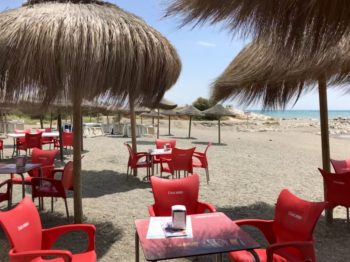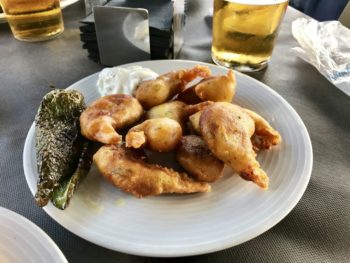 Keith had settled into Hotel Sol Guadalmar by the time I arrived.  I was really tired from the journey and napped for a short time before we went out for dinner on the beach.
May 30, 2018
This day would be for rest and exploration in Malaga.  We had a nice breakfast at the hotel and took public transportation into the city center for a tour of the Museo Picasso Malaga and a long walk up the hill to Castillo de Gibralfaro, built in the fourteenth century.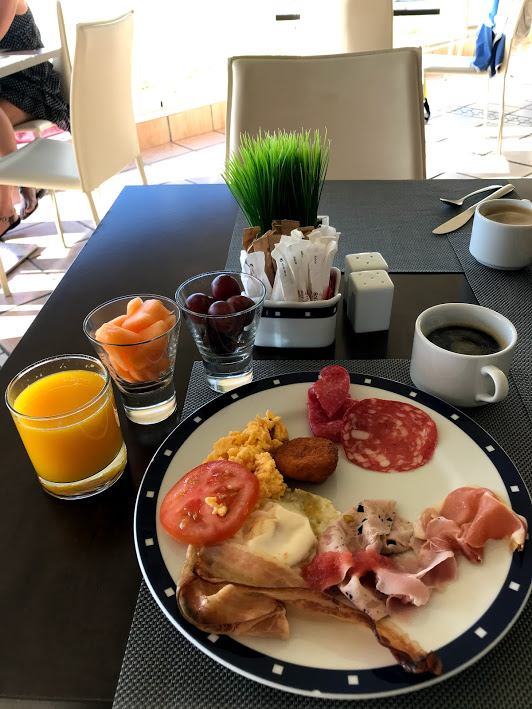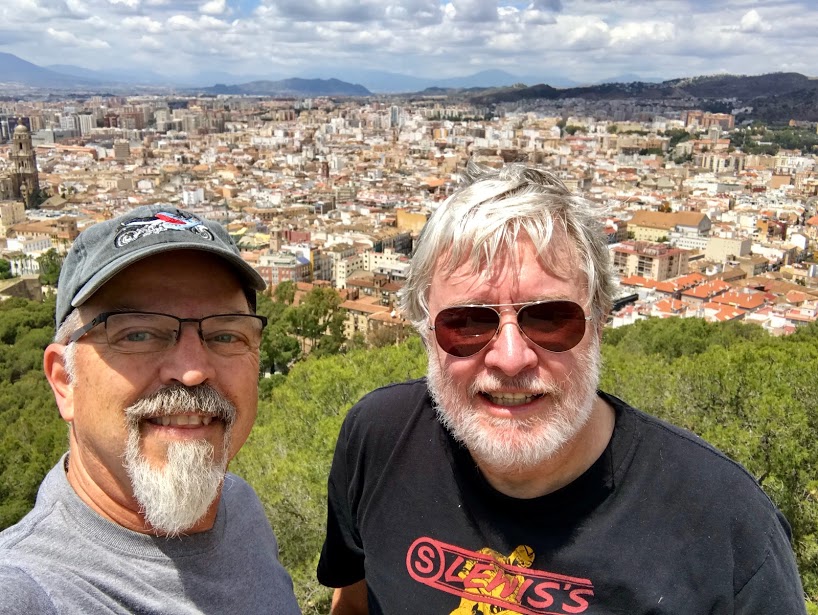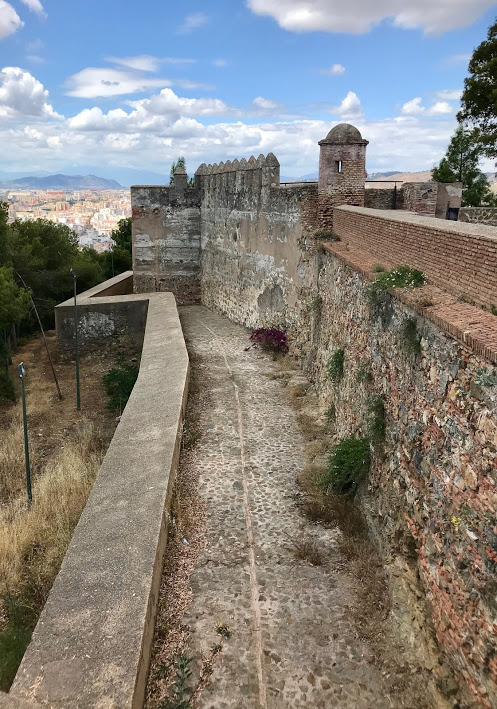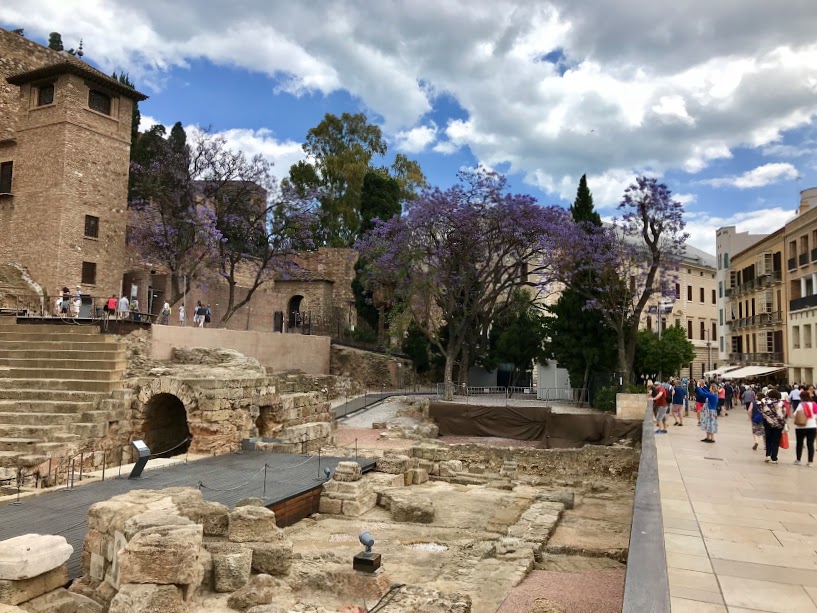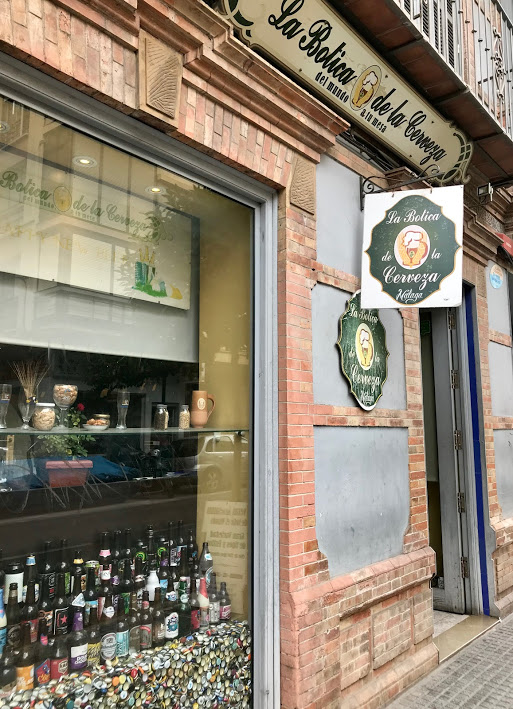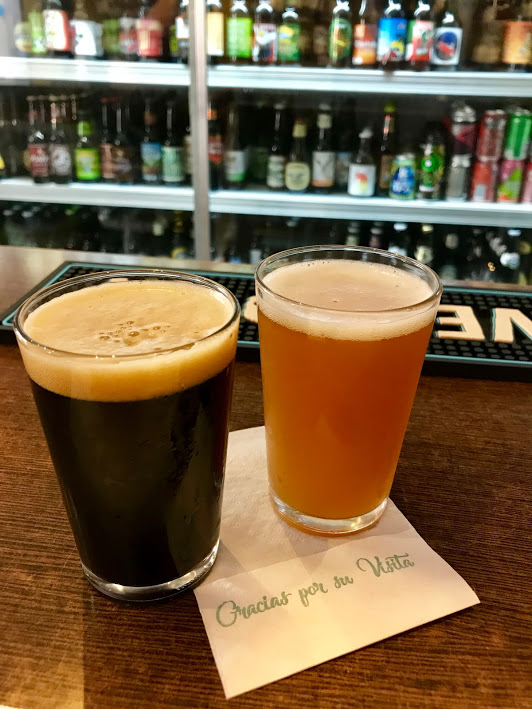 On the way back to the city center, we found an interesting pub to try some local brews.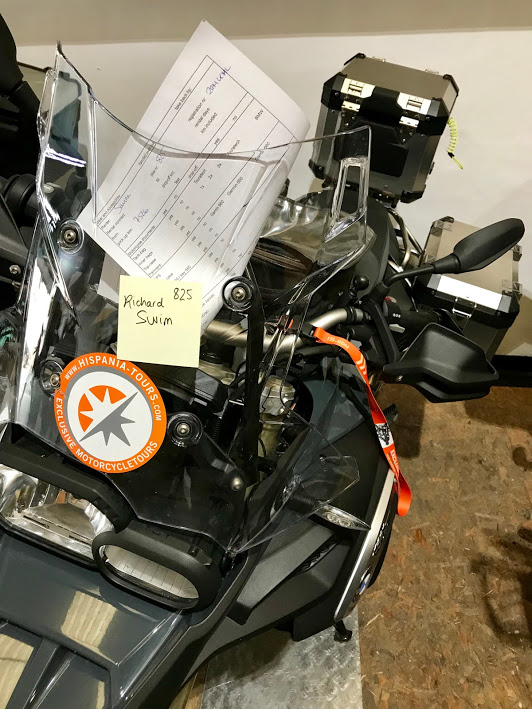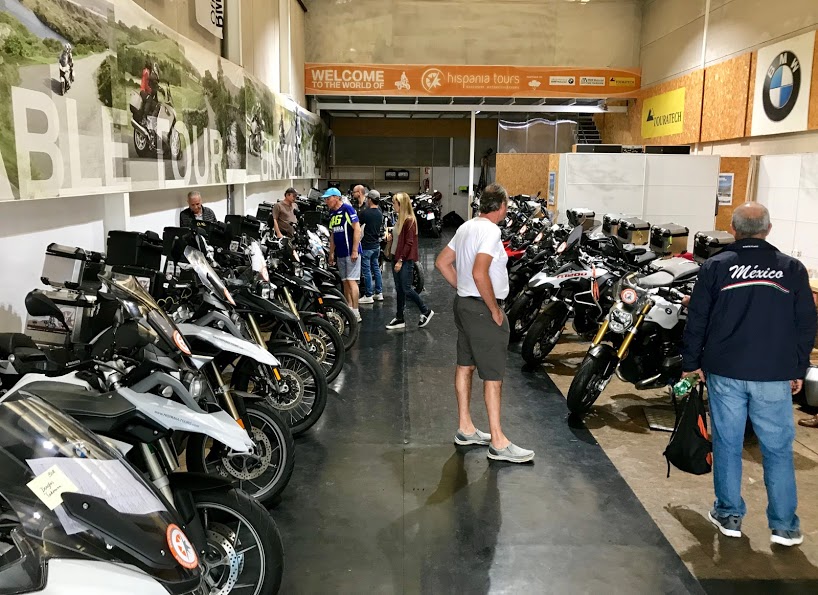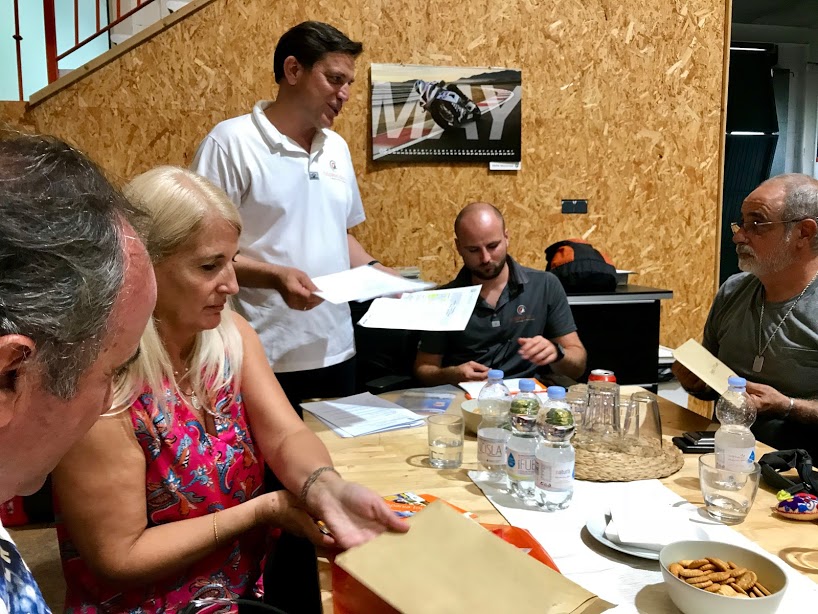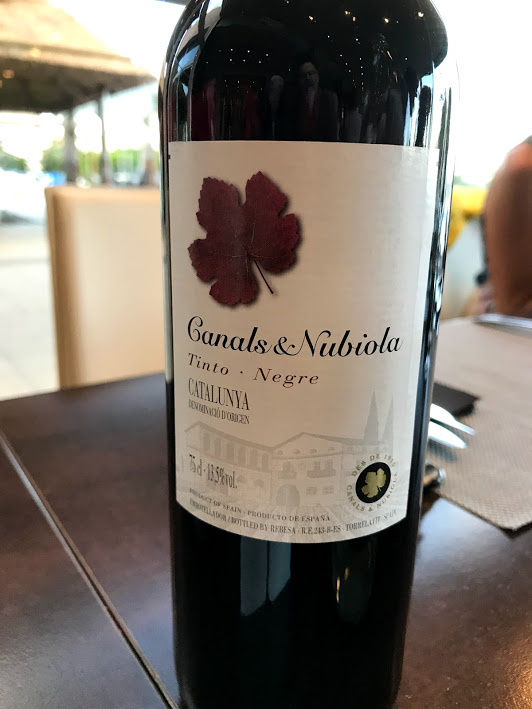 Back at the hotel, Keith and I ventured down to the lobby of the hotel to meet our new friends from around the world.  From Argentina, there was Jose and Ingrid, Oscar and Felissa, Marcelo and Claudia, Alejandro and Patricia, Eduardo and Patricia and Enrique and Angela.  From Mexico was Pablo and Miriam, and Ernesto and Maria.  Douglass was from Canada.  Patrick was from France living in Florida.  We met Kaylan from India at the Hispania Tours facility where we finalized the moto rental documentation with Johannes and his team.  Dominique and Marc would be our tour guide and support for the exciting days of riding to come.  We returned to the hotel for a dinner of typically wonderful Spanish tapas and wine.
May 31, 2018
We awoke to a lovely sunrise above the Mediterranean.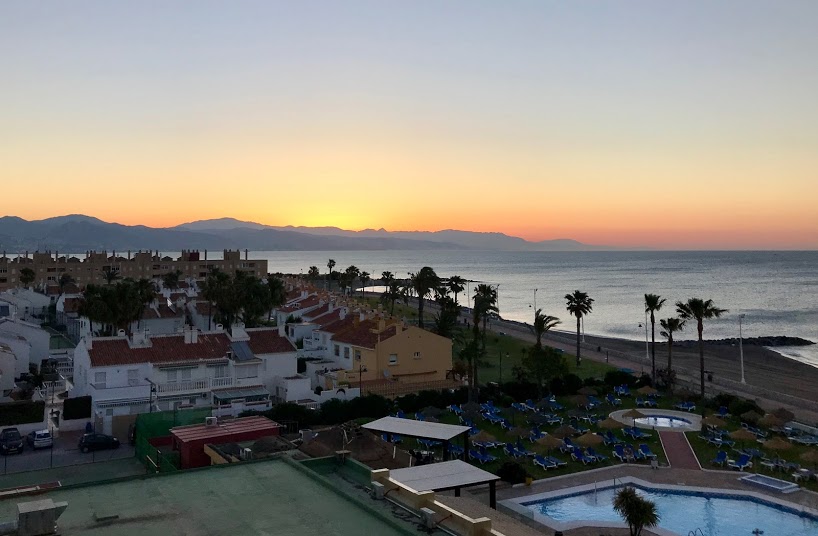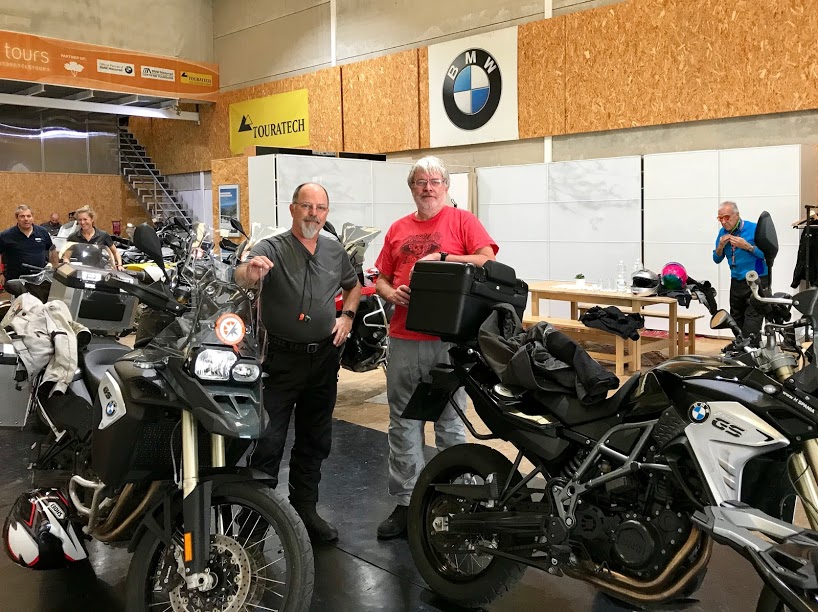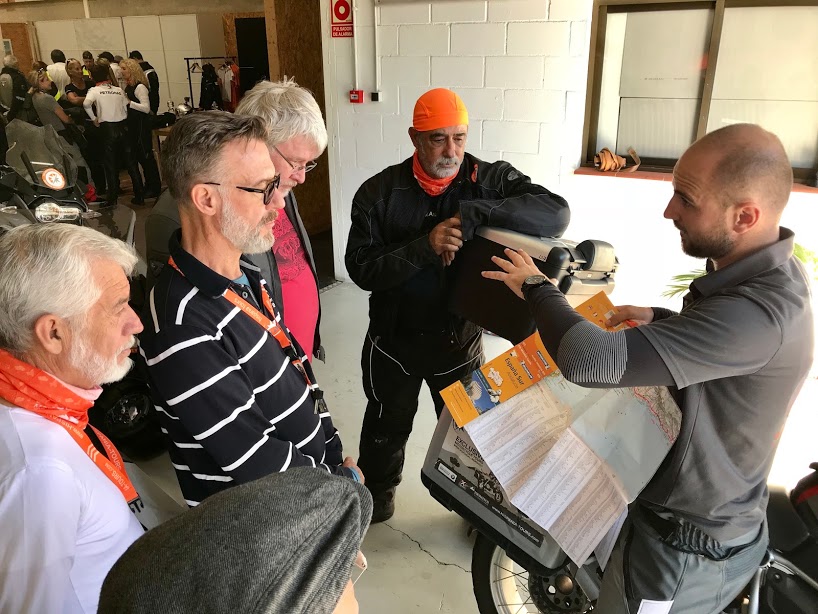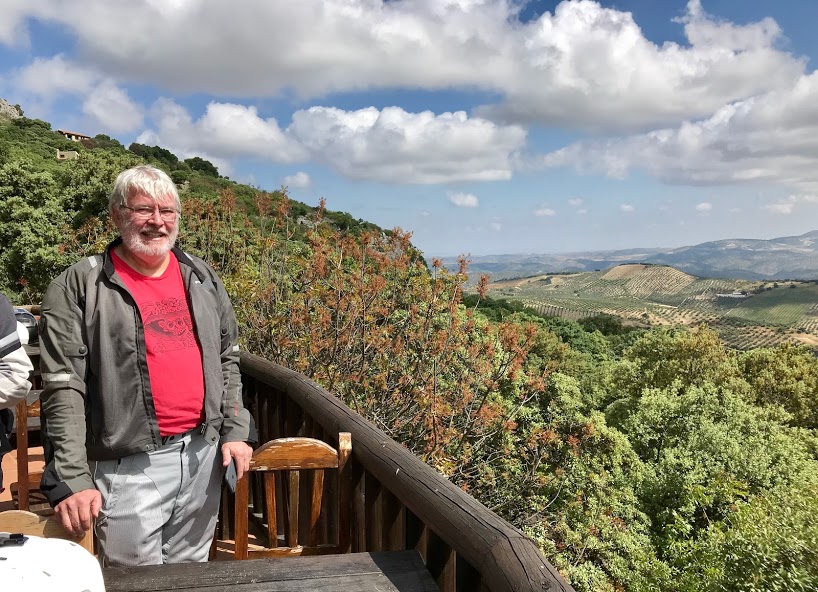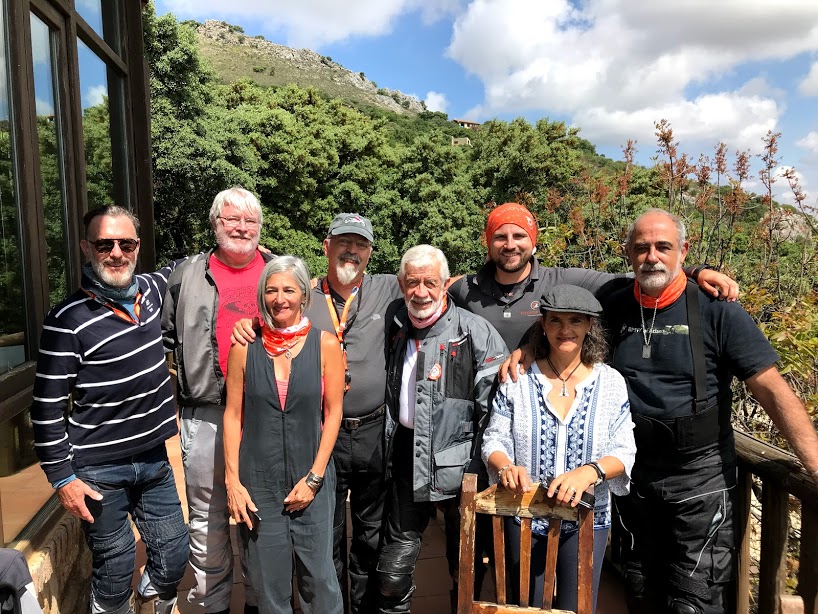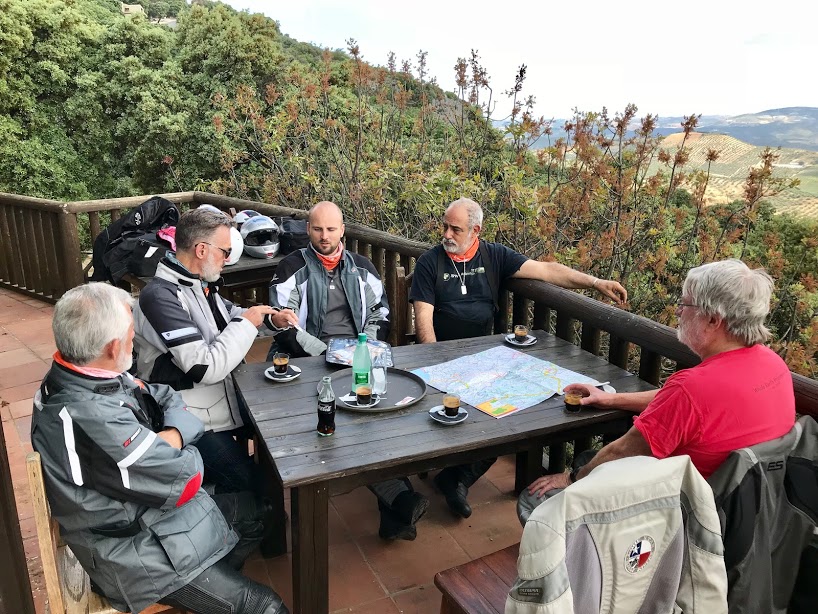 Domi briefed us for the morning ride out of Malaga towards our overnight stop in Aracena.  The ride out of Malaga was a bit tense, being on a new bike (BMW F800 GSA) to me and the heavy traffic of a large city in an unfamiliar country.  It was nice to get off of the four-lane roads and into the countryside with olive trees growing wild in the rolling hills around Algamitas, where we stopped for morning coffee above the village.  I found soon that coffee is a way of life in Europe.  I also realized life in general moves more slowly in Spain and Portugal.  There is plenty of time for socializing and relaxing.  Americans really should adopt this trait.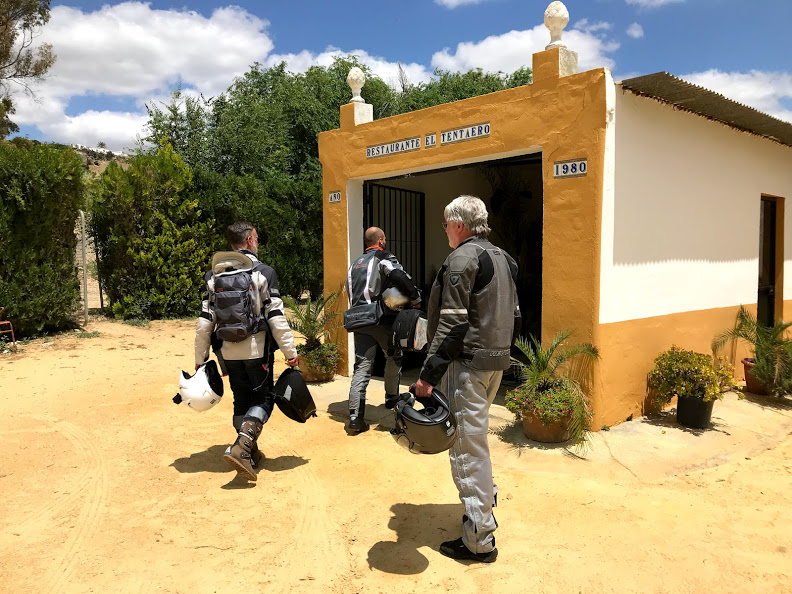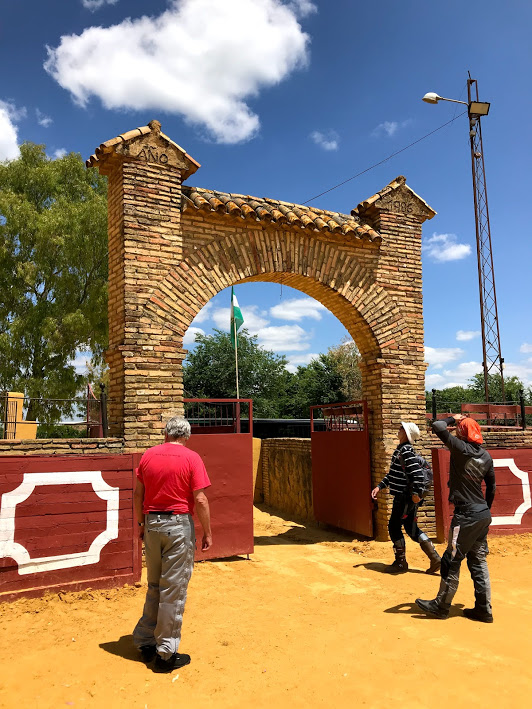 We wound our way through one small village after another, and through the agricultural lowlands to our lunch spot outside of Carmona.  Lunch comes in the early afternoon in Spain.  We arrived near 2:00 at Restaurante El Tentaero next to a bull ring.  There was nobody else besides the wait staff watching a motorcycle race on TV.  Lunch was a multi-course affair, which I also found to be typical.  We walked into the bull ring where Domi gave us a history lesson of the event and the locals that participate and watch.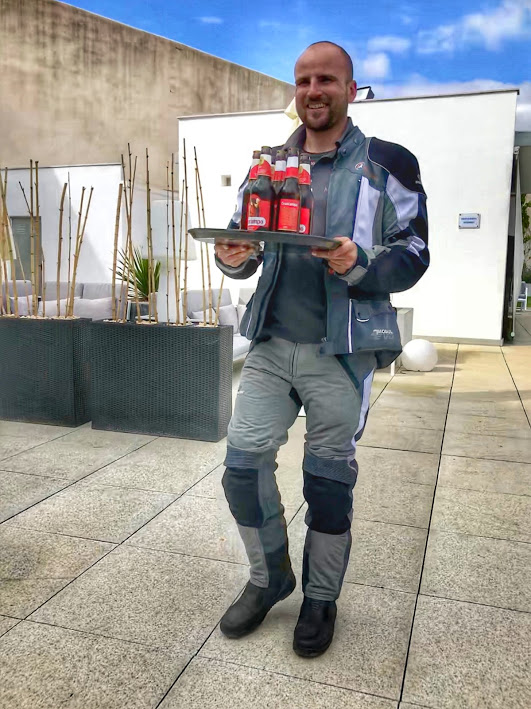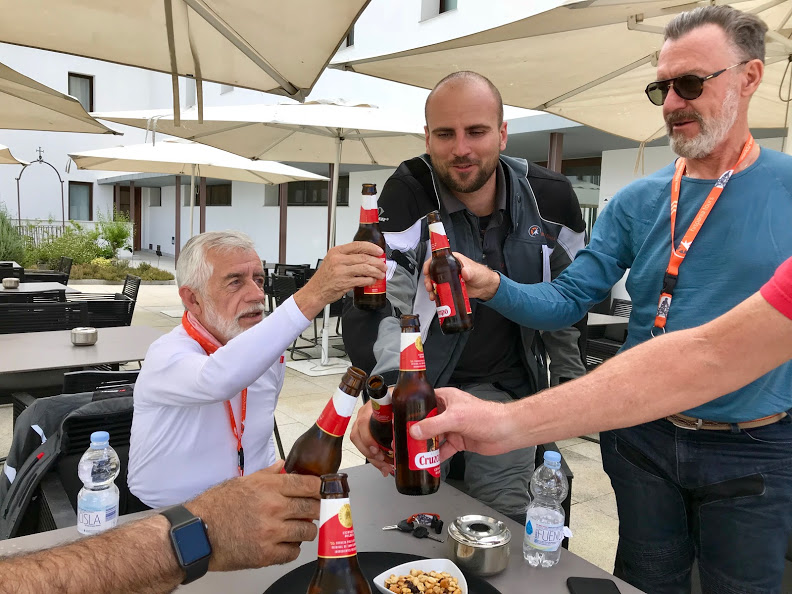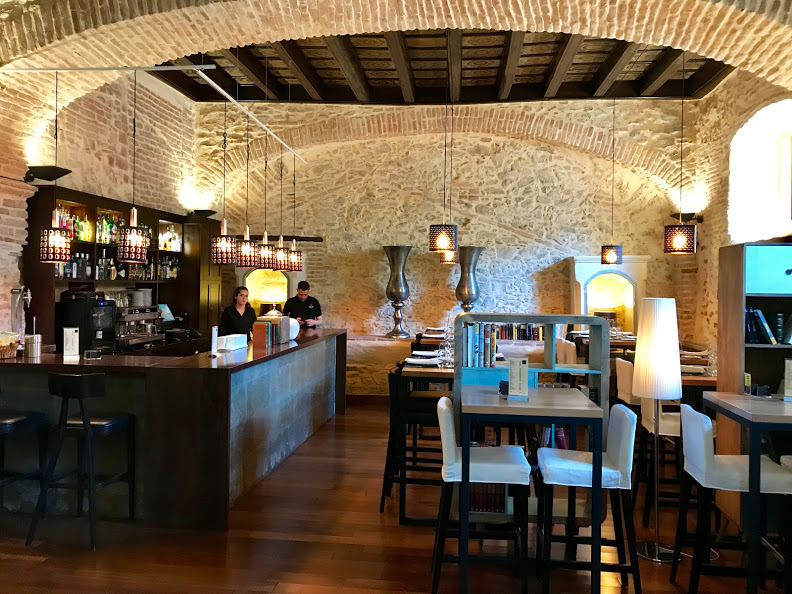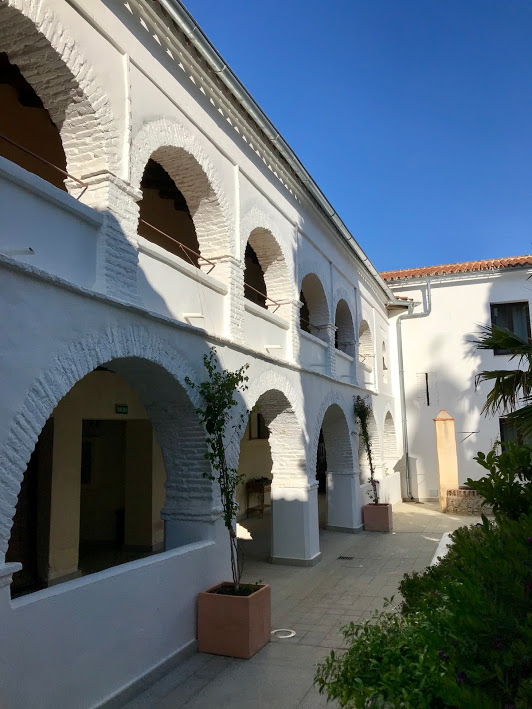 After more laid-back riding and another coffee break, we arrived in Aracena, riding the cobblestone streets up the hill to Hotel Convento Aracena.  This is a restored 17th-century convent full of authenticity and charm.  While we were awaiting the trailing group of riders, Domi secured some cold brews and snacks for us to enjoy in the mild afternoon temperatures.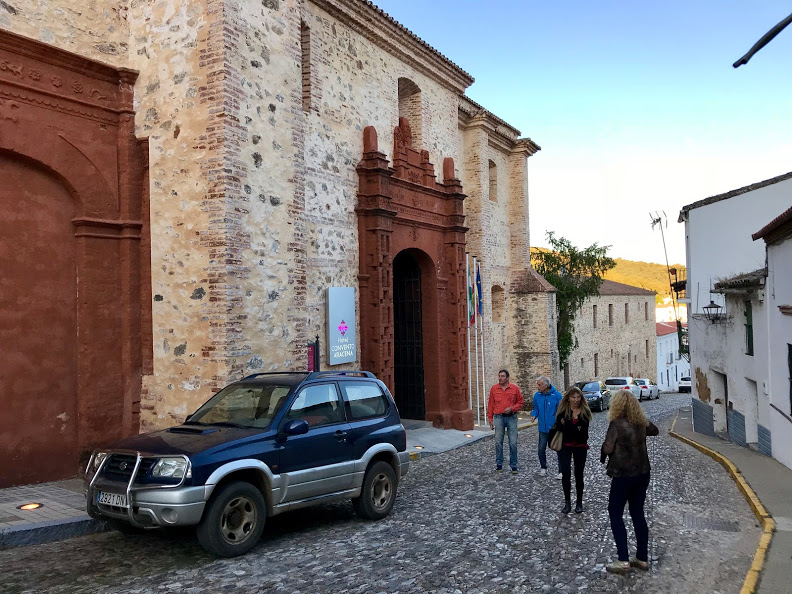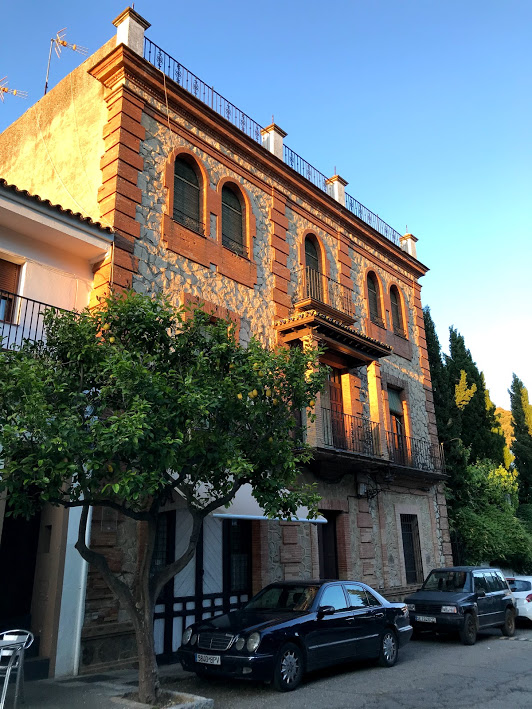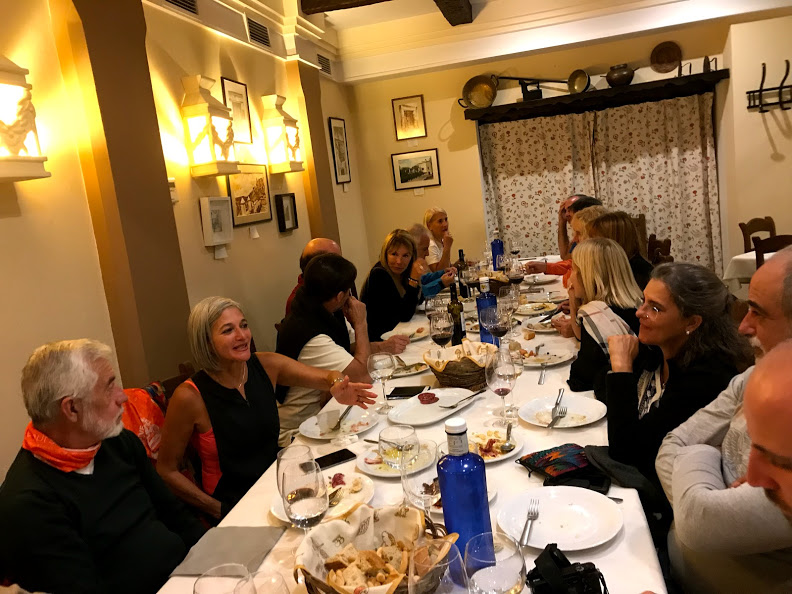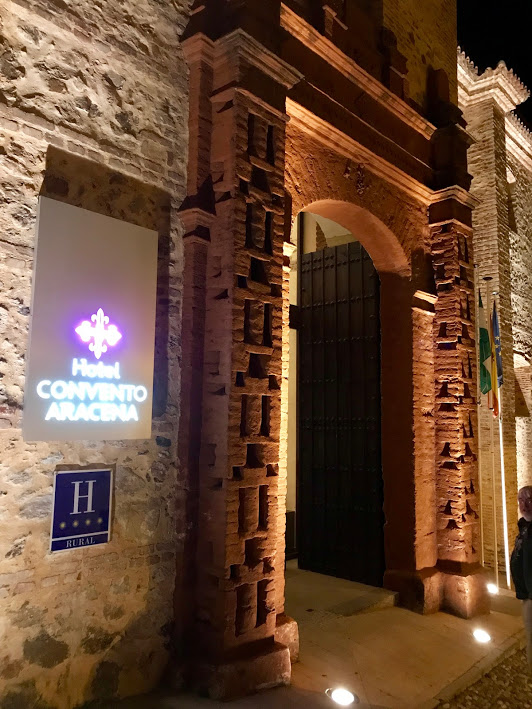 The second group of riders arrived, and not long afterwards we were making our way again across the cobbles to a wonderful dinner at Jose Vicente's restaurant.  I lost count of how many courses of fine ham, cheese, asparagus and other tasty food appeared.  The day was done.
Spain and Portugal Photo Album    https://photos.app.goo.gl/6qtdWHwy1FcXcnxt9
Tracklog    
https://www.alltrails.com/explore/recording/20180531-spainportugal-malagaaracena-6f16f5f