2015 HW3 32-Hour Rally – Albuquerque
October 15, 2015
I was making my way west to "Tucumcari Tonight" trying to find the original path of Route 66 along the way.  I did not have to get to the tech inspection in Albuquerque until mid-day Friday, so there was no pressure today and plenty of time to stop and explore.  Most of Route 66 out west has been replaced by interstate highway.  Some of the original sections are now on private property or not maintained much more unless the road still serves a small village or town.
The Blue Swallow Motel is a step back in time.  There is little that has changed from 1940 when it was constructed and opened.
I got settled in and met three couples from Australia and another from England that had rented classic cars in Chicago to drive Route 66 all the way to Santa Monica Pier.  The green chili enchilada dinner and margarita later that evening was a treat.  I wandered back to my comfortable room exploring the history along this once very busy road.
October 16, 2015
It was another low-pressure morning with less than 200 miles to ride to Albuquerque.  I continued to take every exit off of I-40 to travel a bit more of the original Route 66.
Rio Rancho was the headquarters of Justin Philipson's 2015 How the West was Won 32-hour endurance rally.  I participated in this event last year based out of Georgetown, CO.  Justin's a pleasure to be around with his dry sense of humor that seems prevalent among Iron Butt Riders.  I love this part of the country, and doing an event based here took little decision time for me.
The tech inspection was underway as I pulled up.   After registration, I returned to the moto for a 20-mile odometer check.  All went well for that ride, and I settled into my room and returned to visit with my friends I have met from all parts of the nation.
We all had a great time visiting, chilling in the cool high desert sun and eating later at the banquet.  Justin gave only one last bonus opportunity of county line signs.  These sometimes are distracting as a low point to time investment, but when it makes sense can separate close places in the end.  It would be an early rise for the start, so I tried my best to get to sleep early after a nice chat with Debbie.
October 17, 2015
I had no trouble waking early for the final odometer check and start line-up.  We rolled away in the dark at 6:00 closely spaced for a while until riders took exits and turns to begin their planned strategy.
I headed straight south out of Albuquerque through Socorro and to the north end of the White Sands Missile Range.  The Trinity Site was my second bonus after the Rio Salado Sand Dunes Marker.  This year's HW3 theme was the Five Elements; Earth, Fire, Water, Wind and Sky.  To complete the rally, one had to ride at least 1,150 miles and have bonus points from one of each of the elements with a minimum of 1150 points.  The return to the finish had to be before 2 PM on Sunday, otherwise resulting in a DNF.  There was a factor resulting from accumulating the most stops in an element that would be multiplied from the element with the least number of points.  All other elements were scored with the original value of the bonus location.  This kept my mind turning before and during the rally, trying to maximize the points and minimize the number of miles that I would ride.  I'm not in it to win, but always want to finish and do well while enjoying the ride.
I turned west back through Socorro towards the Very Large Array, a bank of 27 radio antennas listening into the heavens.  This scientific site is way out in the famed middle-of-nowhere.
After I continued west to pick up a Fire element at the Quemado Marker, I made my first navigational error.  I did not pay attention to the route my GPS calculated and continued west to Springerville, AZ.  This was a minor issue that resulted in more points, but additional miles that I did not initially plan to ride.  The weather was warming and I had plenty of time before my next stop at Window Rock in the Navajo Nation.  I called Deb and chatted with her for miles while continuing north towards Utah.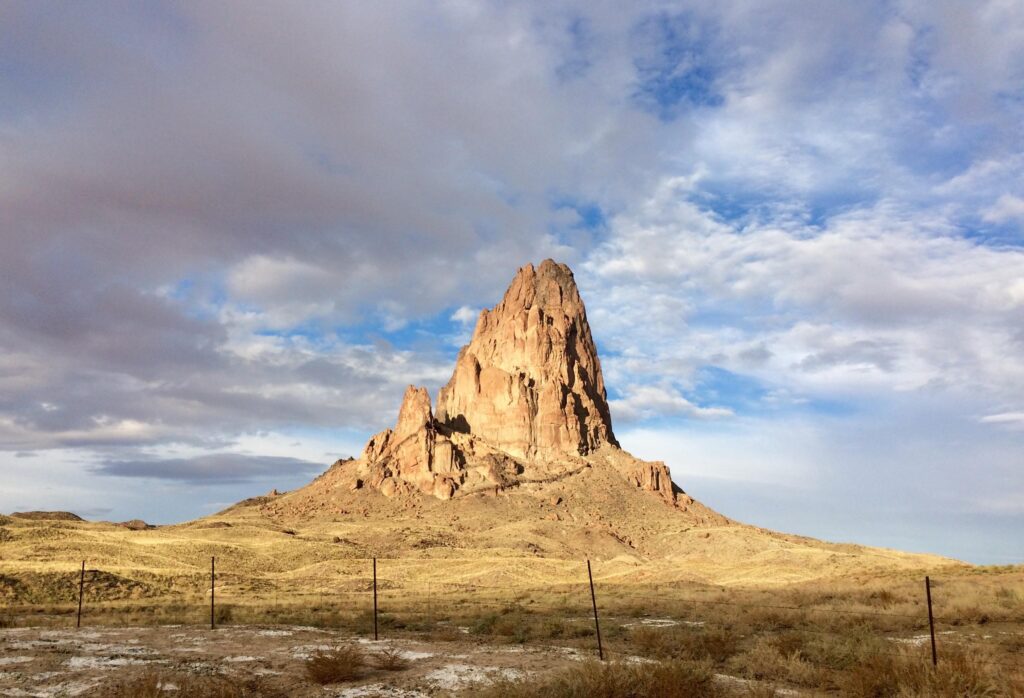 Canyon de Chelly, Navajo National Monument and Monument Valley were other bonus locations in northern Arizona, where one may travel for many miles before encountering another person.  After I turned east, I realized the earlier error of traveling straight west into Arizona would alter my plans of hitting Ship Rock in the late afternoon.  Ship Rock was a daytime bonus, and now there was no way to meet that criteria.  I continued on to Mesa Verde where the rain began.  I crept through the Anasazi mesas on twisty roads searching for the bonus location deep in the park.  The wind was picking up and made it difficult to keep my bonus placard steady for the photo in the pitch black of the night.
The temperature was dropping in the Colorado mountains east of Durango as I headed southeast to the New Mexico border.  The rain became more intense and the road became more challenging as I approached Navajo Dam for my last bonus of the evening.  After documenting the stop, I rode west towards Farmington.  I was never so happy to leave a small, twisty road and get on a major road to reach my warm bed for the evening.  I slept well after a warm shower.
October 18, 2015
I awoke at 5:30 and rode to Ship Rock to document it in the early morning light.  It was then when I realized that my rally placard was no longer with me.  I suspected that I lost it in the darkness of the Navajo Dam bonus the previous night.  I called Justin and asked him what would need to be done to document the remaining morning's locations.  My mug would have to suffice in each of the photos.  So be it at Ship Rock, El Malpais and Sandia Crest.
As I made my way to the return in Rio Rancho, I checked Justin's post with all of the riders' SPOT locations converging on the finish.  I shot the skyline of Albuquerque from Sandia Crest and turned back down the mountain.  Instead of backtracking my path from the south, I took the "Highway" 165 which is a goat trail dirt road that snakes its way around the north side of Sandia Crest.  I'm sure the motorists that I passed thought I was nuts being on a big road moto negotiating that rocky and rutted road.
After scoring, more camaraderie ensued, both in the parking lot and the banquet to follow.  Erik Lipps finished in first place after 1,755 miles of riding and 18,776 points.  To put Erik's achievement in perspective, the second place points was over 5,000 points less.  I wound up placing 21, which is fine by me.  I love participating in these rallies most due to another excuse to ride, and see places I may have never discovered otherwise.  Once again, I slept very well that evening.
Placing – Miles – Points – Points per Mile
1  Erik Lipps      1755  18776  10.70
2  Dan Fouts       1616  13724  8.49
3  Steve Bracken   1644  13239  8.05
4  Mark Pierce     1717  13132  7.65  (Passenger: Robin Freeman)
5  David Walls     1681  13015  7.74
6  Voyek Kulesza   1894  11332  5.98
7  Greg Farmer     1483  10622  7.20
8  Robert Reil     1635  10405  6.36
9  Eric Markus     1313  10251  7.81
10 Glenn Pancoast  1421   9171  6.45
11 Scott Lakusic   1289   9170  7.06
12 Mark Herbert    1302   9170  7.04
13 Rick Miller     1308   9170  7.01
14 Nancy Lefcourt  1288   8710  6.76
15 Jack Dannenburg 1377   8426  6.12
16 Scott Benson    1392   8396  6.03
17 Tim Mahoney     1621   7417  4.58
18 John Carrell    1635   7417  4.54
19 Bill Ouellette  1436   7397  5.15
20 Michael Moore   1225   7807  5.88
21 Richard Swim    1253   7142  5.70
22 Colleen Koenig  1420   7109  5.01
23 John Kerr       1418   7094  5.00
24 Gary Longhurst  1223   6815  5.57  (Passenger: Janet Longhurst)
25 Dale Bundy      1528   6328  4.14
26 Mike Cox        1512   6224  4.12
27 Ken Schleman    1353   6213  4.59  (Passenger: Linda Schleman)
28 Zach Westlake   1546   6196  4.01
29 Del Brand       1355   6059  4.47
30 Paul Stark      1188   5768  4.86
31 Roy Kjendal     1556   5757  3.70
32 John Zabelle    1195   5735  4.80
33 Walt Wunderlich 1169   3634  3.11
34 Dale McNeely    1258   2335  1.86
October 19, 2015
It would be another lazy day of riding.  I was one of the last riders to leave the motel and headed north towards Pagosa Springs through some wonderful northern New Mexico sunny fall weather.  I wanted to eat at Kips Grill, but found it closed being a Monday.  Right across the street was Riff Raff Brewing, which turned out to be very good for a brew and burger.  I took the roads slowly through southern Colorado passing over Wolf Creek pass with sleet and snow falling on me.  The weather on the other side of the pass was fine with sunny skies and a rainbow that appeared right out of the valley below me.  After riding around the Spanish Peaks, Trinidad was the stop for the night before my trek home.  Life is indeed good.
Photos    https://goo.gl/photos/dFp52jNLoSceKUhA8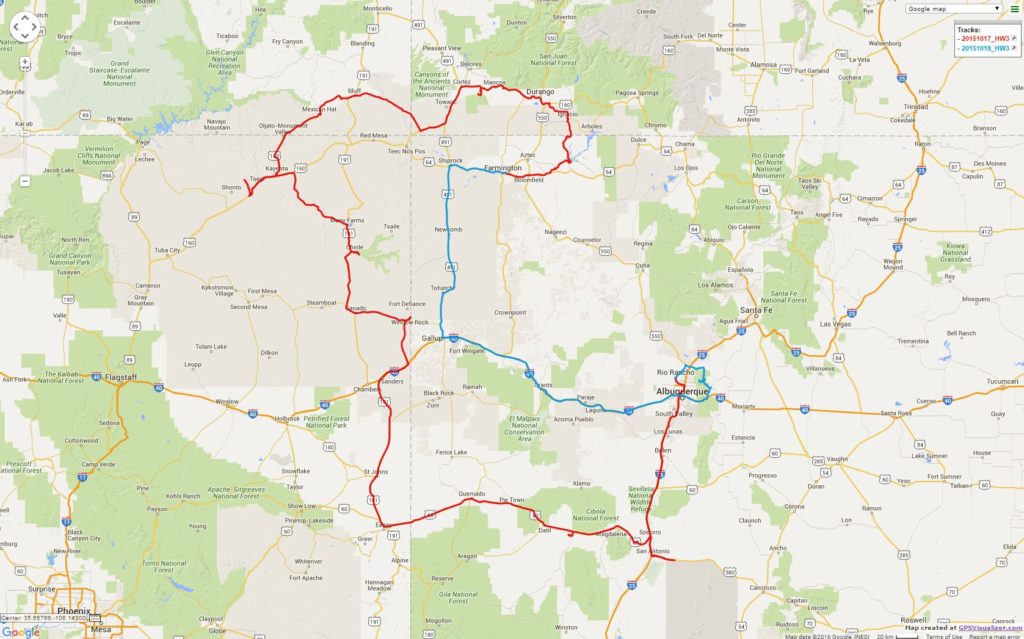 Tracklog    https://www.alltrails.com/explore/recording/201510_hw3_fiveelements