LSBMWR Ride to Where Next
April 12, 2008
I wanted to ride.  The weather was looking good for the weekend, and I was wondering if the Bluebonnets were out yet.  I thought about wandering around east of Ennis for flower photos.  But sometime Friday, Jim proposed a ride on Saturday to Muenster to get some Muenster cheese (rationalizing the ride?).  I took the bait.
We met at the local coffee house Saturday morning and rode up to have breakfast at CJ's in Whitewright.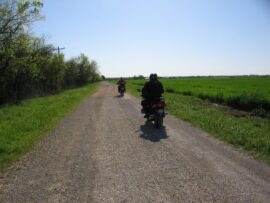 Jim's route to CJ's was like that cartoon where the kids run all over the neighborhood before arriving where Mom wanted them to go.  The route turned GS, but it was all good and added some flavor to the ride.
As we rode into town, I peeled off to pick up some fuel and noticed that Amir and Sam were waiting on the highway for me. I waved them on thinking that they knew where CJ's was, but when we were all asking in the café where they were, I discovered they knew not. Sam and Amir did get to enjoy the enjoyable FM 697 twice while looking for us. They rejoined us at CJ's, and we decided to scratch the Muenster destination.
| | |
| --- | --- |
| Breakfast at CJ's is always good. |   |
| Sam, Jim, Amir and Colin |   |
| | |
| --- | --- |
| FM 697 was a windy, winding blast. |   |
So, the where next started. I suggested the peninsula jutting into Texoma, and Jim said fine, he had a friend building a house there he could check in with.
| | |
| --- | --- |
| | Sherman |
| Smooth winding Hwy 120 at Texoma | End of the road |



Jerry and his house he is building.

 
Nice view at the tip of the peninsula

The next where next was Carpenter's Bluff, preceded by Colin's flat. The flat was fixed quickly, we carried on and enjoyed the rest of the ride.
| | |
| --- | --- |
| | Colin showing great mastery of flat fixin'  |
| North Texas wildlife | Yes, I am having a good time. |
Carpenter's Bluff trestle bridge is a neat site tucked away in the sticks.
| | |
| --- | --- |
| Jim and Colin walking the trestle | Ready to ride back into Texas |
|   |   |
It was a great day of mystery destination riding.
Photos    https://photos.app.goo.gl/NCU5jNDEE4VaDTFW6