Big Money Rally 2015 – Epilogue
May 23, 2015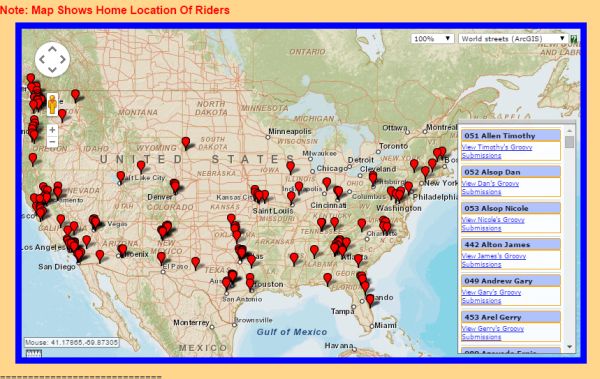 The rally entrants consisted of around 140 riders from all around the country ranging from Iron Butt Association veterans to weekend riders.
The themes of the rally were varied from geo-positioned locations across the nation that required matching my own photo with a sample image to word matches that could be obtained locally or quite often only at the original location.  Rallies within the rally focused effort to snag available points during those periods.  An example of this was the Leonard Nimoy theme orchestrated shortly after his death where two word matches per hour for a full day netted quite a few points.
I never really paid attention to the length of town names, and the fact that BMR-required zip codes are not on all post offices.
The BMR scoring web site was a social hangout for riders across the nation to watch what others were experiencing and comment on bonus location photos.
I have met riders both virtually on the web site and in person at the ride to eat events in Dallas, Allen and Lovely Celina.
The Celina RTE brought together long distance riders from across the nation to both get together and visit and claim BMR points good only for the 3 days over the weekend.  Some BMR riders did over 1,000 miles to hit three Celina's across the country to come have lunch in Texas.  Riders like Paul Slaton, MoBob Bowman and Frans De Wet have been in the top three positions for months with way more miles ridden than me.  Paul Slaton is to compete in the 11-day Iron Butt Rally this summer.  I ran into Paul, Frans and his wife Betty at a Ride to Eat in Allen and later in Celina for one of the BMR RTE's orchestrated by Paul Tong.
For my own journey in the BMR, I spent the end of December and early January researching local word matches and planning day and overnight rides to earn bonus points for those and frickin' locations identified by John Frick.
I located temperature displays to collect unique values between 0 and 30 degrees, both Fahrenheit and Celsius.
I rode through colleges and universities in Texas, Louisiana, Arkansas and Oklahoma to claim bonus points.
I happened to pick one of the coldest and wettest winters in Texas to participate in the BMR.  Yes, I know it's all relative.  Some riders in the northeast only have 4 or 5 good months of riding.  I should stop my complaining now.  But for Texas, this winter has been out of the norm with 6-inch snows and a lot of rain.  Sometimes we just close the whole state when the ice and snow arrives.
There were plenty of word matches that could be found in the Dallas/Fort Worth area.  I rode a couple of hundred miles for several weekends and never left the grueling city roads and freeways of the DFW metromess.
At the end of January, I ventured out on a nice sunny day out through Sulphur Springs and up into Oklahoma to snag bonuses of courthouses, word matches at their original locations and Frickin' Places.
By February, I was exhausting local word matches and ready for a longer ride.  With the colder weather north of Texas, I planned a ride through East Texas down to Freeport on the Gulf Coast. The colleges and universities had a high point values, but there were only a few scattered though Texas.  I rode east in early February through Tyler and Nacodoches to grab those points and other unique word matches along the way down to the relatively cold Texas beaches east of Houston.  One thing I enjoy through rally participation is how the bonus locations will take me to places I never considered to visit.  I never knew there was a Crocodile Encounters place in Texas.  I stayed in the petroleum town of Freeport overnight having dinner at the … amongst the regulars still in their refinery jumpsuits.  I arose early and rode out of town with the sunrise behind me following the mouth of the Brazos River.  The return route weather for this trip was much more pleasant than the ride down that stayed in the thirty's most of the day.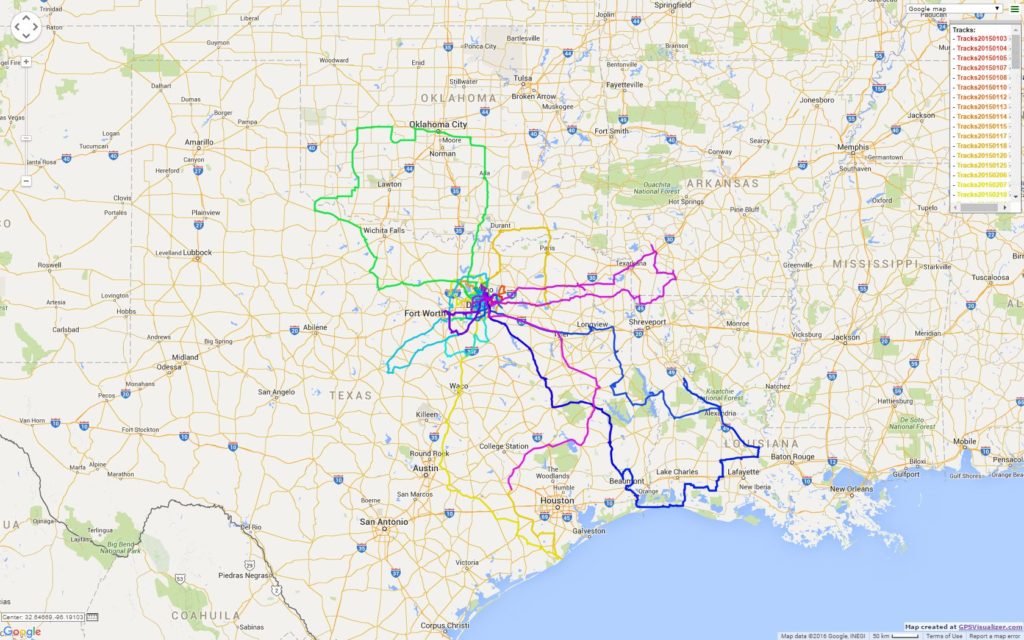 Photos    https://photos.app.goo.gl/r3Jaqt9XteJJRsuZ8
Tracklog    https://www.alltrails.com/explore/recording/201505-bmr2015combinedtracks