Colorado 2014 – How the West Was Won
July 24, 2014
It was time for another IBA-style ride.  I found the How the West Was Won 32-hour endurance rally in the Iron Butt Association site several months earlier.  Justin Philipson was the rally master for this inaugural event.  Sounded like fun, and what better place for an event like this than Colorado?  I received the rally pack a week before the start, but I did not have time to look at it until a couple of days before I left for Colorado.  I put together a "tourist" route that would take me through some familiar roads and some that I have not ridden.  The route would give me a finish, plus an overnight stay in Gunnison.  I know some of the riders would put in a straight 32 hours of riding, but I feel that it is important for me to rest and enjoy the beautiful mountain scenery illuminated by the sun.
I awoke at 4:30 AM and was on the road to beat the traffic out of town at 5 o'clock.  My objective for the day was to get out of Texas as fast as possible to avoid the heat.  I made good time through the towns along Hwy 287 and up into the Panhandle of Texas.
Wichita Falls audio journal    https://ntmoto.net/wp-content/uploads/2014/08/01-WichitaFalls.mp3
Amarillo audio journal    https://ntmoto.net/wp-content/uploads/2014/08/02-Amarillo.mp3
Trinidad audio journal    https://ntmoto.net/wp-content/uploads/2014/08/03-Trinidad.mp3
The destination for the evening was Walsenburg Colorado. The ride out of Texas was uneventful and wasn't terribly warm.  I rested for a bit at Capulin Volcano in Northeast New Mexico, and then continued on over Raton Pass.  I exited at Walsenburg and as I looked for the Spanish Peaks Motel, I quickly realized my chosen hotel was in La Veta – not in the direction I was heading.
I continued north through Pueblo and into Canon City.  The temperature reached into the 100's as I approached Canon City.  I was ready to get off of the moto.  I checked into the Holiday Motel, a quaint 1950s motor lodge.  Debbie messaged me earlier that it was national Margarita day and I once again had taken off on a trip again.  So a search was in order for a margarita to share virtually with her.
I met Jason on the balcony of the motel after dinner.  He is a Texan-turned-Coloradan living up in Evergreen.  We talked for a couple of hours as the sun set and the temperature dropped quickly to comfortable levels.  I slept well knowing I did not have an early rise.
July 25, 2014
It was an easy morning.  I did not even set an alarm to awake.  I gathered my gear from the room and packed the bike for a lazy ride north.  I left so late in the morning, Deb even asked where the SPOT messages were.
Canon City audio journal    https://ntmoto.net/wp-content/uploads/2014/08/04-CanonCity.mp3
Hwy 9 north was a winding road treat with the morning light behind and to my side.  The temperature was perfect.  I had satellite radio tuned to Chill music to continue my objective of winding down my anxiety related to multiple challenges at work.  I lost my VP of 11 years last week to a reorganization after our merger with another healthcare system.  I decided to completely remove myself from work on this trip rather than staying connected to communications almost constantly as I have done for years.  I had my work Blackberry with me, but had not checked it for the last couple of days.
I rode through Fairplay, Alma and Breckenridge on my way to I-70.  Most times I have been over Hoosier Pass, it has been raining, but today was a picture-perfect day.
Breckenridge audio journal    https://ntmoto.net/wp-content/uploads/2014/08/05-Breckenridge.mp3
As I approached Georgetown, the traffic on I-70 came to a complete standstill.  I inched my way east, and crept along the shoulder at times.  Finally, Georgetown appeared and I knew right after the check-in, I would be sent to the west once again and back into the jam for an odometer check.
Georgetown audio journal    https://ntmoto.net/wp-content/uploads/2014/08/06-Georgetown.mp3
I met Leonard and Liz at the rally headquarters.  We had a very tasty late-afternoon lunch with brews while we caught up on recent events.  The rally staff later hosted a dinner and get-together in the evening.  Lenonard and Liz wound up staying at the Inn.  There's no pressure when with them.  I really enjoy their company.
July 26, 2014
My alarm was set for 4:00 AM.  We had to be on our motos by 4:30 to start lining up for the start.  Justin handed out an "enhancer" bonus just as we were about to leave.  This would give us more points for National Forest and Grassland signs that we encountered along our routes.  At 5:00 AM, we were released individually to our quests.
Most rider headed west on I-70.  I pointed east along with only a few others.  My planned route would first stop in the suburbs of Denver and then in Fort Collins.
I spent many good times in Fort Collins with Debbie visiting our longtime friends Troy and Susan.  It would be a bit odd to ride through, stop briefly to snap a photo of Annie the Railroad Dog and continue on west.
HW3 Start audio journal    https://ntmoto.net/wp-content/uploads/2014/08/07-HW3Start.mp3
I continued up Poudre Canyon and enjoyed every turn of the road.  It was not long before I arrived at Cameron Pass to collect the second of three documented stops that would give me 275 points for the Cache la Poudre bonus.
Cameron Pass audio journal    https://ntmoto.net/wp-content/uploads/2014/08/08-CameronPass.mp3
I made my way into Walden to document the third stop of the Poudre Canyon thread.
I picked up an "enhancer" bonus in the Routt NF, and then headed for Craig for a photo of the Marcia car.
The road to Milk Creek was around 14 miles of hard-packed dirt and gravel.  The views were great, but I had to keep constant focus on my line.
Mill Creek Battlefield audio journal    https://ntmoto.net/wp-content/uploads/2014/08/09-MilkCreekBattlefield.mp3
I documented the Meeker Massacre site and headed north through some very enjoyable weather.


Obviously I should have paid closer attention to the roads between the major highways.  Once again, I found myself on gravel…
It was getting hot as I approached Dinosaur on the northwest corner of Colorado.  I saw Tyler heading off to the south as I gulped down some cold tea.
There was a surprisingly fun mountain pass on Hwy 139 north of Grand Junction at Douglas Pass.  I had a refreshing summer shower shortly after the pass.  It was welcome relief from the near-100's that I had been in earlier.
Tyler appeared again at the Trail Through Time bonus.  We compared notes on what exactly needed to be documented.
Hwy 141 to Gateway audio journal    https://ntmoto.net/wp-content/uploads/2014/08/10-Hwy141toGateway.mp3


I rode the pleasing Hwy 141 to Gateway for a break at the resort.  The club sandwich is highly recommended…
I reluctantly departed the comfortable Gateway Canyons resort, but quickly became absorbed in the twisty canyon road south of there.  The Hanging Flume was a bonus location not far south of Gateway.
The warm evening light illuminated the fields and road in front of me.  I made my way down the steep Norwood Hill into a long canyon for another documented stop at the Placerville Post Office.
Norwood audio journal    https://ntmoto.net/wp-content/uploads/2014/08/11-Norwood.mp3
The light of the day was gone as I approached Montrose.  The last stop of the day was at the Ute Indian Museum, photographing a statue honoring Chief Ouray and his wife, Chipeta.
There was lightning ahead of me as I turned east out of Montrose.  The temperature dropped quickly as the skies began to darken.  I climbed up the first pass and dropped my speed on the wet corners watching for deer.  As I crested the mountain, my lights flickered and the alternator trouble lamp flickered on.  I was wondering if this was the beginning of a problem.  I watched the dash closely for the next 60 miles into Gunnison, but no other issues surfaced.  What the heck was that?…  I pulled into the Western Motel in Gunnison at 10:30 PM, showered and promptly went to sleep.
July 27, 2014
My alarm went off at 4:20 AM.  I was rolling out of town by 4:45 heading to Creede.  I rounded a turn on the side of a hill and had to hit the brakes hard as an Elk was completely blocking my lane and just staring at me.  She slowly moved off of the road, and I continued riding along.  I counted around 25 deer on the summit of the 11,530 ft. Slumgullion Pass.  The temperature was in the 30's and my hands were cold with my summer riding gloves.
Gunnison audio journal    https://ntmoto.net/wp-content/uploads/2014/08/12-Gunnison.mp3
There was a stop near Lake City to document another massacre site.  Seems the life in the 1800's was pretty violent.  The deer were curious as to what I was doing so early in the morning there.
As I approached Creede, fog lay in the valley ahead.  It dampened my windshield and gave mystical features to the already awesome mountains around me .
I made my way through the rustic Creede village to the mine for documenting the pump car used in the Lone Ranger.
Creede audio journal    https://ntmoto.net/wp-content/uploads/2014/08/13-Creede.mp3
I rode along the Rio Grande on the way to Salida and Poncha Springs for the beginning of another thread of stops that would net some beneficial bonus points.
Leadville was the last stop for bonus documentation.  I was hoping to see Leonard and Liz there, but they turned around in front of me to head to the finish.
Leadville audio journal    https://ntmoto.net/wp-content/uploads/2014/08/14-Leadville.mp3
I came across other riders north of Leadville.  We wound up riding near each other as we entered I-70 and once again came across another crawling traffic jam nearing Georgetown.  I had planned on arriving at 12:30 to give a 30-minute buffer from disqualification.  After creeping along the interstate, I saw Georgetown below me and I checked in at 12:51 PM to the delight of Leonard and Liz.  Sylvie approached with her signature smile and documented the time and my odometer for the 1,176-mile ride.  I sat once again with Leonard and Liz and organized my paperwork for scoring.
Andrew and Eric did an awesome job of scoring!


Justin pulled off his duties as rally master in a very effective and enjoyable manner.  I believe all participants enjoyed the weekend very much.
We chilled in the afternoon crisp air of the 8,530-foot elevation.  The thundershowers rolled through and refreshed the air even more.
The evening banquet and awards presentation was fun.  Rod Schween took first place putting in 1,740 miles netting 2,561 points.  I accomplished my objective of finishing and having a respectable points to miles ratio.  The roads in Colorado are fun and challenging.  The rally staff did a great job.
Place Rider/Miles/Points
1 Rod Schween/1740/2561
2 Erik Lipps/1765/2543
3 Craig Brooks/1718/2469
4 Jim Puckett/1444/2254
5 Marc Beulac/1520/2204
6 Mike Cox/1402/2126
7 Bill Norris/1285/1998
8 Steve Bracken/1377/1893
9 Tyler Zimmerman/1288/1876
10 Andy Mackey/1369/1820
11 Greg and Wini Farmer/297/1814
12 Richard Swim/1182/1784
13 Erik Marcus/1279/1769
14 Scott Benson/1238/1710
15 Phil O'Conner/1444/1573
16 David Walls/1265/1470
17 Ken Schleman/1191/1284
18 Linda Schleman/1189 1274
19 John Holwager 1356/1155
20 Sam Liles/1177/989
21 Roger Congdon/1274/951
22 Travis Poncik/1240/884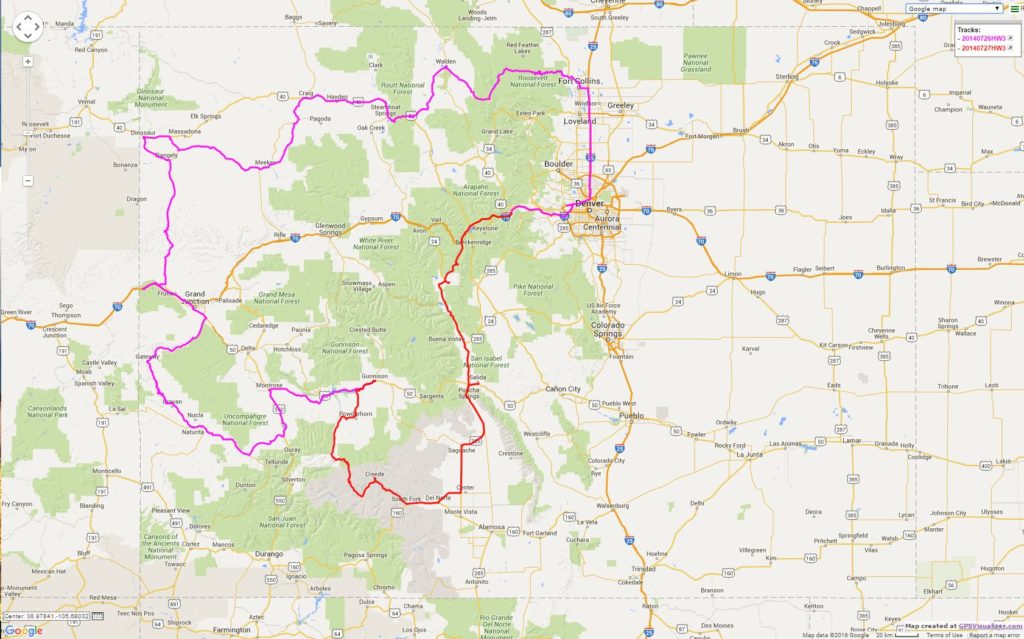 July 28, 2014
I had no reason to rush the departure this morning.  The destination for the afternoon was the small high-elevation village of Cuchara on the southern border of Colorado.  I watched the other riders pack their motos and ride of into points all around the country.  I finally put my things together and was riding around 8:30 AM.
Leaving Georgetown audio journal    https://ntmoto.net/wp-content/uploads/2014/08/15-LeavingGeorgetown.mp3
I rode east on I-70 and exited soon to climb the Loveland Pass on the way to Breckenridge.  I once again climbed over Hoosier Pass and onto Alma, the highest town in the United States.
Also present in Alma is High Country Healing alternative medicine, which further justifies the highest town honors.
I rode through the valley along the Sangre de Cristos and took in the splendor of this awesome and beautiful road.  Nature treated me to some spectacular thunderheads that I stopped for a bit to photograph.  I was totally relaxed on this road, riding slowly and attempting to absorb as much in my body and mind as possible to take back home when needed.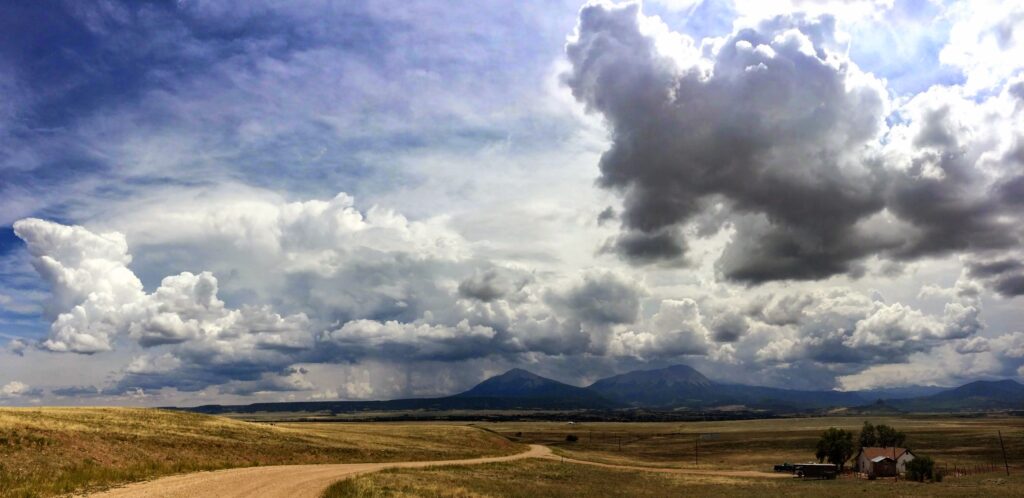 County Road 520 is not too bad of a hard-packed gravel shortcut between Hwy 69 and the road to Cuchara.  The clouds continued to delight my senses.
Cuchara Across the Valley audio journal    https://ntmoto.net/wp-content/uploads/2014/08/16-CucharaacrosstheValley.mp3
As typical, storms started enveloping the Spanish Peaks.  I managed to arrive at the Cuchara Inn without getting wet.  After unpacking my gear, I wandered across to the Dog Bar to have a tasty hamburger and brew.  I wandered around the hills and up the mountain for a hike.  I sat down and listened intently to the forest sounds.  It was very good medicine that I totally needed.
I made my way down the side of the mountain and relaxed on the plank porch.  The storms finally took over Cuchara, and I retreated to my room to nap to a very soothing rain shower.  I awoke early in the evening and returned again to the Dog Bar for a treat of brownie and ice cream.  Tasty…
July 29, 2014
The ride out of Cuchara was lazy and slow.  Deer were still wandering about at 7:00 AM.
Leaving Cuchara audio journal  https://ntmoto.net/wp-content/uploads/2014/08/17-LeavingCuchara.mp3
I stopped again to photograph Weston Supply for Wes.  I'll never forget the time we stumbled across this village with a thunderstorm approaching.  We made Wes stand below the city limits sign for a photo and he could not wait to get back in the car.
The return back home was easy.  Temperatures were mild for August in Texas, and traffic not too bad.  I thought about what all I had seen and experienced over the weekend.  Can't wait to get back out again.
Photos    https://photos.app.goo.gl/U3LTniM9AM16hoVz7
Tracklog – Colorado Approach
    https://www.alltrails.com/explore/recording/20140724coloradoapproach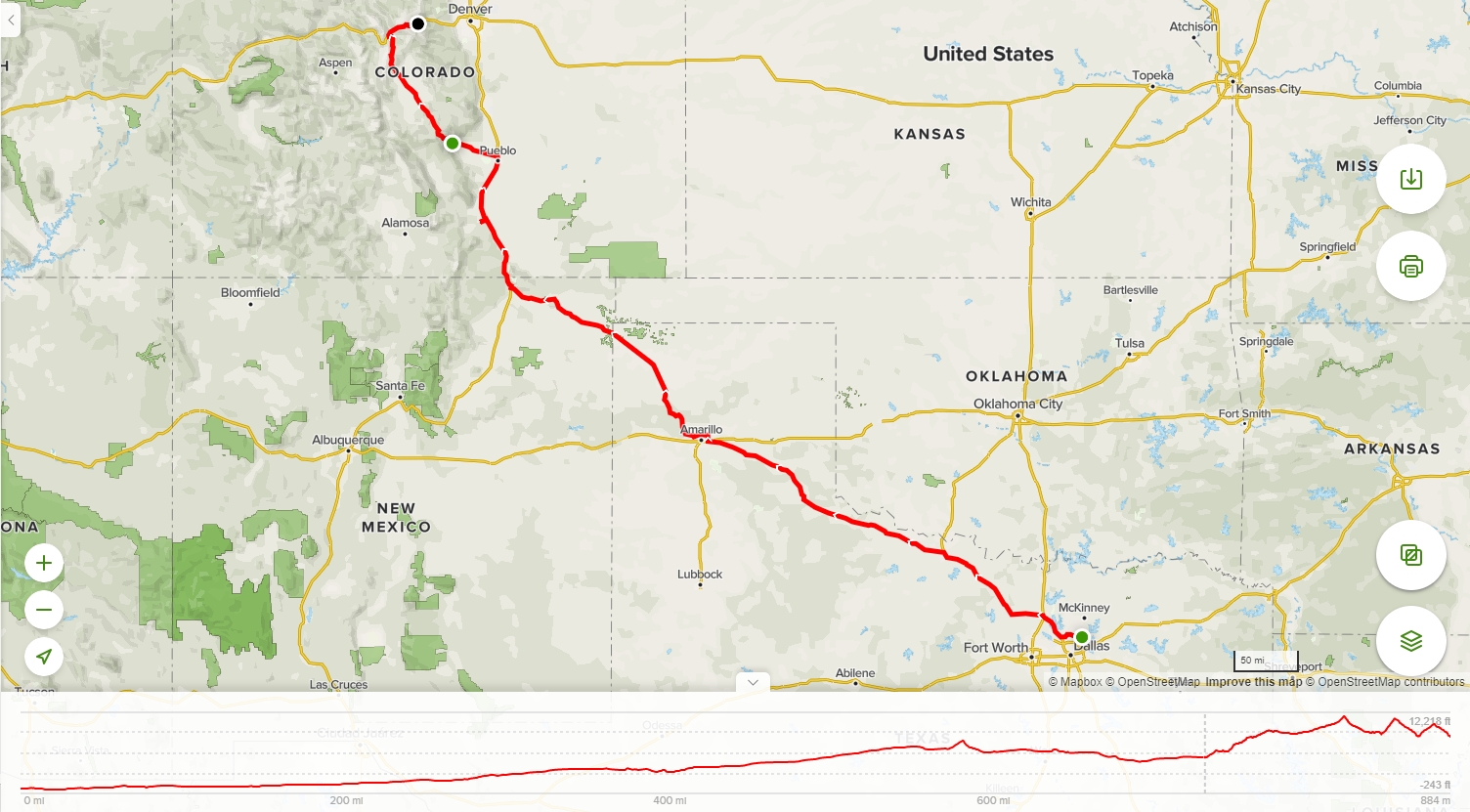 Tracklog – HW3 Rally Route    https://www.alltrails.com/explore/recording/20140726howthewestwaswon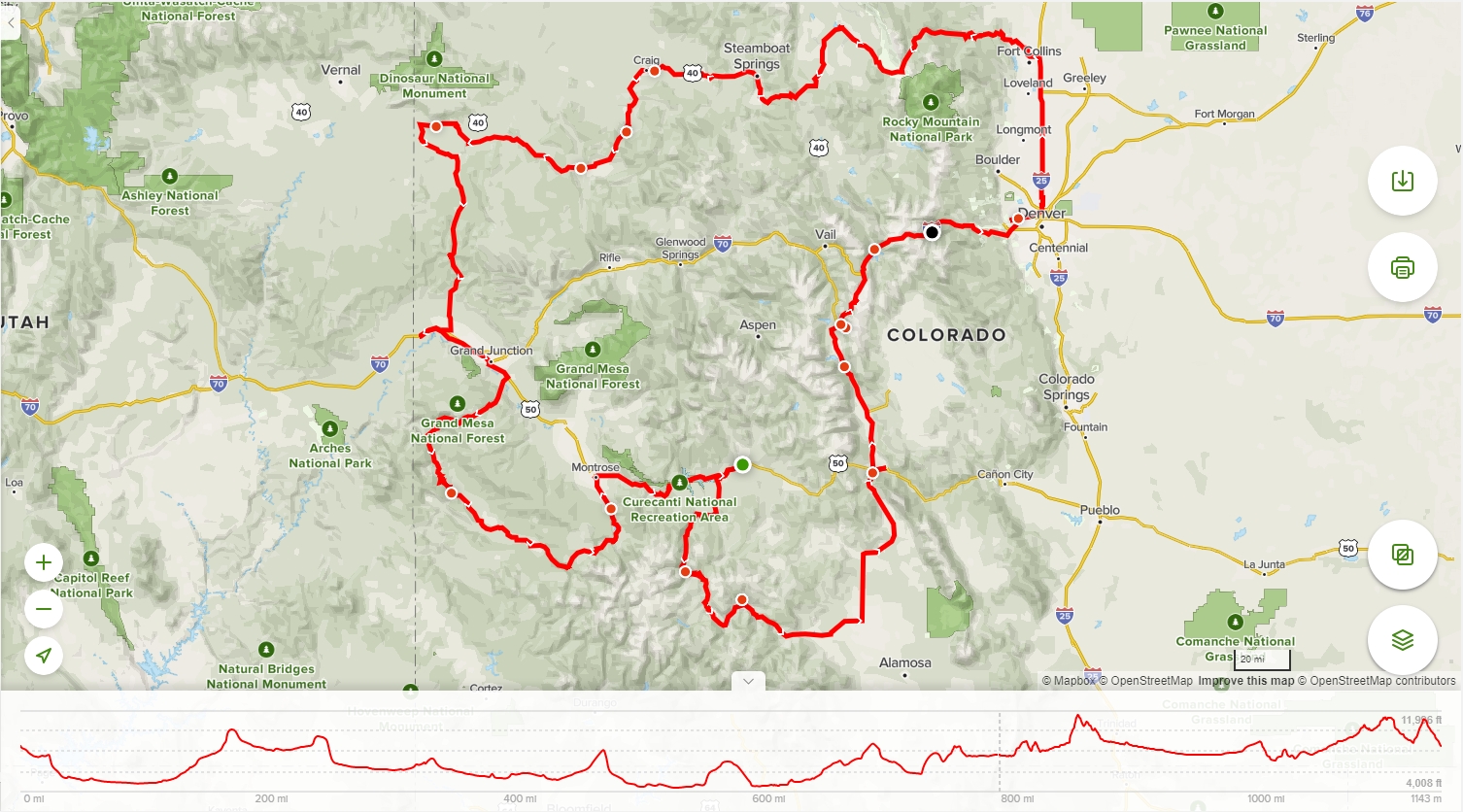 Tracklog – Colorado Return    https://www.alltrails.com/explore/recording/20140728coloradoreturn