Sipapu, NM – Bavarian Mountain Weekend 2010
I'm writing this blog post Saturday evening, September 11, 2009 while in my tent camped by the stream that runs through the Sipapu Ski Area. In the background is the soothing sound of water running down the stream and also the much louder sounds of the Great Blue Whales, with a guitar likeness of Carlos Santana piercing the forest pines and slopes of the Sangre de Cristos. The evening has been a wonderful wrap-up of the Bavarian Mountain Weekend, hosted by the Land of Enchantment BMW Riders out of Albuquerque. Over 400 riders attended this year, coming from all corners of the states, made up from riders in their twenties, and all between up to their eighties. Nobody will hesitate to strike up a conversation, asking where you are from, what you are riding and how your day went. Paul and Voni Glaves are making their way back down to their Big Bend home, after leaving it in April on motorcycle journeys. I'll make my way back home early in the morning, along with David who rode out with me, and also Fred and Graeme, joining us on the return.

September 9, 2010
The ride started early Thursday morning in an attempt to beat the traffic out of DFW. We were heading out in the tail end of tropical storm Hermine, that hit the Texas coast on Monday and spawned tornadoes in Dallas Wednesday evening. David and I hit a few small rain showers in the last few fingers of the storm before Decatur, but after that the clouds cleared and the temps held low until Amarillo, where we were slapped with typical Texas 100 degrees. The scenery got interesting as soon as we rode north of the interstate at Tucumcari. Highway 104 is a dynamic ride with dry desert scrub turning into alpine grasses, and ending at Las Vegas, where Highway 518 ascends into the 8,000 foot Sangre de Cristos with cool temperatures.We came across Stephen, Gus and his son riding up 104, and again on 518 in the forest, where I captured some images at 70 mph of all riders. There were quite a few campers already at the rally site as we pulled in around 4:30 mountain time after the 635-mile ride. I found my traditional camp site and set up my small tent, and we rested in the lodge after a nice brisket meal put on by a Texas ride club.
September 10, 2010
David had some acoustic tubing ear plugs built up by Arizona Al Schibi Friday morning. We headed out later to cross the Rio Grande River gorge bridge, and over the Jemez Mountains via the enjoyable, twisty Highway 64. Chama was a stop for a break before we rode up into Colorado over Cumbres Pass to San Antonito. Hwy 285 took us south to the first place we could cross the Rio Grande south of Taos. This was down a gravel section of Hwy 567 into the gorge, which was a technical gravel road we probably should not have been on with our road motos, but was a blast! We followed the river on to the road to Santa Fe, and cut east towards Dixon and Sipapu. Cold brews and a warm chili snack was ready for us on arrival.
Photos    https://photos.app.goo.gl/vy2kSKhobA9MsTJR8
Tracklog    https://www.alltrails.com/explore/recording/20100910sipapu-cumbrespass–20100911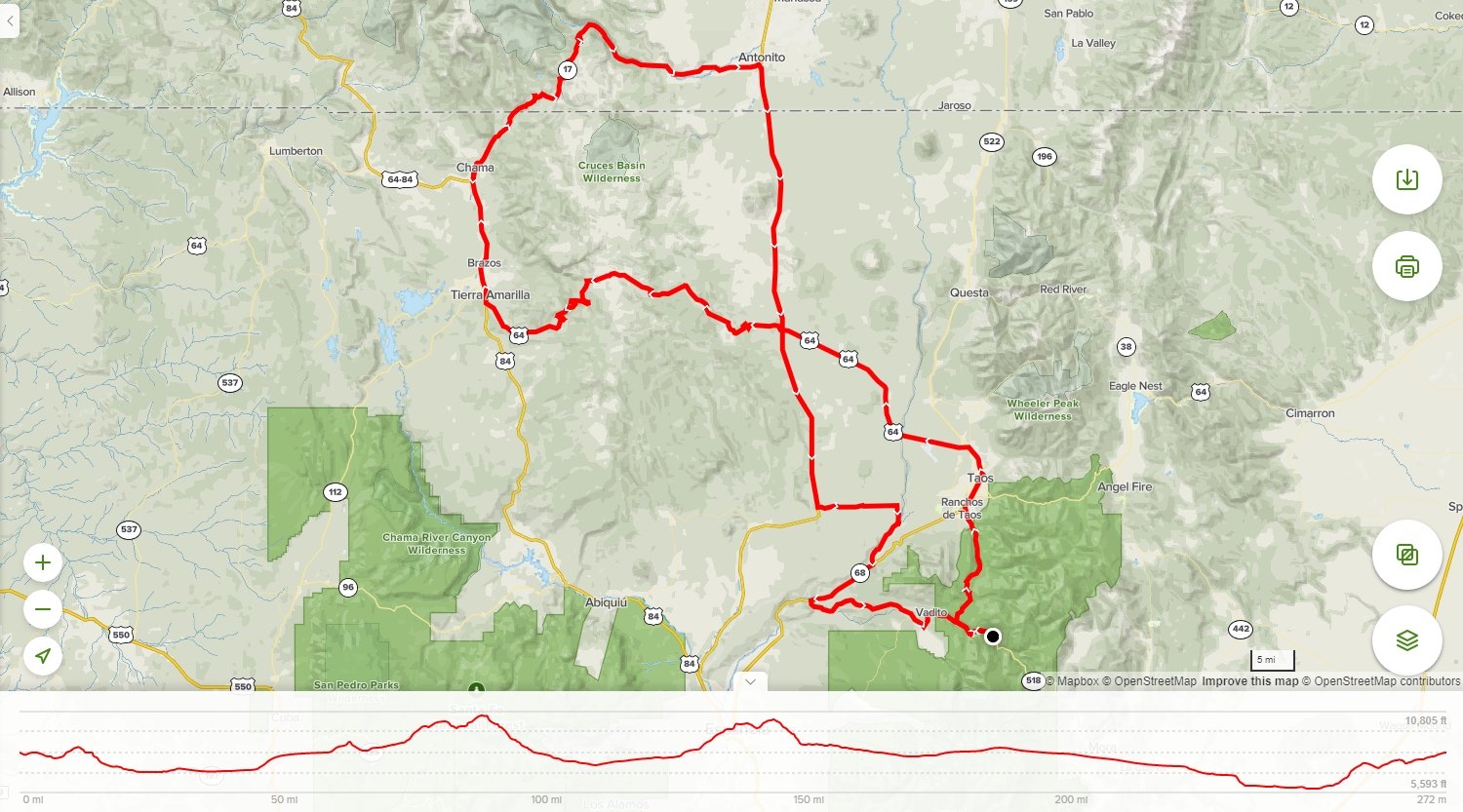 September 11, 2010
This morning, Fred and Graeme joined us on the Enchanted Circle loop ride in beautiful weather.  We rode through Taos, Red River and out Hwy 64 east towards Cimmarron down the canyon on its spectacular road with twisties galore.  We stopped back in Eagles Nest for a break and continued on south through Angel fire and Hwy 434, which turns into a single lane road through the forest. Back to the rally site for a warm afternoon in the unusually sunny mountains. Al had more business brought his way by the Lone Star BMW Riders club when we convinced Graeme that he should not miss this chance for some finely-crafted ear plugs. The LOEBMWR put together a great fajita dinner, and we were later entertained into the night by the Great Blue Whales.  Sunday morning is the run back home, via roads less traveled through Texas, and ultimately to my wonderful wife, who I have missed very much over this long weekend.
September 12, 2010
The ride back to Texas was fairly interesting as we took only backroads when possible.  The traffic was light, and there were actually turns every once in a while.  We had to drop down a bit off of the planned route to avoid a large thunderstorm.  Still got wet, but it was a refreshing wet in the warm weather.  Oh, and if you are ever on a road where there is a town named "Paradise", be sure to put it in as a waypoint in your GPS.  You will be entertained when the voice prompts come up.  "Drive 3.2 miles to paradise, approaching paradise, etc".
Photos https://photos.app.goo.gl/vy2kSKhobA9MsTJR8
Tracklog    https://www.alltrails.com/explore/recording/20100912sipapu–20100913