Superslab to the Barber Museum & Bourbon Mall
November 9-11, 2007
Five members of the Lone Star BMW Riders rode from the Dallas area Friday morning 11/9/07 through Louisiana and Mississippi to Alabama for the start of a great weekend in the South.
The ride there was a lot of superslab time, which is hardly my favorite, but it did get us to Tuscaloosa by early Friday evening.  We had a late start after Tom informed Bo and Jim that he was not going to be off of a plane from Hawaii until 6:30 in the morning Friday.  So we got rolling at 10:00, a couple hours later than we planned.  We stopped in Vicksburg, MS for a BBQ lunch and arrived at the hotel a couple of hours after sunset.
Day 1 Audio    https://ntmoto.net/wp-content/uploads/2007/11/BarberRide2007-Day1.mp3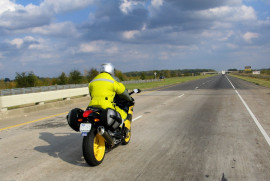 Jim clicking miles on the Interstate.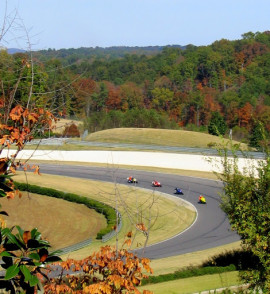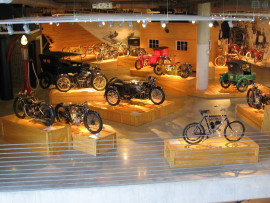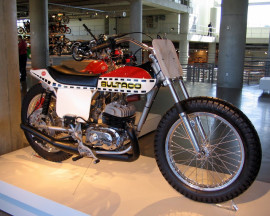 The temperatures were great starting at 48 on Saturday morning to a comfortable 70 by afternoon.  We rode from Tuscaloosa to Birmingham to visit The Barber Vintage Motorcycle Museum. The Barber was a treat with 700 motorcycles on display and a 2.4 mile race track where a club was doing a track day.  Mr. Barber started his motorcycle collection in the mid 80's when he bought 4 Honda sport bikes.  He would continue to purchase new bikes and put them on display without ever riding them.  There were also champion Daytona race bikes and restored vintage bikes.
Day 2 Barber Museum Audio    https://ntmoto.net/wp-content/uploads/2007/11/BarberRide2007-Day2-BarberMuseum.mp3
We rode from Birmingham back through Mississippi to the Bourbon Mall where this oasis of a restaurant was tucked miles away in the middle of cotton and corn fields.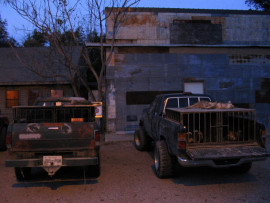 Two things we noticed odd – As we rolled up, there were 6 pickup trucks with bird dog cages in each truck's bed.  Them fellers that got out looked like they were friendly enough, and they went on in.  I saw the last two trucks had dead coyotes on top of the cages.  Must have been the day's prize.So the next odd thing…  We were waiting a bit to go in, and along comes this lady and her family that yelled out of her window "Is there a snake under there?".  I looked under the porch steps, and she said "no – under my car!".  About that time, Tom said "Yeah, I think it's up in the wheel well", and that woman started screaming like crazy.  We had to set her straight that the snake she had run over earlier wasn't really there any more.  Tom can do that to folks.
Day 2 Bourbon Mall Audio    https://ntmoto.net/wp-content/uploads/2007/11/BarberRide2007-Day2-BourbonMall.mp3
The food was great at the Bourbon Mall, and the wait staff very friendly.  Our waitress Melissa even did a bit of tap dancing if you can picture that.
Spent Saturday night staying near the Mississippi River in Greenville, and headed back early Sunday morning through a bit of fog in the southern end of Arkansas.  Bo and I took a south route through Louisana to take some of the two-lane roads through the autumn forests to get away from the superslab.  The weekend was a great way to spend around 1350 miles with friends riding through nice weather and historical spots.
Day 3 Return Ride Audio    https://ntmoto.net/wp-content/uploads/2007/11/BarberRide2007-Day3.mp3
Photos    https://photos.app.goo.gl/i7dMeWBnS2mBdEw8A
Tracklog    https://www.alltrails.com/explore/recording/2007-barber-museum-ride–2008