The Harvest Classic – Luckenbach, TX
October 19-21, 2007
Rode down through Smithville Friday to see what the site of the South Central BMW Rally looked like on the way to Austin and later Luckenbach. Of course one of my short cuts gave my K a GS ride of about 10 miles again.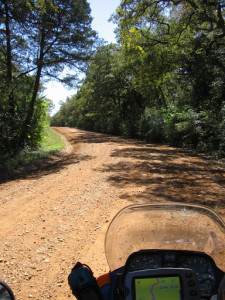 I gotta watch those detour roads a bit closer in the future
At the BMW rally site in Smithville, there was not a lot of action other than folks pitching their tents for the weekend.  I was hoping there might be some food there, but that would be later in the weekend.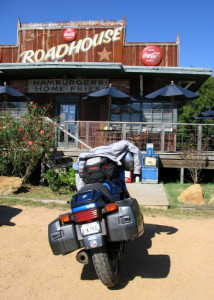 Riding on towards Austin, I stopped in Bastrop to have a burger.  I don't know if it was my extreme hunger or the fact that this was indeed one of the best burgers I have ever had in my life.  Whatever the case, it was great! I ate outside in the warm afternoon sunlight and enjoyed a Shiner Boch to go along with the 5-star burger.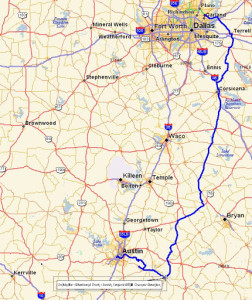 I backtracked a little to get off of the less-than-enjoyable 21 to take Market Road 969 along the Colorado River into Austin
I later met my life-long friend, Keith for an overnight stay at his place near Zilker Park. We rode out to Luckenbach early Saturday to the Harvest Classic on some of the market roads south of 290. Keith and I traded bikes for a bit so I could get a taste of his F800S.  It was fun for sure.  Keith said my K felt like it was on rails and definitely a long distance machine.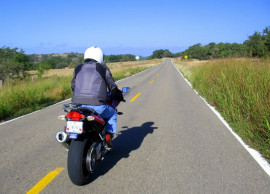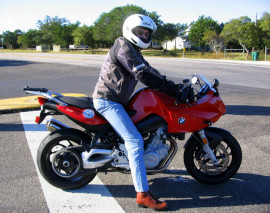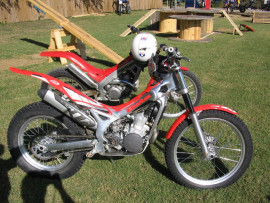 After arrival at Luckenbach, we watched a bit of impressive trials riding on the bizarre machines they are using now.  It is quite a change from the Bultaco Sherpa T and Montessa Cota that Keith and I used back in the '70's.  We walked around and admired the fine bikes that collectors have taken such good care of.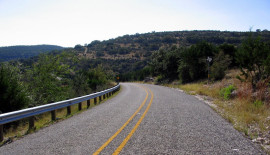 Keith headed back to Austin just after noon, and I continued on out to do 335 and 337, which is the some of the best fun you can legally do on a motorcycle in Texas. Highway 16 north out of Medina was a blast as well.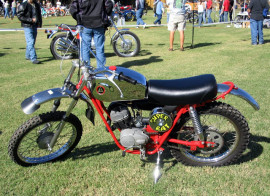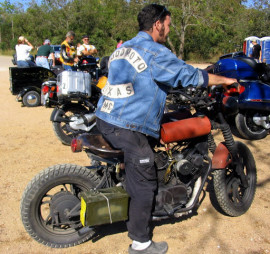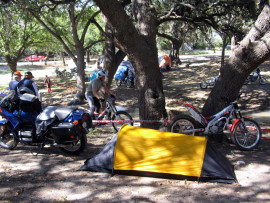 I camped overnight in Luckenbach, listened to some good guitar picking, and later endured the antics of our spirited neighbor rat-bike riders to the point of using ear plugs, which worked fine to get some sleep. The early risers the next morning returned the favor of spirited sounds of Fiamm horns and loud pipes (BMW and Harley respectively). The south wind was vicious Sunday morning on the return ride, but luckily I was headed north for the most part. Logged 959 miles over this fun weekend.
Harvest Classic audio journal:
Photos    https://photos.app.goo.gl/gADLe3GQxLxSMyBo6