Golden, TX Downtime Ride
November 9, 2008
This afternoon's ride started early this morning in my head while I had mental downtime during our hospital's monthly network downtime.  The server patching reboots had started at 1:00 in the morning, so I had little to do but daydream a bit about what ride I might squeeze in after a late morning awakening.  I fired up the mapping program and started picking roads towards east Texas that I had not traveled.  Finally got to bed at 4:30 after verifying all of my medical equipment applications and databases were working after the downtime.
I slept in and got stirring around noon for the ride.
Coming up on Lake Fork

 

The route took me across several lakes today, and the combination of the blue water and the start of the fall colors was a nice contrast.
Some of the roads were gravel, and some very narrow.  I just like finding little-traveled roads that show so much of the back country character.  The temperature stayed nicely in the 60's with a blue sky above me the whole afternoon.  I scanned the XM channels and found that this month there is a Led Zeppelin channel, so I listened in on my old favorites the rest of the day.  That brought back some memories…​​
The trees here are just starting to get some fall colors, so finding them was in order along with a stop in Golden, TX, where my great grandfather, John Quincy Swim had once lived and ministered.
I rested in Golden for a bit, thinking of life a hundred years ago when my great grandfather walked about.  He described his home as "…20 acres of young timbered land.  It lay well and was good soil and about five acres under cultivation with a nice little stream of water running though it, a little log cabin of two rooms, some beautiful pine trees near the house; also, a well of good water and a large fish pond.  The place was one mile from the village of Golden, where there was a Post Office, two general stores, two churches — Methodist and Christian — a sawmill, a schoolhouse, and railroad depot located on the M. K. and T. Railroad.  We paid cash for the place of four hundred dollars.  We moved into our little log cabin in September 1907 and were happy as jaybirds.  The whip-poor-wills surely made music for us at night."
John Quincy Swim organized the Free Methodist Class at Golden and used the South M. E. Church for his services that he pastored.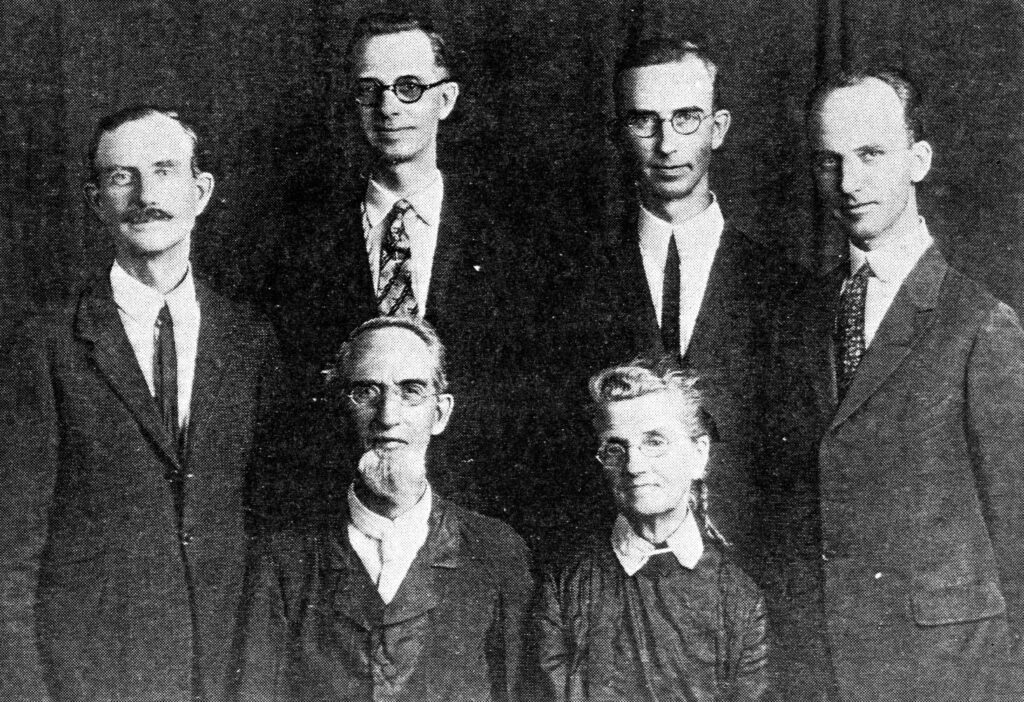 The Swim family – Top Left Clockwise: Eugene W., William Edward, Charles Alvin, Cecil Paul (my grandfather), Flora Jane, John Quincy.
I headed west out of Golden on FM 779 and enjoyed the road's gentle curves and warm light of the afternoon as the sun and the temperature dipped lower.  A very nice, mellow day.
| | |
| --- | --- |
| Getting close to turkey day… |   |
| | |
| --- | --- |
| | Sunset across Lake Tawakoni |
Photos    https://photos.app.goo.gl/vkw141LGMNzz9x1H9
Tracklog    https://www.alltrails.com/explore/recording/golden-tx-downtime-ride–2