Republic of Texas 1000
November 1, 2013
The annual meeting and party for the Iron Butt Association is held in Irving, TX this year.  The event outing for Friday is a 1,065-mile ride down to the Gulf and back.  Might as well…
Since I live in the DFW metromess I decided to stay at my house and wake a little early to get to the check-in and riders meeting around 5:00 AM.  It was a bit chilly, but fine weather for a long ride.
Mike Kneebone greeted us in our battle gear outside of the hotel.  He gave us the basic instructions of riding the route, collecting proof of visiting the Texas historical locations and checking in within the allotted 24 hours.
We left in mass at 5:45 AM under the escort of the Irving Police that had 7 of their officers participating in the ride.  Seasoned IBA rider Paul Tong was one of those officers.  The group of 70 riders made their way south towards Austin in the pre-rush hour traffic of the DFW freeways.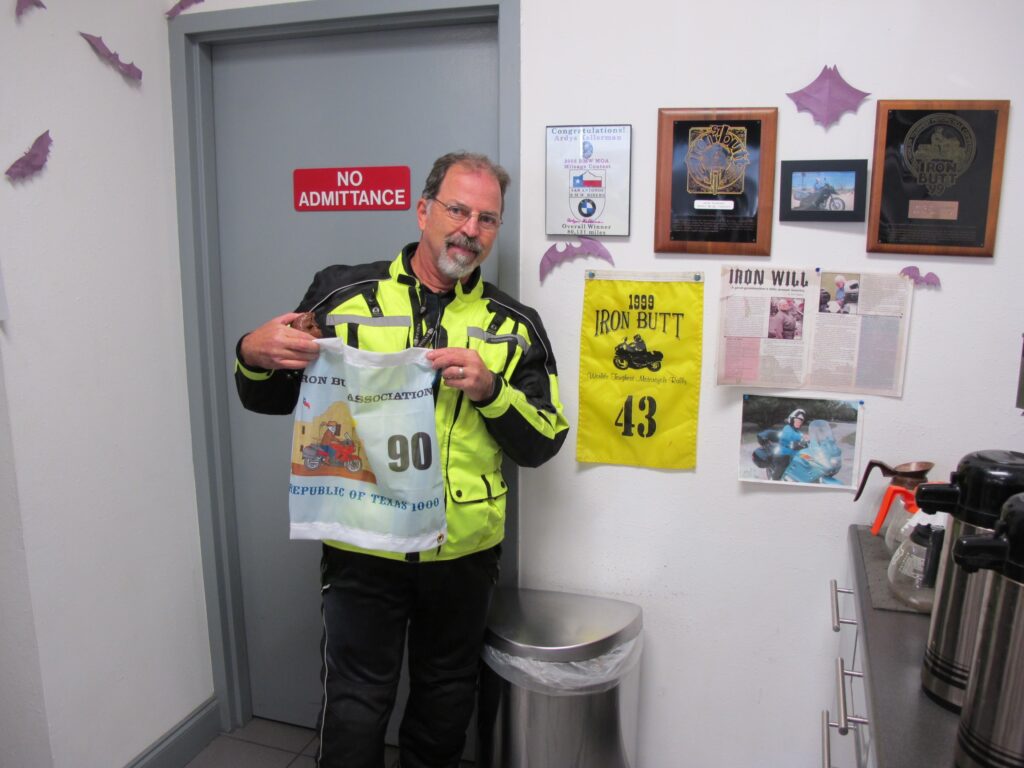 The first stop was Lone Star BMW in Austin to document the shrine of the late Ardys Kellermen.  Ardys parted with us this year in an accident while on her moto in Alabama.  Her riding distances made her a legend in the motorcycle world.  There was a procession of IBA riders making their way through the shop to have their photo taken with rally flag in front of Ardys' Iron Butt Rally flag.
We headed southeast towards Houston and the San Jacinto monument.  Houston traffic still sucks even in the late morning when I passed through.  I saw evidence of accidents all along the freeways with bumper covers littering the sides of the roads.
I came across Bo on the return from San Jacinto.  We rode together for a while on the way to Galveston.
Hero's Monument in Galveston was next on the documentation list.  The temperature was rising nicely as I ventured south along the sea wall.  The Lone Star Rally was going on this weekend and there were thousands of V-twin bikes parked along the way.  Their owners were perched on the decks of the hangouts watching the occasional long distance rider pass by on strangely-embellished motorcycles and dressed in gear suited for sword fights in the middle ages.  It was a bit of a contrast.
The crowds of Galveston thinned as I rode further south along the Gulf.  The last location to document along the beach was The Battle of Velasco.  I ran into many other IBA riders here, and our short visits and quick photos were watched again by Lone Star Rally participants up on the decks of a nearby bar.
Heading inland brought me to the Stephen F. Austin statue to document.  Other riders arrived at the site.  I pulled off the highway for fuel and picked up a couple of Kolaches for my first semi-real meal of the day consumed in the parking lot.
 I turned north and rode through some less-traveled back roads of south Texas.  I looked ahead and saw several motos on the side of the road and my heart rate picked up a bit.  It looked like everything was OK, and then I recognized Bo getting a fuel transplant from one of the IBA ride participants.  I stopped for a bit, and after everyone rode away I followed Bo.  Sure enough, another 20 miles and Bo's 4-way flashers came on.  We slowed to a stop on the side of the road, and we did another fuel transplant from my measly short-distance KRS moto into Bo's GSA adventure.
We rolled forward into the next town and fueled up.  There's Bobby and Dianne and Betsy as well.  It's a Lone Star BMW Riders class reunion.
The next stop was Goliad Massacre and Fannin's Grave.  I saw Bobby and Dianne here for the second time.  I grabbed a snack out of my tank bag here and took in the architecture of stone missions on the late-afternoon light.
The sun started to set as I rolled up to First Shot of the Texas Revolution.  There were a plethora of riders here.  I took my requisite photo of the monument and then waited around watching all of the camaraderie of the riders as they arrived and documented their visit in the waning light.  After this stop we had 10 or so motos that converged and rode in a couple of groups.  As the sun was setting, this rolling band of riders gave me security against the deer that typical this time of day.
We worked our way into San Antonio in the dark to document the stop at The Alamo.  There were 6 motos in my group including Bobby, Dianne and Betsy.  We looked for a parking place near and finally all pulled in mass to a hotel valet.  We were told we could not park there, but I told them it would be 5 or so minutes and the invasion would disappear.  The cash laid in his hands turned him into moto-security.
It was time for the last 250-mile return leg on my least-favorite road in Texas.  I-35 does not have many positive traits other than getting one from Point A to Point B.  Many of IBA riders passed me, including Bobby, Dianne and Betsy, who I came across again at a fuel stop.  I looked at the Spotwalla page and saw a long procession of riders south to north.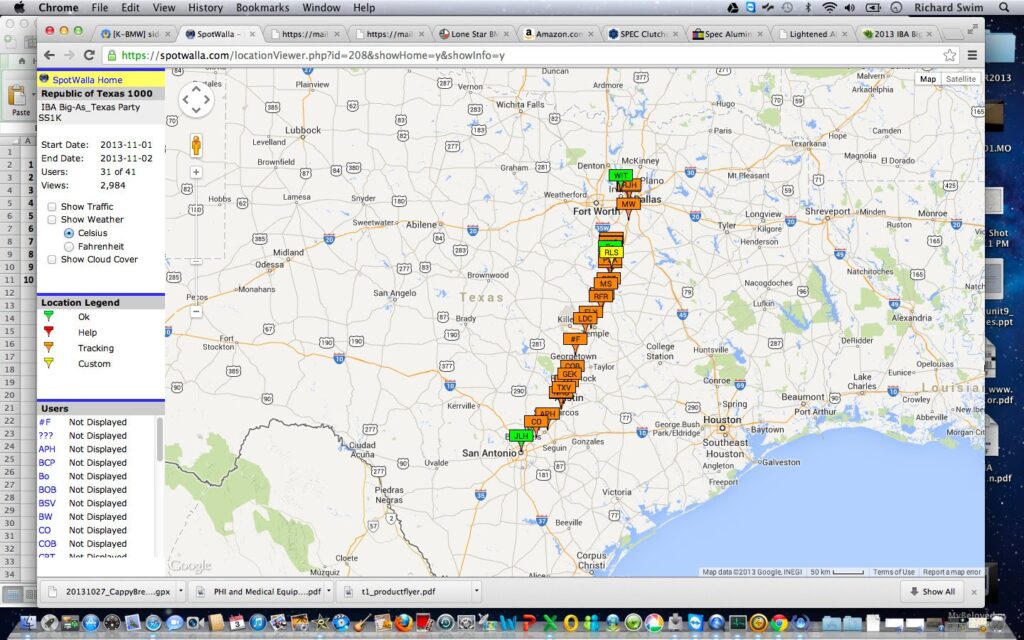 Later when I got back to my house, this page was strangely-cached on my computer, showing all riders between San Antonio and the finish in Irving.
I got my last fuel receipt at 1:10 AM at the same station that I had fueled for the start.  There was a gathering of Irving police officers watching the returning riders, likely waiting for their fellow officers to arrive.  I made my way home across North Dallas in the early hours to a refreshing shower and sleepy wife.
November 2, 2013
I had to return to the rally headquarters Saturday afternoon to check in for ride validation.  I stayed briefly and headed back home to get Deb for the awards presentation and banquet.
IBA president Mike Kneebone presented awards to riders for their accomplishments trough the year, and certificates of completion for Friday's Republic of Texas 1000.
Bo, recognized for running out of fuel not once, but twice on the ride.  Dianne getting her rally flag again…


We moved into the banquet hall for some Texas BBQ, and additional recognition by Mike.  Quite a gathering of riders dedicated to long-distance motorcycling.
Photos    https://photos.app.goo.gl/xe8UqmCKJ2gLZyRi9
Tracklog    https://www.alltrails.com/explore/recording/20131101republicoftexas1000