IBA Quest for National Park Stamps
I was still coming down from the Spain/Portugal moto tour high. Justin's 2018 HW3 rally was canceled. I was thinking of ideas to keep me motivated for riding. I had heard of several of my moto buddies doing the Iron Butt Association (IBA) National Parks Tour. I checked on the requirements to refresh my memory – visit 50 national parks service units in a minimum of 25 states over 12 months. Proof of the visit would be an NPS cancellation stamp. Sure, why not?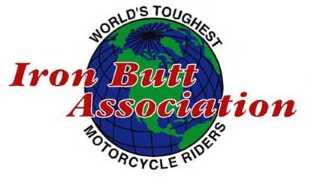 I looked over the IBA National Parks Tour forum moderated by Wayne Boyter and discovered the ParkStamps.org site along with Dan Cohen's site documenting his 100-day tour of national parks in 48 states.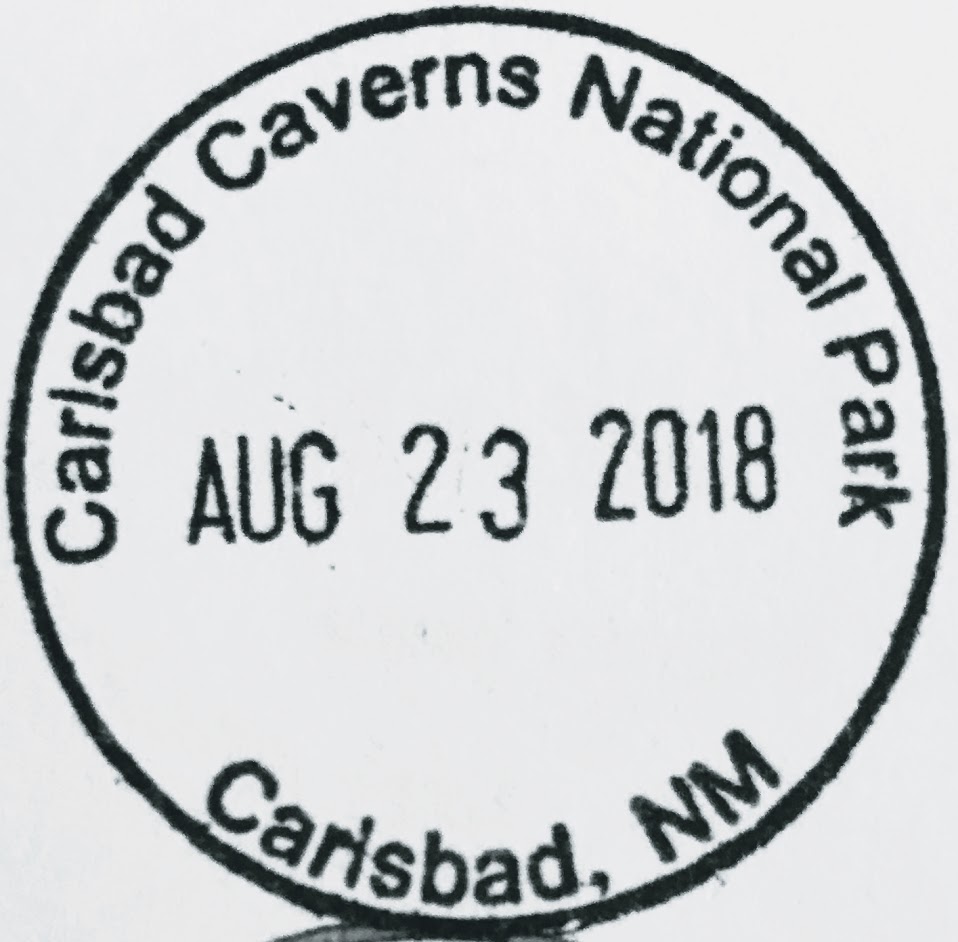 The National Parks Travelers Club ParkStamps.org site is an excellent resource for getting information and documenting the cancellations stamps. This site attracts a cult of park travelers with their own awards process of annual collections of park stamps in the different regions of the United States.
After scoping out options, I decided to start with a short tour of Texas and New Mexico. This would help start bulking up on stamps in two relatively large states and get me on the moto to fill the gap in light of Justin's HW3 cancellation.
---
August 22, 2018
The tactic of a short ride in Texas August heat helps one get closer to cooler and higher terrain in the mountain states. I left the metromess late afternoon and rode to Snyder in West Texas. It was warm, but that short ride made it bearable.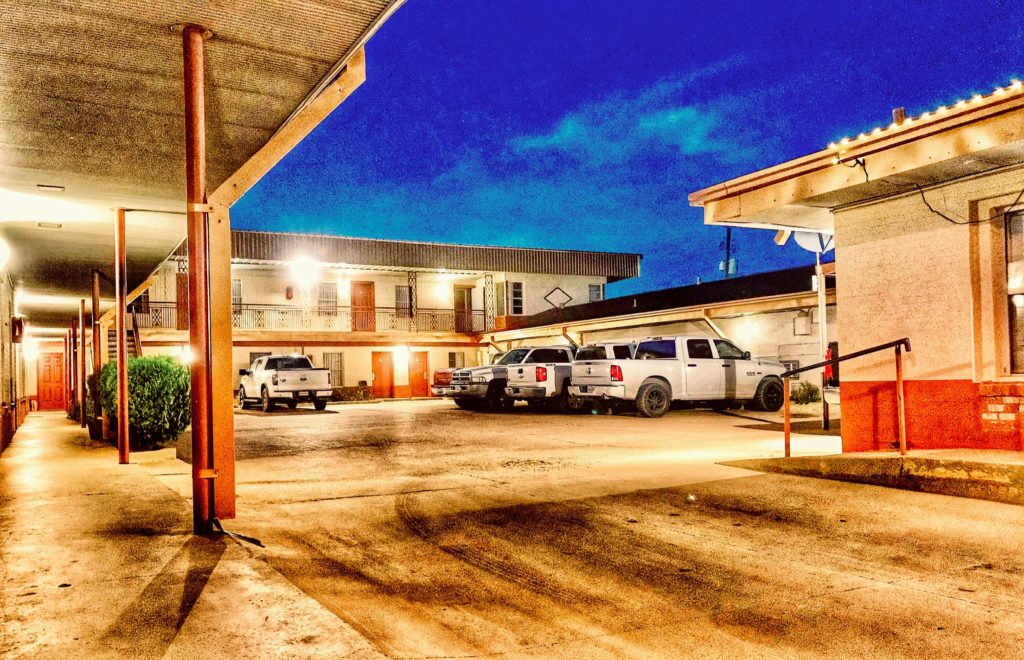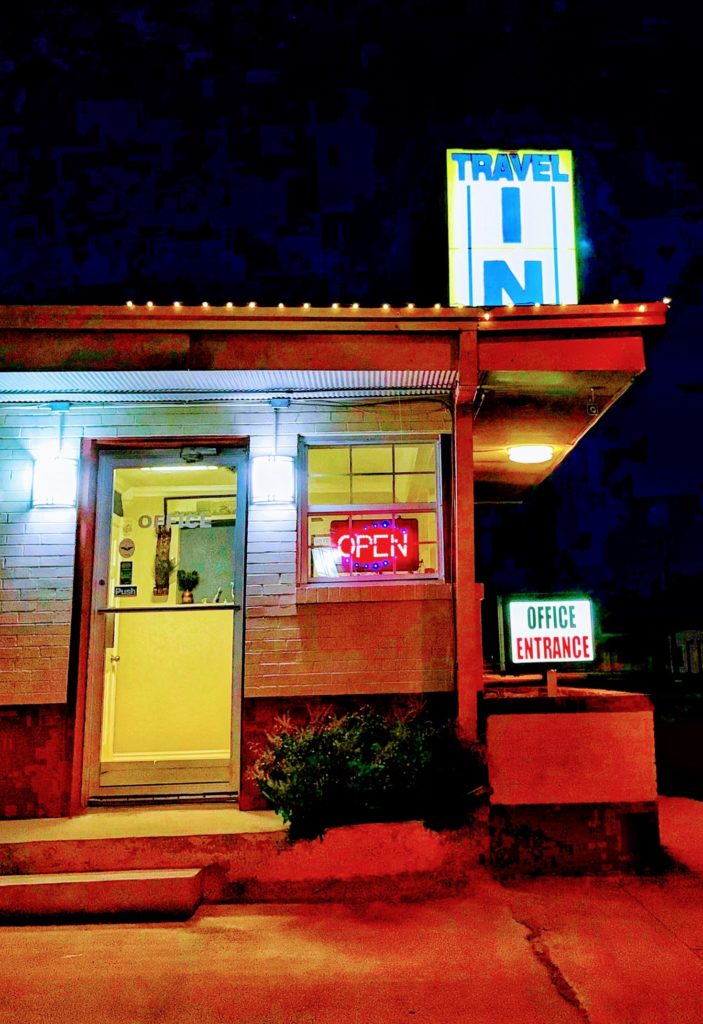 ---
August 23, 2018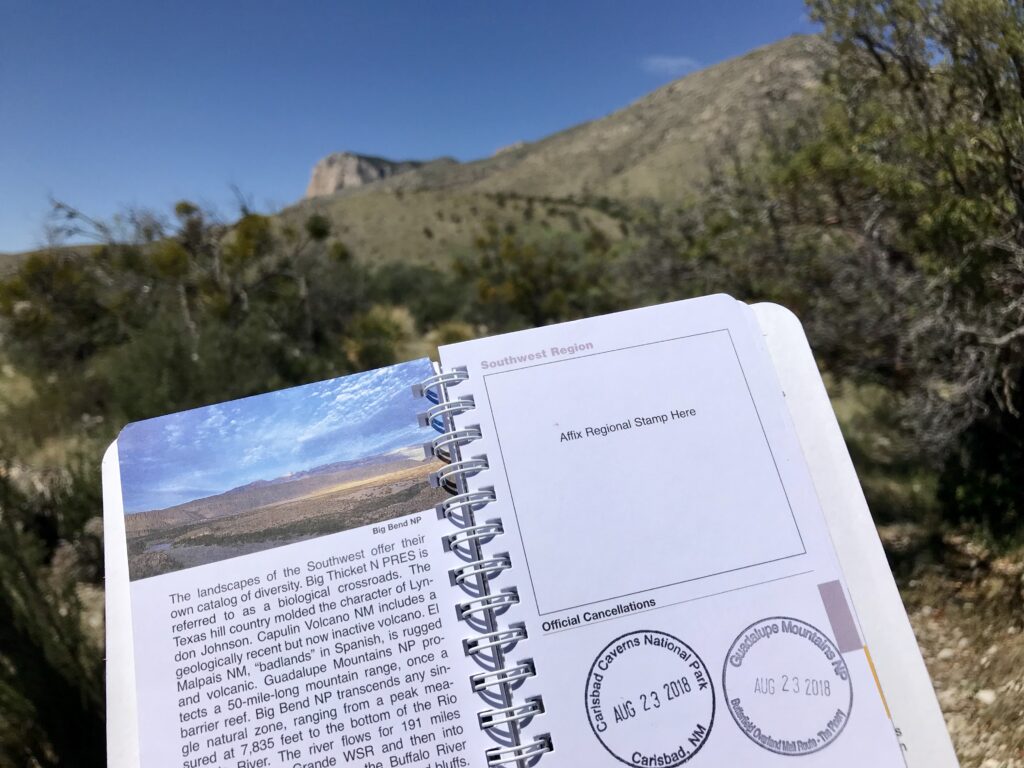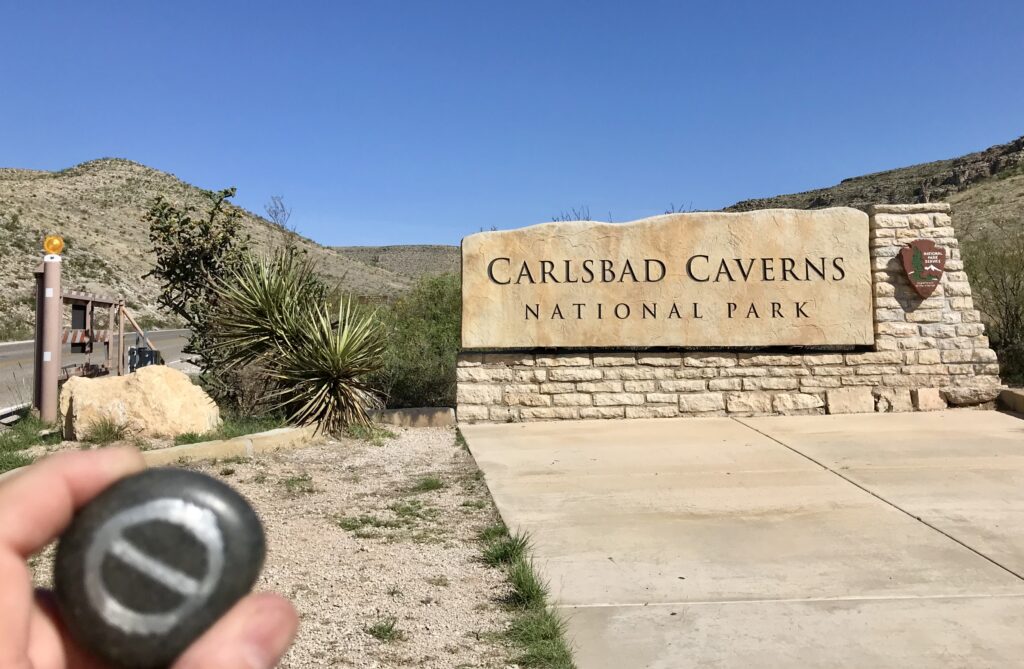 I visited and obtained stamps from Carlsbad Caverns in New Mexico and Guadalupe Mountains National Park in Texas. After working my way through El Paso and collecting more stamps at Chamizal and White Sands, Cloudcroft was the destination for a chilly high-elevation overnight stay.
---
August 24, 2018
The descent out of Cloudcroft to the desert valley is an enjoyable ride. The tall pines give way to cedars and sagebrush. I took my time riding north to collect stamps and explore the Salina Pueblo Missions, where ruins of earlier times showed history of times past. Visiting Pecos National Monument brought back memories of my infrared black-and-white photography days. My overnight stay was in Las Vegas, NM. The next day was the long ride through Texas to my home.
Digital processing now. Years ago it was infrared film…

Early morning south of Las Vegas, NM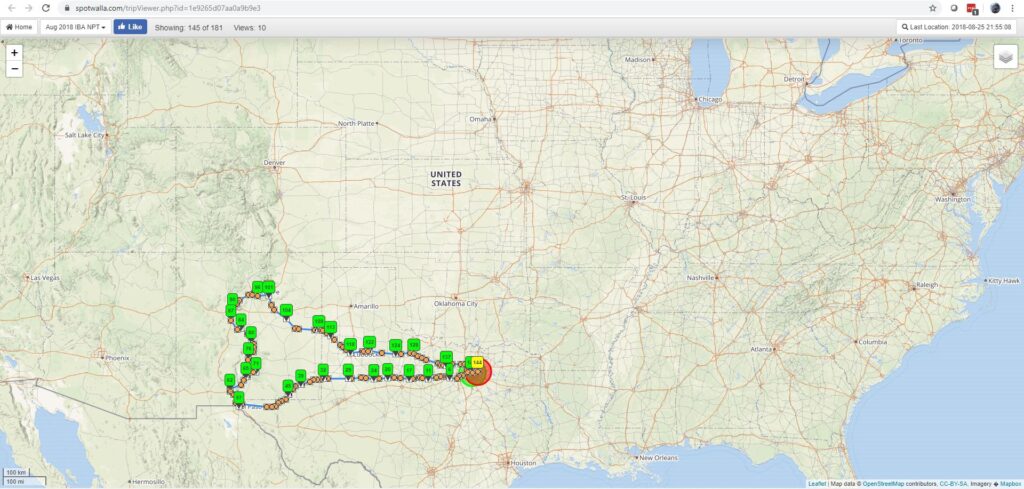 ---
September 5, 2018
It was not long after my New Mexico ride that I began planning the next excursion. A ride into Colorado would not gain many additional stamps (or states), but the weather was still pleasant enough to enjoy the higher elevations and scenery. The NPT requires a bit of advanced planning before getting in the saddle. There are obscure locations that have unique hours and seasons. I left late afternoon riding through a typical Texas Panhandle storm and stayed overnight in Childress. My departure the next morning was planned to arrive at the Alibates Flint Quarries shortly after they opened.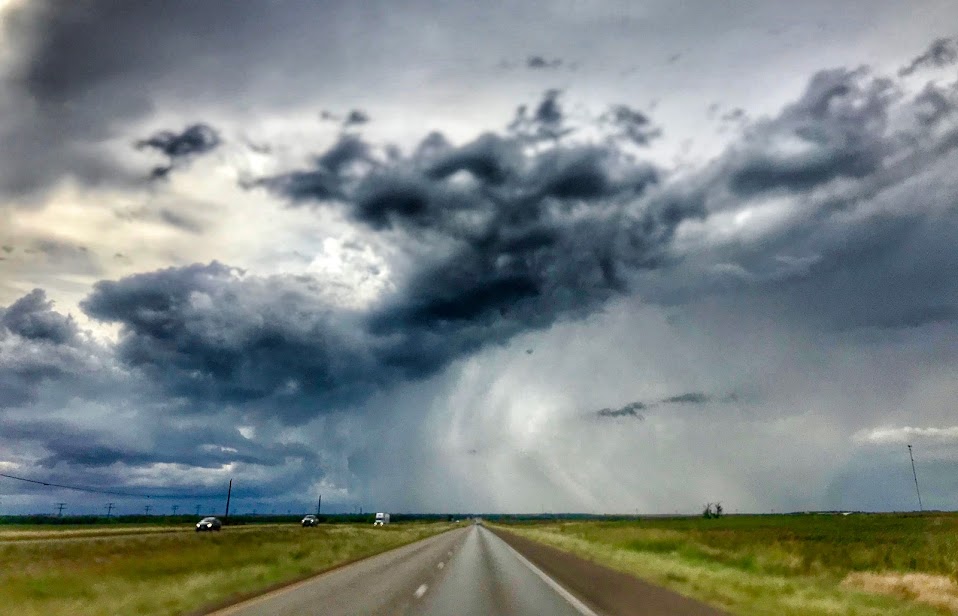 ---
September 6, 2018
Knapping flint into tools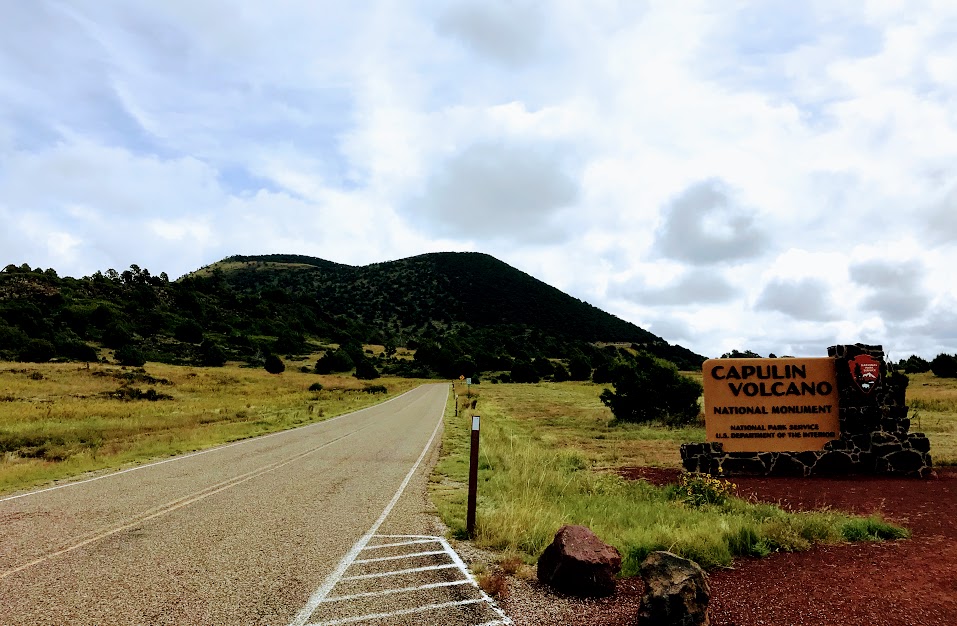 After learning the process of shaping raw flint into tools and arrowheads, I rode through northeastern New Mexico with a stop at Capulin Volcano. Deb and I have stopped at Capulin with the kids (long ago…) and walked the rim of the extinct volcano.
I wandered through southern Colorado and watched the mountain afternoon thunderclouds form all around me. The Great Sand Dunes was another NPT stop, which is another place Deb and I visited with the kids long ago. San Luis Valley Brewing Co. was in the old downtown area of Alamosa, and offered a tasty burger and beer for my evening meal.
---
September 7, 2018
I didn't have far to ride on Friday. From Alamosa to Pagosa Springs is 90 miles, but with all that Colorado offers with twisty roads and scenic elevation, what's wrong with making that trip a 300-mile 6-hour journey over Slumgullion Pass? I had my action cam mounted to my helmet, which recorded a lot of exciting roads.
After a stop at Curecanti National Recreation Area to bag some Old Spanish Trail and other stamps, I worked my way over Slumgullion Pass and through Creede to overnight in Pagosa Springs.
South of Creede along the Rio Grande River

Pagosa Springs evening light magic
---
September 8, 2018
Saturday was a lazy day of riding down through Taos with a stop at the Bavarian Mountain Weekend in Sipapu. I've lost track of how many of these get-togethers I have made at this locals ski area. It's always nice to see old acquaintances and to wander about the interesting motos. I visited Paul and Voni Glaves briefly while they were getting a prototype mirror vibration isolation system installed on their G310GS motos.

After a stop at Fort Union, I rode south to Tucumcari as the temperature increased. The next day was a long day of riding across the massive state of Texas to return home. This was another enjoyable moto trip to higher ground. And all this fun was had with the underlying excuse of collecting park stamps…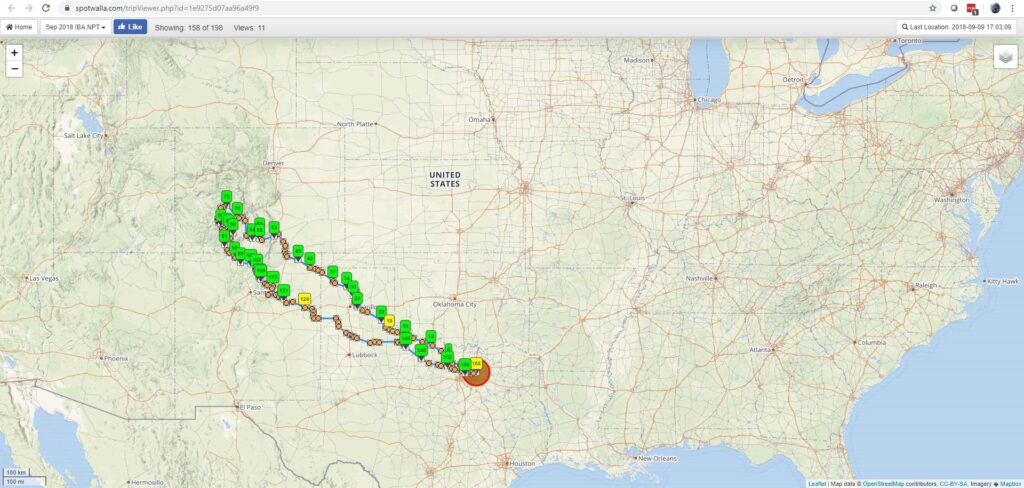 ---
October 24, 2018
Paul Tong had asked me to photograph his NIIT WIt rally finish in Olive Branch, MS. I enjoy doing this and being in the action of a multi-day moto rally. And… it's yet another excuse to get on the moto and collect some stamps. I headed east on a Wednesday towards Natchitoches to collect stamps for the El Camino Real de los Tejas historic trail along with the Cane River NHA. Poverty Point in northeastern Louisiana was the next stop before I arrived in Vicksburg for an overnight stay. It was staggering to think of all the lives that were lost in the Civil War battles.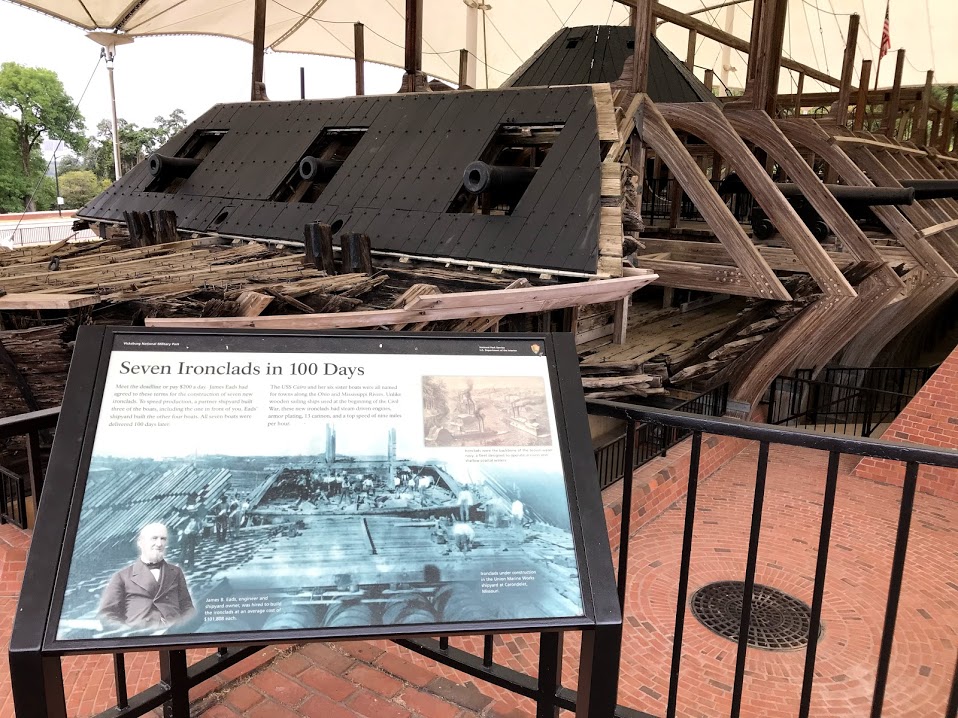 ---
October 25, 2018
I looked out the motel window and saw rain clouds building. Bummer. The ride from Vicksburg to Pensacola was wet and miserable. This happens when one is on the road, and it's best to understand every day will not be sunny and pleasant. But by the time I reached the Emerald Coast, the rain had finally stopped. I obtained my stamps at the Gulf Islands National Seashore to document the Florida state visit. My clothes were damp from the day-long rain, and I spread them out around the motel room to dry. The Paradise Bar and Grill once again cooked up a very tasty burger for dinner.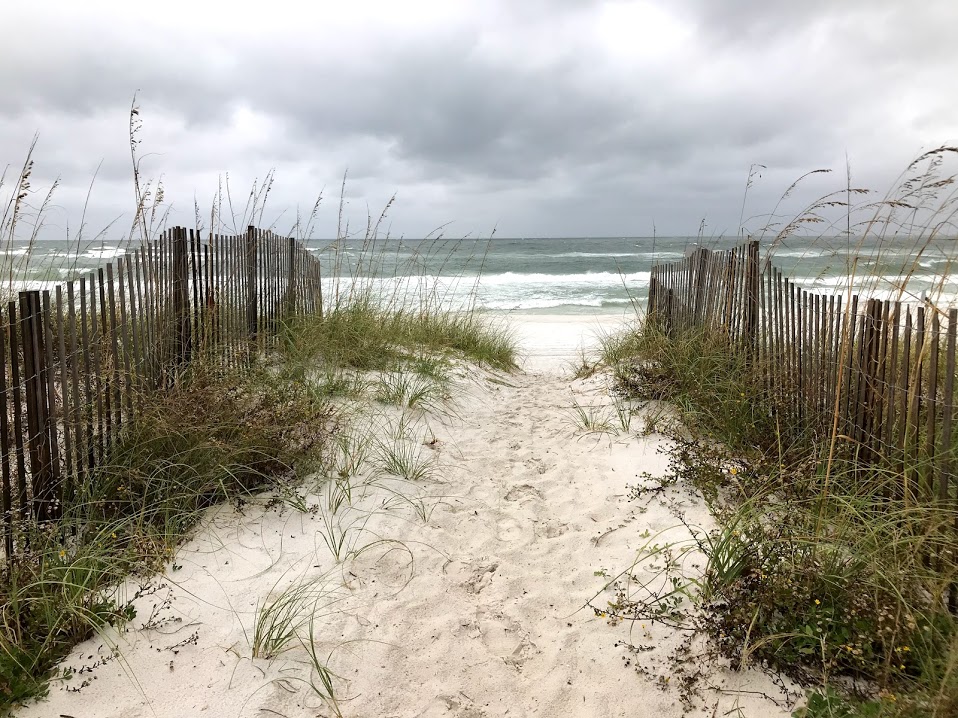 ---
October 26, 2018
Friday morning's weather looked much better than the previous day. My route would take me north through Alabama and into Tennessee. Stops were made in Lowndes where the Civil Rights Trail was documented and Muscle Shoals where Native American artifacts were on display.
The afternoon clouds thickened and a mist shrouded the heavy woods around Shiloh National Military Park. This is a beautiful place, but again the loss of so many lives in the Civil War keeps one somber. I stayed overnight in Savannah.
---
October 27, 2018
Photographing the finish of the NIIT WIt rally would occupy most of Saturday. The weather was so nice, I returned to Shiloh to explore the grounds a bit more. I arrived in Olive Branch while Paul and Troy were preparing for the arrival of riders that had been on the road for days. It was nice to see familiar faces. The photo album for finish is here.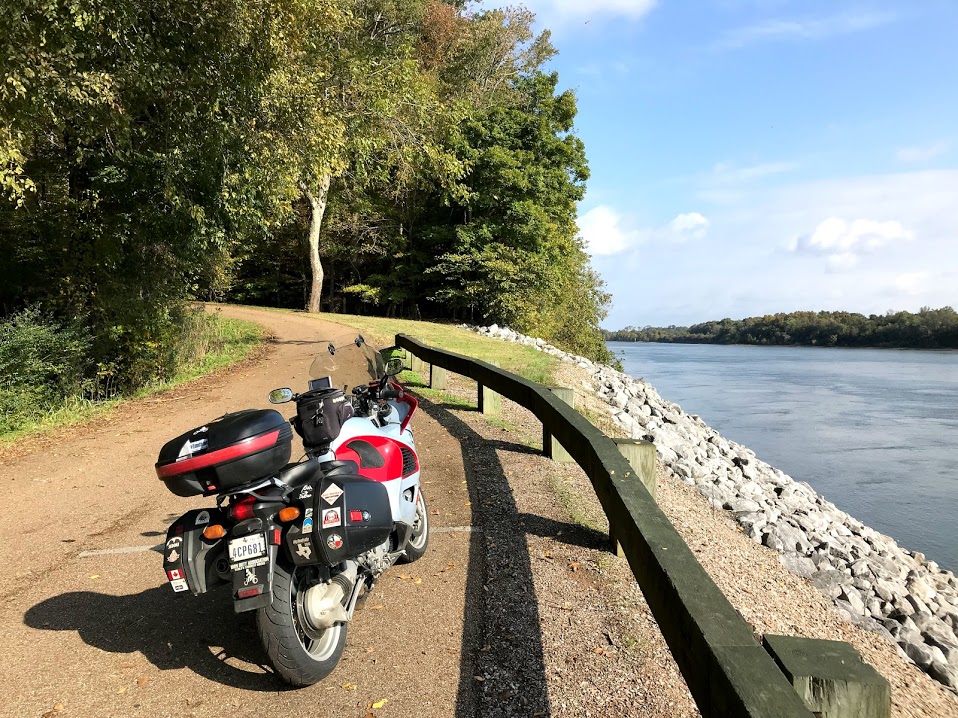 ---
October 28, 2018
The return home from the Memphis area is not too exciting. The interstate is the most efficient route back, but I don't like the traffic and large 18-wheelers. But, I was ready to get back home to Debbie. Along the way, I stopped at Hot Springs and Bill Clinton's birthplace.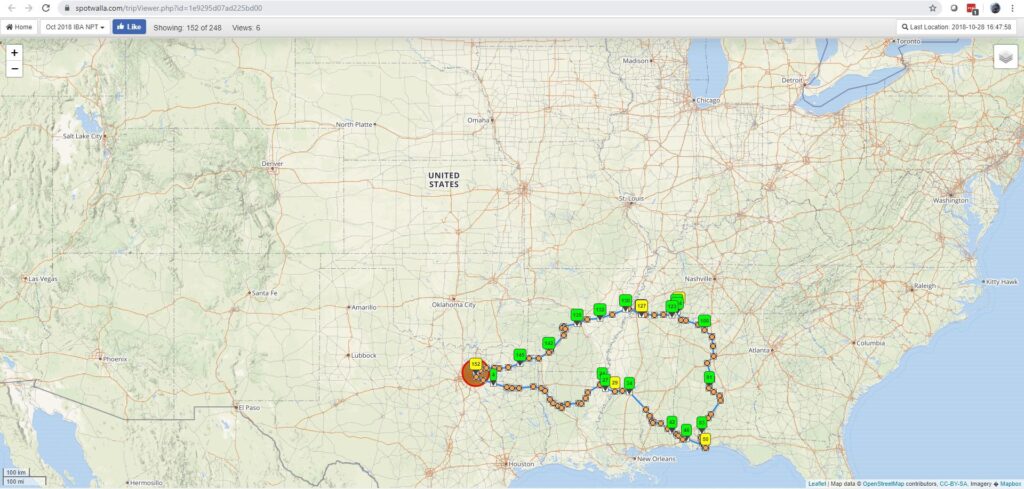 ---
November 20, 2018
The weather was nice for late fall after some cold weather earlier in the month. I could knock out a few more states with an overnight ride straight north. Riding at this time of the year can be sketchy with unpredictable weather. The George Murrell Home and Cherokee National Museum were not far into Oklahoma. Both offered Trail of Tears stamps. The Cherokee National Museum had some telling displays of how the Native Americans were forced west from their original homelands in the east states.
I continued into northwestern Arkansas to Pea Ridge Military Park.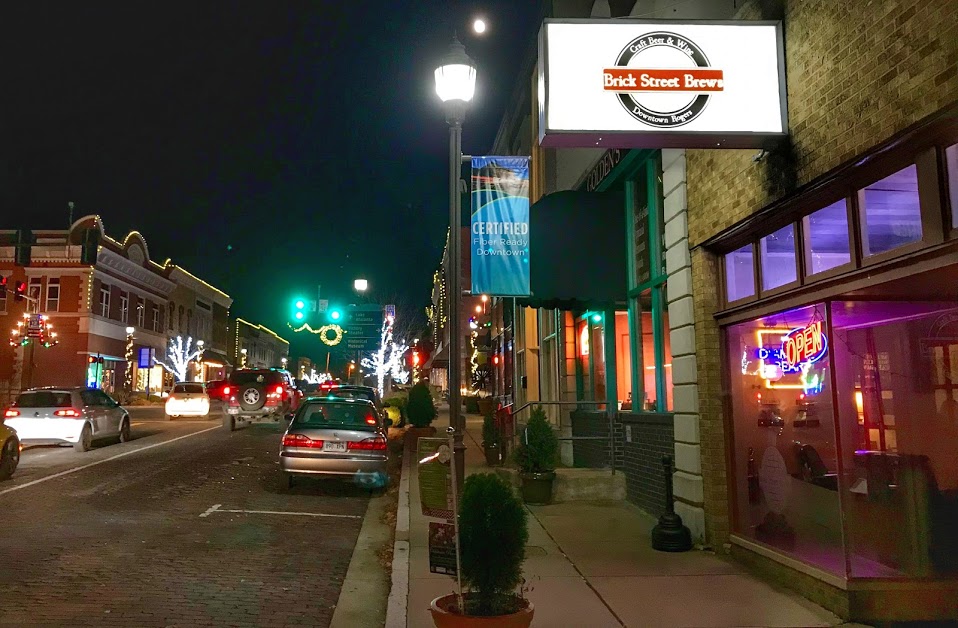 Rogers was my overnight stop. I walked to the nearby downtown area and had dinner.
---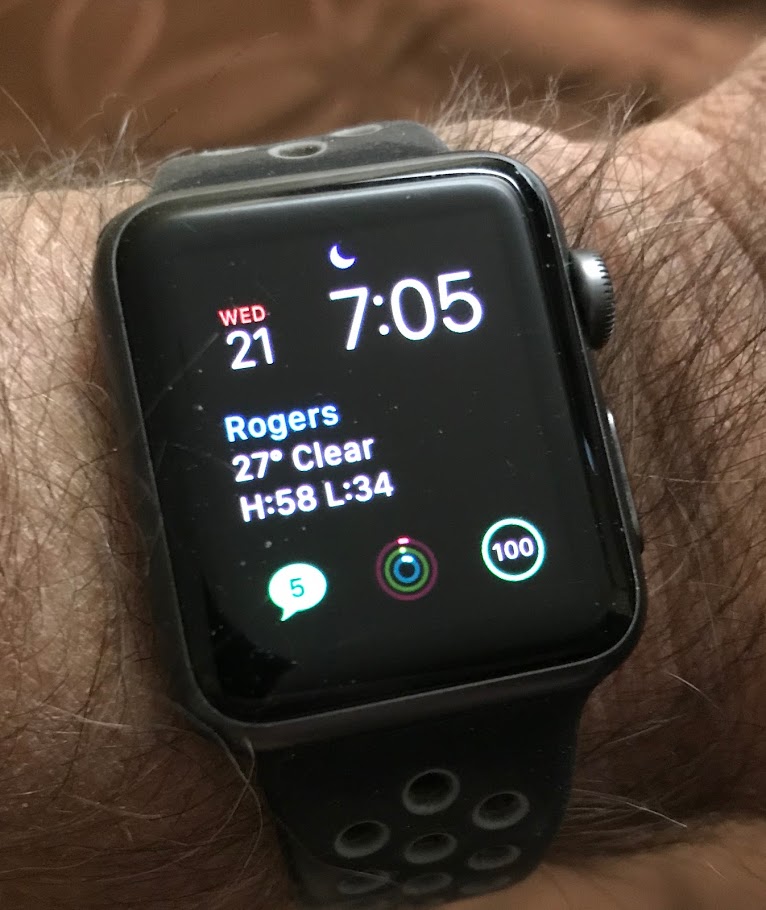 November 21, 2018
The temperature had dropped dramatically overnight. I put on my cold weather riding gear and hoped that the clear sky and sun would warm everything quickly.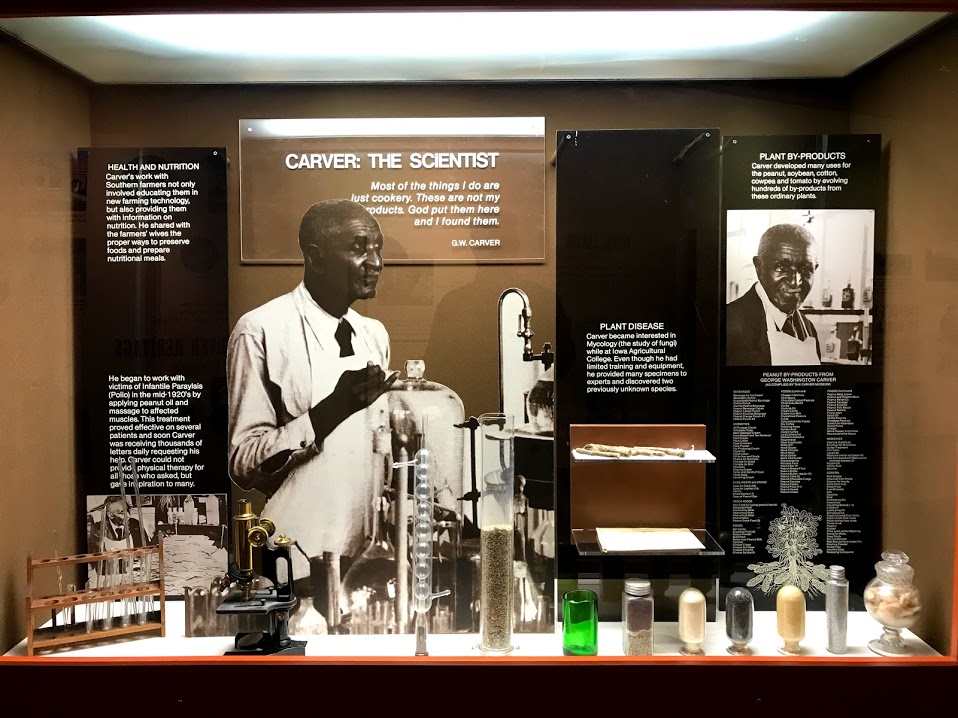 The northern Arkansas/southern Missouri back roads are exciting with twisties and rolling hills. I continued north to Marion, MO to visit the George Washington Carver National Monument. I respect all that Carver did to improve agricultural techniques for those around him in the area.
The weather had warmed nicely by the time I arrived at Fort Scott. I wandered about for a bit enjoying the warm sun and called Debbie before I turned south and headed home. Now I had visited 42 national park units in 12 states. There would be more work in 2019 (if you call this work…) to finish my National Parks Tour.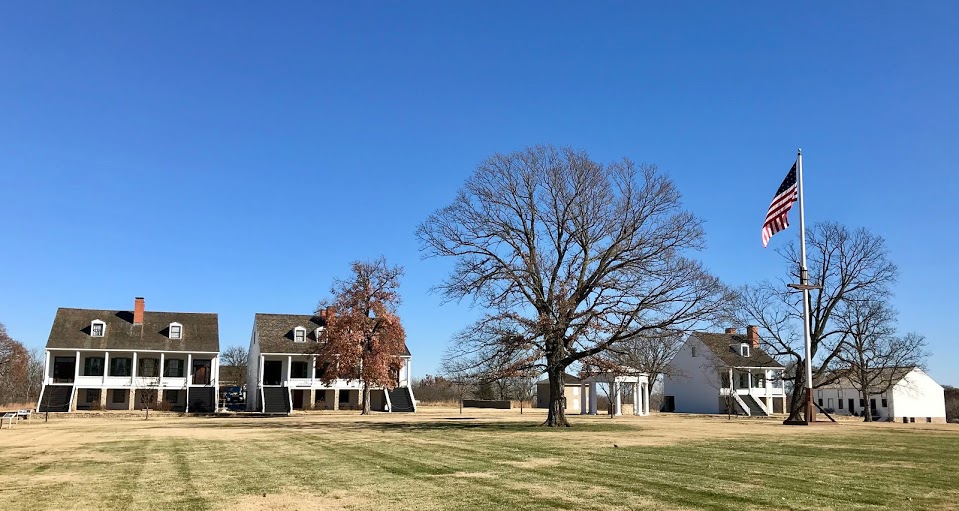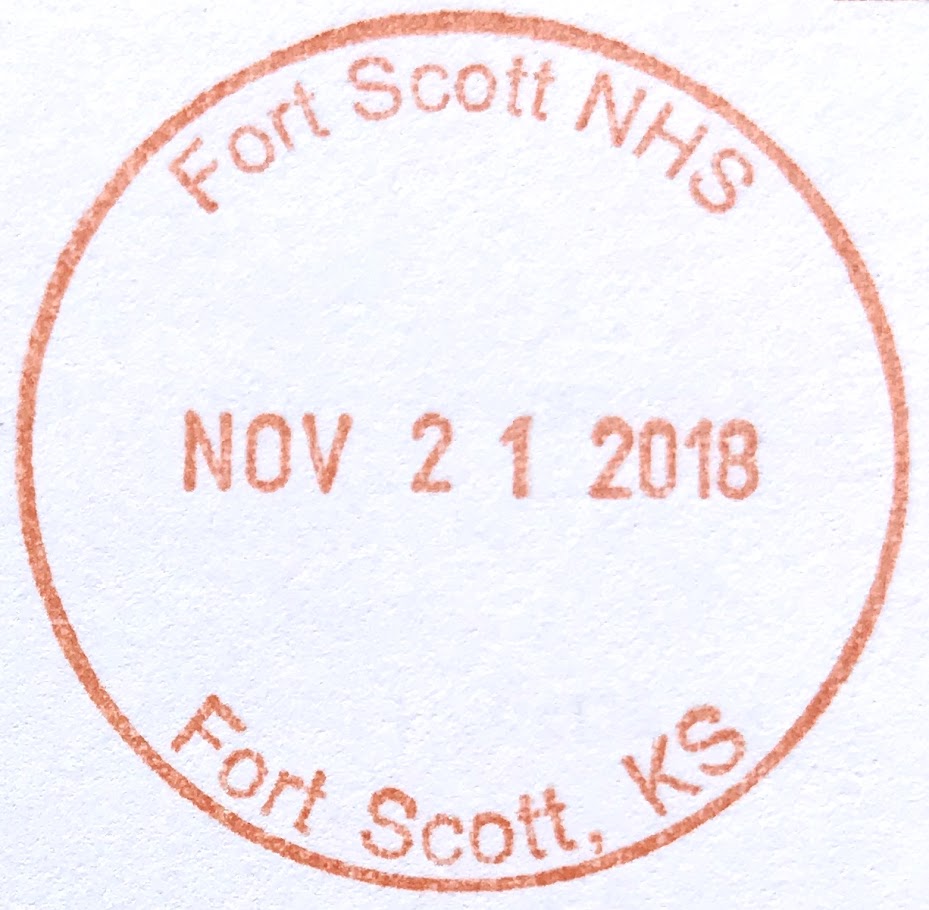 There will be many more of these to come…